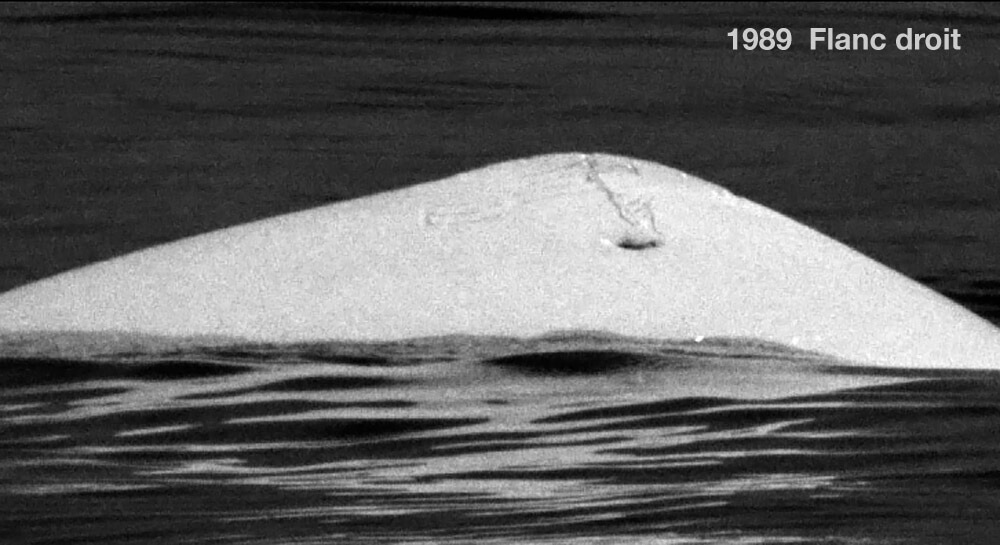 Adopted by the listeners of Samedis de CBV and Radio-Canada, CBV 980
ID number

DL0015

Sex

Unknown

Year of birth

Before 1964

Known Since

1980
Distinctive traits
Mistamec est reconnaissable grâce cette cicatrice profonde sur le flanc droit en dessous de sa crête dorsale. Les petites entailles dans sa crête sont les seuls éléments disponibles pour l'identifier du flanc gauche.
Life history
Connu depuis 1980, Mistamec était déjà tout blanc. Il serait donc né avant 1964.
Malgré des marques évidentes, Mistamec a été observé peu de fois. Les données ne nous permettent pas de déterminer son sexe ni son aire de fréquentation pendant la saison estivale.
Mistamec a été observé à plusieurs reprises dans la baie Sainte-Marguerite. Cette baie constitue un habitat estival privilégié pour les bélugas. L'été, des bandes de mâles adultes montent le fjord du Saguenay. Ces bélugas gagnent souvent la baie Sainte-Marguerite où ils se livrent à des comportements étonnants. Parfois, on peut les voir en position d'espionnage, soit sortir la tête hors de l'eau, ou apercevoir des nageoires pectorales et des queues à la surface de l'eau. On peut aussi les entendre faire des vocalises à la surface de l'eau.
Observations history in the Estuary
Years in which the animal was not observed Years in which the animal was observed
Latest news
La dernière observation de Mistamec remonte à plus de 25 ans. Est-il mort? Est-il demeuré invisible à l'œil du chercheur pendant tout ce temps? Chose certaine, son histoire demeure une source d'informations précieuses qui nous aident à mieux comprendre cette population fragile.
Sponsor
The listeners of Samedis de CBV and Radio-Canada, CBV 980 adopted Mistamec (1989).