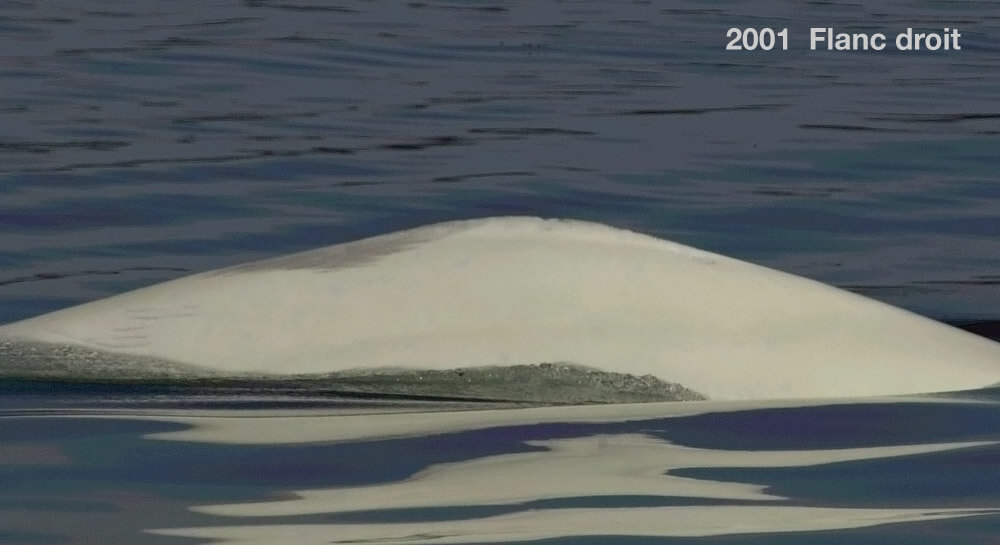 Adopted by The Body Shop Charitable Foundation
ID number

DL0056

Sex

Male

Year of birth

Before 1973

Known Since

1989
Distinctive traits
La principale marque de Marinis est sa tâche grise triangulaire sur le flanc droit. Elle redescend de l'autre côté, ce qui permet de le reconnaître du flanc gauche. Les petites tâches sous la crête dorsale flanc droit se sont estompées avec les années.
Life history
Marinis a été photographié pour la première fois en 1989. Il était blanc. Il serait donc né avant 1973.
Sa grande taille, ses habitudes et ses affiliations sociales nous indiquent clairement que Marinis est un mâle. Il fait partie du réseau de mâles qui fréquentent le secteur aval de l'aire de distribution estivale des bélugas entre Tadoussac et Les Escoumins.
Marinis est un béluga mâle. Visuellement, il est difficile de déterminer le sexe d'un individu. Les mâles sont généralement plus longs et plus gros que les femelles. Voir leurs fentes génitales est un autre moyen de déterminer le sexe et c'est ainsi que le sexe de Marinis a été confirmé. Les autres moyens possibles sont une analyse génétique grâce à une biopsie, le type de troupeaux fréquenté, l'examen post-mortem et, pour les femelles, l'observation répétée en compagnie d'un nouveau-né.
Observations history in the Estuary
Years in which the animal was not observed Years in which the animal was observed
Latest news
Nous travaillons au large des Bergeronnes sur la rive nord du Saint-Laurent, tout près de la batture du cap de Bon-Désir. Nous apercevons Marinis dans un troupeau de six adultes. Il nous semble émacié, mais son comportement est tout à fait normal.
Sponsor
The Body Shop Charitable Foundation adopted Marinis (1990).