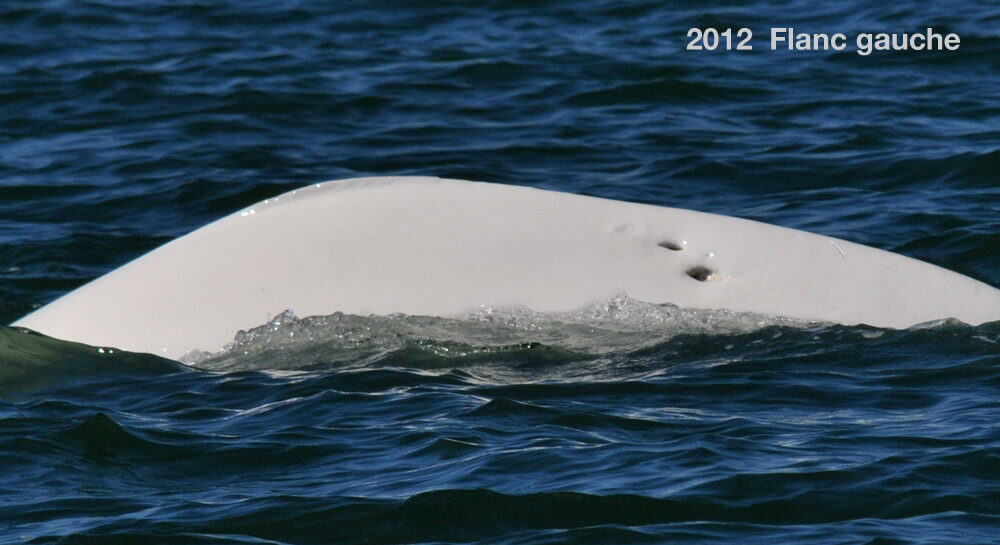 Adopted by the students of the Collège de Chicoutimi, En Vert
ID number

DL0060

Sex

Male

Year of birth

Around 1979

Known Since

1988
Distinctive traits
Globule est facilement reconnaissable par ses deux cicatrices circulaires au pédoncule droit, qui sont accompagnées d'une légère dépression depuis 1993. Côté gauche, le seul élément distinctif est une légère entaille en fin de crête.
Life history
Nous avons rencontré Globule pour la première fois en 1988. À cette époque, il était légèrement gris. À partir de 1993, on l'a toujours noté comme blanc. Il serait donc né vers 1979.
Le sexe de Globule a été confirmé par une biopsie. Ainsi, grâce à un morceau de peau prélevé sur dos, nous avons pu effectuer une analyse génétique : il s'agit d'un mâle. Il fait partie de l'un des deux réseaux de mâles du Saguenay.
Lors de la première rencontre, Globule était un gros béluga gris à l'aube de l'âge adulte. C'est en 1993 que l'on considère qu'il est devenu blanc. Le passage à l'âge adulte chez les bélugas survient généralement entre 8 et 14 ans pour les femelles et entre 16 et 18 ans pour les mâles. Cette maturité s'accompagne d'un changement de couleur de la peau. Les nouveau-nés ont la peau brune, puis, jusqu'à environ 2 ans (les bleuvets), ils sont gris bleu. Les juvéniles (de 2 ans à l'âge adulte) ont la peau grise et finalement, les adultes ont la peau blanche.
Observations history in the Estuary
Years in which the animal was not observed Years in which the animal was observed
Latest news
Globule se trouve dans un grand troupeau d'une centaine de bélugas adultes, dispersés en une dizaine de sous-groupes. Nous sommes dans le secteur de l'île Verte. La visibilité est excellente en ce début de matinée et nous observons, en plus des bélugas, une bonne dizaine de phoques, des petits rorquals et des marsouins communs. Une bonne journée de travail nous attend: nous ciblons tour à tour les différents groupes de bélugas dispersés aux alentours de l'île et photographions les différents individus.
Sponsor
Students of the Collège de Chicoutimi, En Vert adopted Globule (1990).