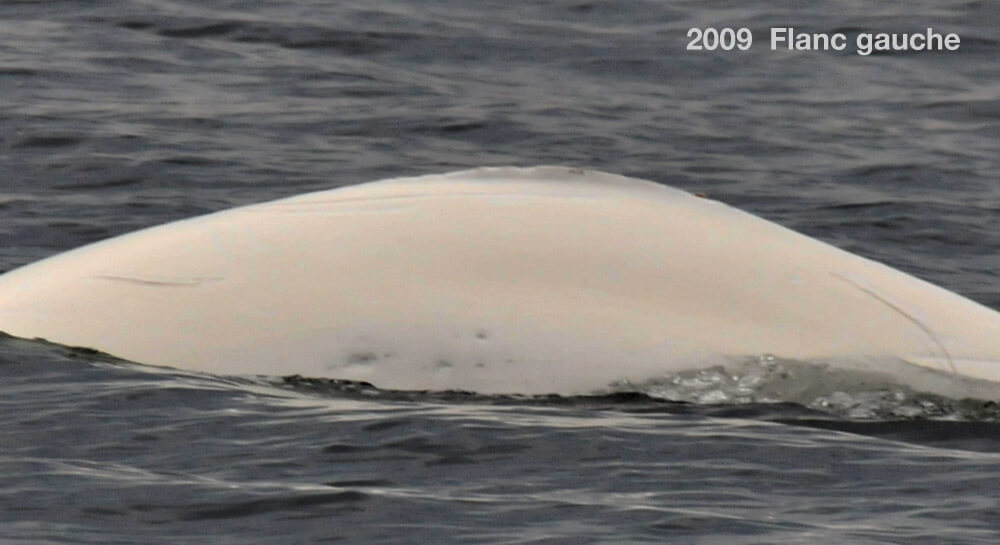 Adopted by the Fairmont Hotel Macdonald
ID number

DL0053

Sex

Male

Year of birth

Around 1984

Known Since

1989
Distinctive traits
On reconnaît John A. Macdonald grâce aux multiples cicatrices rapprochées sur son flanc gauche. Sa crête compte assez d'encoches de tailles et de formes variées pour confirmer son identité des deux flancs.
Life history
Observé pour la première fois en 1989, John A. Macdonald était gris. À partir de 1998, on l'a toujours noté comme blanc. Il serait né autour de 1984.
Le sexe de John A. Macdonald a été confirmé par une biopsie: il s'agit d'un mâle. Il fait partie de l'un des deux réseaux de mâles du fjord du Saguenay et de son embouchure.
L'été, John A. Macdonald fréquente surtout le fjord du Saguenay et son embouchure jusqu'aux Escoumins. L'hiver, avec le reste de la population, il se déplace dans la partie aval de l'estuaire et dans la portion nord du golfe. Au printemps, la population se répartirait de la péninsule gaspésienne jusque dans la région de Charlevoix en passant par la rive sud de l'estuaire.
Observations history in the Estuary
Years in which the animal was not observed Years in which the animal was observed
Latest news
Depuis 13 h, le Bleuvet se trouve à 2 miles nautiques au large des Bergeronnes pour photo-identifier des bélugas. Un troupeau de 60 individus entoure le bateau de recherche. Parmi les bélugas, nous reconnaissons John A. Macdonald et Cœur. Le troupeau est composé surtout d'adultes blancs, mais une dizaine de bélugas sont encore de jeunes gris. Les animaux nagent vers l'amont du fleuve.
Près d'une heure d'observation plus tard, trois groupes d'une quinzaine d'individus se réunissent pour former un super groupe qui s'étire en une longue ligne de bélugas. Leurs vocalises parviennent même jusqu'à nos oreilles.
15 h 15, le soleil décline, puisque nous sommes déjà en novembre. La noirceur qui s'installera sous peu nous oblige à mettre fin au contact et à rentrer à bon port.
Nous croisons un troupeau d'une soixantaine d'individus à l'embouchure du fjord. John A. Macdonald nage en compagnie de plusieurs animaux connus, dont Blanche et Miss Frontenac. Le troupeau est composé d'adultes, de jeunes et de trois nouveau-nés. Les animaux se dirigent lentement vers la baie Sainte-Marguerite.
Sponsor
The Fairmont Hotel Macdonald adopted John A. Macdonald (2001).