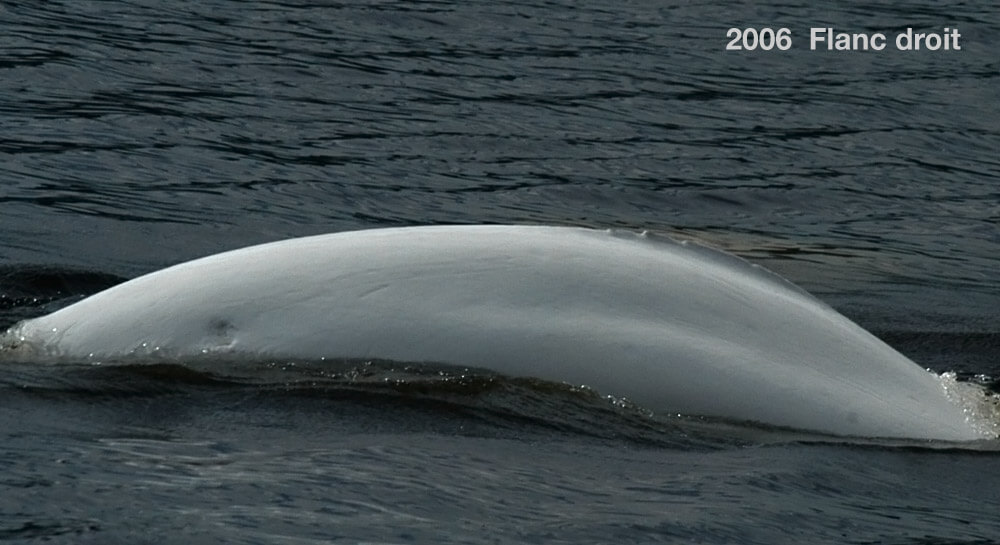 Adopted by Vancouver Aquarium
ID number

DL0370

Sex

Male

Year of birth

Before 1978

Known Since

1990
Distinctive traits
DL0370 is easily recognized by the staircase-shaped hind portion of his dorsal crest as well as by the deep scar on the right peduncle. The end of his dorsal crest has changed a few times over the years.
His story
Ever since our first encounter with DL0370 in 1990, he has always been recorded as being white. Belugas fade in colour from gray to white between the ages of 12 and 16. DL0370 would therefore have been born before 1978.
His large size, habits and associations overwhelmingly suggest that he is a male. His sex was confirmed by genetic analysis of a tiny piece of skin (biopsy) taken from his back in 2000. DL0370 is affiliated with one of the two networks of males that ply the waters of the Saguenay Fjord and the head of the Laurentian Channel.
Within these networks, bulls form stable groups of companions. These associations may play a role in belugas' reproductive lives. Faithful companions of DL0370 include DL0269 and Jetstream. Surprisingly, DL0370 and DL0269 are very rarely seen with any of Jetstream's other faithful companions. In fact, the quartet formed by Jetstream, Frimas, Camério and Dance-Sea was one of the first groups to tip off researchers concerning the formation of clans amongst male belugas.
How the story of DL0370 and his companions unfolds will teach us volumes on the evolution of belugas' social lives. By better understanding how belugas live, we will better be able to protect them.
Observations history in the Estuary
Years in which the animal was not observed Years in which the animal was observed
Latest news
The summer of 2016 – our 32nd season at sea with the belugas – was once again rich in encounters and surprises. Amongst other sightings, we saw DL0370 on August 30 in a herd of males with his faithful companions, DL0269 and Jetstream. Ever since our first encounter back in 1991, we have been closely following DL0370's associations. DL0269 is his most regular companion. In more than one out of every three encounters, they are together.
August 30, 2016: We take advantage of the gorgeous weather to visit the downstream sector, where we regularly come into contact with herds of males. We cross paths with DL0370 off Îles aux Basques. He's in a herd of some sixty individuals, including adults and a few gray individuals. The herd is split into about ten groups of six at fifteen belugas. We also recognize males JP, Douxi and DL0269.
The animals are scattered and highly active. Some belugas poke their heads above the surface as if to spy on us, others are spitting out water. They're swimming dynamically and in one distinct direction when they suddenly stop, dive and resurface several times at the same spot. They're probably feeding. The encounter with DL0370 is also very rich in terms of acoustics. We hear all kinds of vocalizations: door squeaks, whistles and much more. Belugas are aptly nicknamed "canaries of the sea".
Cet été, nous avons croisé la route de DL0370 au moins à deux reprises. Lors de ces rencontres, il était accompagnée de DL0269, DL0248 et Jetstream, ses plus fidèles acolytes. L'une de ces rencontres remonte au 4 août. Nous naviguons dans l'embouchure du Saguenay, près de la pointe Rouge à la sortie de la baie de Tadoussac. DL0370 se trouve dans un groupe de 15 individus nageant côte à côte. Selon leur grande taille, ils semblent tous être des mâles adultes. Ils suivent à l'écart quelques groupes de femelles et de jeunes qui remontent le fjord du Saguenay. L'embouchure du Saguenay est un lieu où se croisent fréquemment les bandes de mâles et les femelles. De grands troupeaux s'y forment, de façon éphémère, pour ensuite se diviser en plus petites unités: les femelles accompagnées de jeunes d'une part et les mâles adultes entre eux. On estime que les mâles adultes comme DL0370 passent seulement 20 à 25 % de leur temps en compagnie des femelles pendant l'été.
À l'embouchure du fiord du Saguenay, nous observons du Bleuvet un troupeau de 40 bélugas. Certains ont la peau blanche, d'autres l'ont encore grise. Nous voyons aussi deux veaux et un nouveau-né.
Les animaux se dirigent vers l'amont. Une fois qu'ils ont passé le cap à la Boule, ils commencent à tourner en rond. Sont-ils en train de chasser ? De notre point de vue, il est difficile de l'affirmer. Leur comportement nous permet tout de même de bien les photographier. Nous reconnaissons ainsi DL0370, qui nage en compagnie de sept adultes et de deux jeunes.
Nous naviguons du côté nord du Saguenay. Nous suivons un troupeau composé de jeunes bélugas, que l'on surnomme «les ados». Au début de la matinée, ils sont une vingtaine d'individus. Ils sont rejoints par des femelles accompagnées de veaux et plus tard, par une dizaine d'individus, principalement des adultes et fort probablement des mâles, parmi lesquels on reconnaît DL0370. En fin de matinée, le troupeau compte une quarantaine d'individus.
Pendant la rencontre, on entend plusieurs séquences de vocalisations. Entendre des vocalises de bélugas n'est pas une chose rare, mais c'est toujours impressionnant. Le répertoire vocal des bélugas est très étendu, comprenant des sifflements, des claquements, des grincements et des grognements, ce qui lui a d'ailleurs valu le surnom de «canari des mers».
Sponsors
Vancouver Aquarium adopted DL0370 (2014).