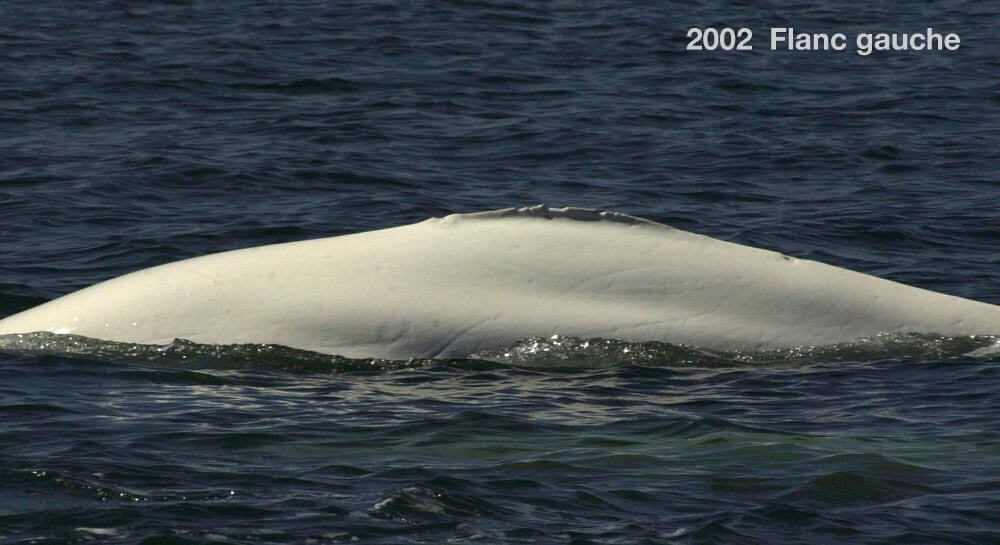 Adopted by the city of Montreal
ID number

DL0059

Sex

Male

Year of birth

Before 1976

Known Since

1992
Distinctive traits
Louveteau se reconnaît grâce aux cicatrices situées autour de sa crête dorsale et aux encoches qu'elle contient. La plus grosse entaille, située au milieu de la crête, est apparue en 1999.
Life history
La première fois que Louveteau est photographié, en 1992, il est déjà blanc. Il est alors âgé d'au moins 12 à 16 ans.
Selon ses habitudes et ses associations, Louveteau fait partie du réseau de mâles qui fréquentent le fjord du Saguenay et son embouchure.
Une nouvelle entaille apparaît en 1999 sur la crête dorsale de Louveteau. Comment une marque devient-elle un moyen de reconnaissance? Il faut qu'elle soit permanente. Les griffures sur la peau des bélugas sont superficielles et disparaîtront. Elles sont causées par le contact avec le fond de l'eau, des objets ou d'autres bélugas. Parfois, des marques d'incidents (collision, empêtrement, etc.) laissent aussi des traces et s'ajoutent au « visage » des baleines et au casse-tête des chercheurs.
Observations history in the Estuary
Years in which the animal was not observed Years in which the animal was observed
Latest news
Nous sommes en amont de la batture aux Alouettes. C'est là que nous découvrons Louveteau dans un troupeau d'une dizaine d'animaux, des adultes et des jeunes. Le contact avec ce groupe est de courte durée, soit moins d'une heure, car les conditions de mer sont difficiles. Nous perdons de vue le groupe en milieu d'après-midi, alors que les vagues atteignaient près d'un mètre de hauteur.
Sponsor
The city of Montréal adopted Louveteau (1989), Splash (2014) and is participating in the solidary adoptions of Neige, Nics, Solidaire, Bilou and Cica with other riverside municipalities of the St. Lawrence (2014).
Click on the name below to discover texts, drawings and videos composed by children of participating schools on Facebook.
Splash was named by the school day care services of the École Saint-Jude in Châteauguay as part of the Our Beluga's Name is… contest.