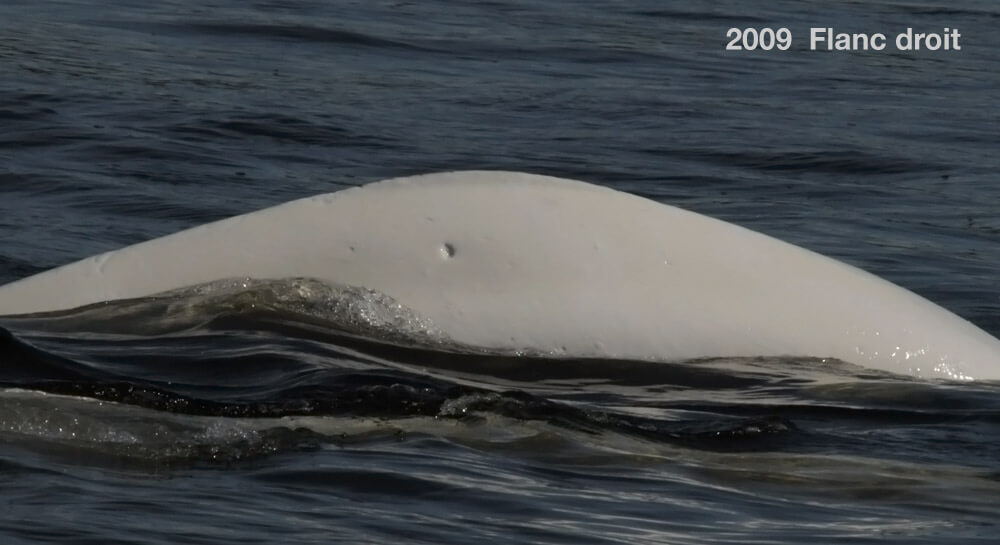 In the process of adoption
ID number

DL0743

Sex

Male

Year of birth

Before 1980

Known Since

1992
Distinctive Traits
DL0743 can be recognized by its small scar under the dorsal crest on the left side. A little in front of it, we see a small grey spot, more or less visible depending on the light. There are also some minor nicks in his dorsal crest.
Life History
The first encounter with DL0743 goes back to 1992. At the time, he was already white. Belugas fade from gray to white in colour between the ages of 12 and 16. DL0743 would therefore have been born before 1980.
His large size, habits and associations strongly suggest that he is a male. Like other adult bulls of the population, in summers DL0743 spends most of his time in herds composed essentially of males. He is affiliated with one of the two networks of males that ply the waters of the Saguenay Fjord. Another network of males, known as the "Downstream Boys", also uses the head of the Laurentian Channel sector and the downriver portion of the Estuary, but avoids the Saguenay. Even if their territories overlap, individuals from one network seldom come into contact with males of other networks.
As the years pass by, males have a tendency to form stable groups of companions. These associations are established gradually and may play a role in belugas' reproductive lives. DL0743's regular companions are DL0218 and Vita, who are also members of one of the Saguenay networks.
How DL0743's story and those of his companions unfold will teach us volumes on the evolution of belugas' social lives. By better understanding how belugas live, we will be able to better protect them.
Observations history in the Estuary
Years in which the animal was not observed Years in which the animal was observed
Adopt DL0743!
Help us raise 5 000$ to adopt a beluga, pitch a name for this beluga and get its news every year

2%
Latest News
We sail in the mouth of the Saguenay River, near rivière aux Canards in Baie-Sainte-Catherine when we see the female Bonheur in a herd of about 50 individuals, white adults and grey young. We also recognize DL0743, a male from the Saguenay region.
Animals are very active. They start diving and ascending to the same place several times, a behaviour called "miling" that is often associated with feeding. The mouth of the Saguenay is a meeting place! Networks of beluga males cross paths with herds of females and young. Gatherings were formed there, but only for a short time, due to the abundance of food.
We're off the coast of Les Escoumins. DL0743 is swimming in a herd of about 150 belugas, all white adults. Such large gatherings are observed frequently in the downstream sector of the belugas' summer range. They are generally short-lived and composed essentially of bulls.
Upon our arrival, the belugas are clustered in groups of four or five individuals each. We quickly manage to identify ten or so belugas, including Vita, DL0014 and Frimas. As the herd splinters into smaller groups, our work becomes increasingly difficult. The day draws to a close, and we head home…
Sponsors
Ms. Marjorie's class (Jean XXIII)
Manon Lapointe
Patricia Lyonnet
Maude Roy
Clélia Gauduchon