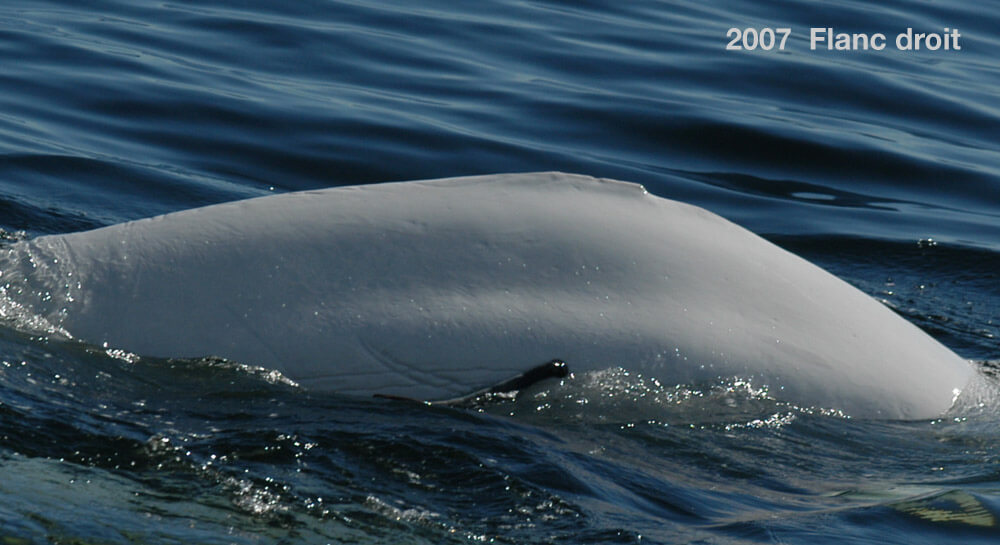 Adopted by The riverside municipalities of the St. Lawrence
ID number

DL1852

Sex

Presumed female

Year of birth

Around 1990

Known Since

2002
Distinctive traits
Her deep scar shaped at a right angle at the start of her crest is the first thing that catches the eye when observing Cica. She also has a few small gashes in her dorsal crest and a gray spot on her right flank.
Her story
Our first encounter with Cica goes back to 2002. She has been seen quite often. Cica never goes unnoticed. Her deep scar forming a right angle at the start of her crest catches the eye of the observer.
When she was first encountered, Cica was still slightly gray, but already nearly adult in size. She turned completely white around 2005. Belugas fade from gray to white in colour between the ages of 12 and 16. Cica would therefore have been born around 1990.
Her size and regular presence in groups comprising newborns suggest that Cica is a female and that she belongs to the Saguenay community. In summer, females form large communities in which they care for newborns and young. These communities are faithful to traditional territories and exchanges between them are uncommon.
Her companions include Pascolio, Miss Frontenac, and Yogi, who, like her, belong to the Saguenay community. Associations between females of the same community are not generally stable. They may vary depending on the females' reproductive status and whether or not they are pregnant or accompanied by a calf.
How Cica's story unfolds will teach us volumes on the evolution of belugas' social and reproductive lives. By better understanding how belugas live, we will better be able to protect them.
Observations history in the Estuary
Years in which the animal was not observed Years in which the animal was observed
Latest news
In the Saguenay, we observe a herd of some forty individuals comprising adults and young, including one newborn. Cica is swimming in the company of other known cows Annakpok and Blanche, who are also part of the Saguenay community of females. The entire herd is highly active: tails, melons and pectoral fins can be seen at the water surface. Now that's action!
Le 15 juillet 2013, nous sommes dans la baie Sainte-Marguerite avec Cica qui se trouve dans un troupeau d'une vingtaine d'individus incluant DL9018, accompagnée d'un veau et Yogi. Les animaux s'activent et adoptent des comportements que l'on observe typiquement dans cette baie: des queues et des têtes sortent hors de l'eau.
Nous naviguons au large de la rive sud dans l'estuaire maritime vis-à-vis de L'Isle-Verte. Nous sommes en présence d'un gros troupeau de 120 bélugas, et parmi eux se trouve Cica. Le troupeau est divisé en une vingtaine de petits groupes d'adultes blancs et de jeunes gris. Les animaux se régalent de petites proies dans les remous du courant. Impossible toutefois d'identifier les proies au menu aujourd'hui. La diète des bélugas est très variée. Les poissons comme le capelan, le hareng, le lançon, les anguilles et plusieurs espèces d'invertébrés font partie de leurs proies de prédilection.
Nous observons Cica dans le fjord du Saguenay, à l'anse Saint-Étienne. Elle nage parmi un petit troupeau de 14 bélugas qui se dirige vers l'embouchure du Saguenay. Au sein du troupeau, on remarque des individus entièrement blancs, mais 50 % des bélugas sont gris ou légèrement gris. Les animaux nagent seuls ou en très petits groupes. Lors de cette rencontre, nous réussissons à prélever une biopsie sur l'un des individus.
Sponsors
The riverside municipalities of the St. Lawrence adopted together Neige, Nics, Bilou, Cica and Solidaire (2014).
Beauharnois; Bécancour; Candiac; Carleton-sur-Mer; Charlemagne; Chute‐aux‐Outardes; Châteauguay; Contrecoeur; Grande Rivière; La Pocatière; Lanoraie; Les Bergeronnes; Louiseville; Lévis; Matane; Montmagny; Montréal; New-Richmond; Notre-Dame-des-Sept-Douleurs; Percé; Pincourt; Port-Cartier; Québec; Repentigny; Rimouski; Saint-André; Saint-Zotique; Sainte-Anne-de-Sorel; Sainte-Anne-des-Monts; Saint‐Ignace‐de‐Loyola; Saint‐Siméon; Salaberry-de‐Valleyfield; Sept-Iles; Sorel-Tracy; Tadoussac; Varennes
Click on the names below to discover texts, drawings and videos composed by children of participating schools on Facebook as part of the Our Beluga's Name is… contest.
Neige was named by the special education class of the École Saint-Alexandre in Port-Cartier.
Nics was named by the 5th and 6th grade class of the École Élisabeth Turgeon in Rimouski.
Bilou was named by the 3th grade class of the École de Ste-Thérèse-De-L'Enfant-Jésus in Saint-Jérôme.
Cica was named by the 2th grade class of the École de la Ruche in Lévis.
Solidaire was named by the 5th grade of the École Our Lady of Pompei in Montreal.