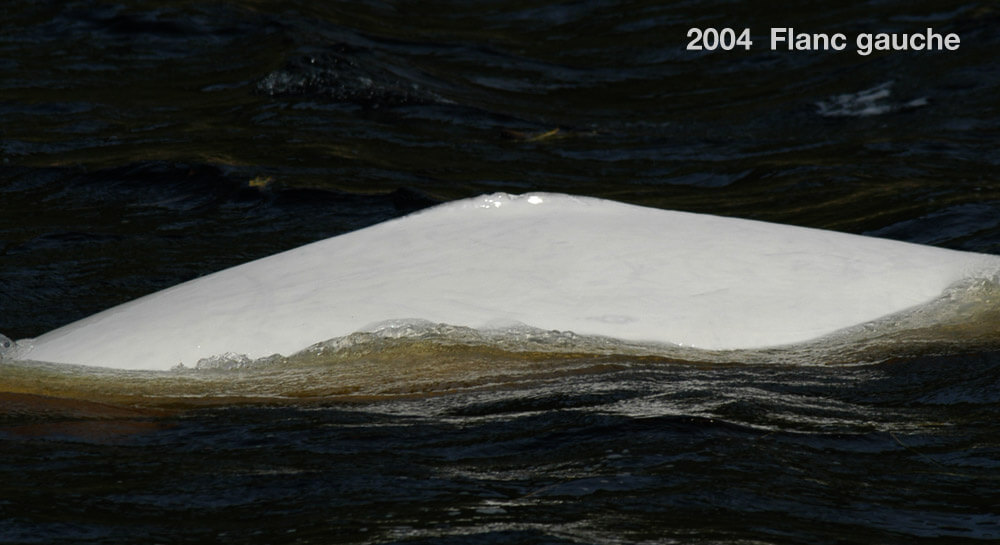 Adopted by Great Lakes and St. Lawrence Cities Initiative
ID number

DL1415 (previously DL1670)

Sex

Presumed male

Year of birth

Around 1990

Known Since

1998
Distinctive traits
DL1670 bears a small spot on his left flank that is not always easy to see. The two side-by-side gashes in the middle of his dorsal crest are also a good way to identify him.
His story
A beluga with two id numbers? Yes, we realized that DL1670 was also DL1415. By tradition, we merge the two identity cards under the first number, therefore DL1415.
Our first encounter with DL1415 goes back to 2000. He was slightly gray at the time but already of considerable size. He turned white a few years later (around 2004), suggesting that he was born around 1990. Belugas fade from gray to white in colour between the ages of 12 and 16.
From 2005 onward, his frequent associations in herds comprising exclusively adults lead us to believe that DL1415 is a male. Indeed, there exists a sort of sexual segregation in belugas. Particularly in summer, bulls and cows live separately and frequent different sectors. Although it is not rare to see males join up with herds of females and young, it is especially unusual to observe females in herds composed predominantly of males.
DL1415 is regularly observed near the mouth of the Saguenay. He might belong to one of the two male networks of the Saguenay. Members of these networks do not intermingle with other male networks, even if their territories do overlap. As the years pass, males have a tendency to form stable groups of companions. These associations may play a role in belugas' reproductive lives. DL1415 is a young male, however, who is not yet known to have a devoted companion.
How DL1415's story unfolds will teach us volumes on the evolution of belugas' social lives. By better understanding how belugas live, we will better be able to protect them.
Observations history in the Estuary
Years in which the animal was not observed Years in which the animal was observed
Latest news
Au large de l'île Rouge, à l'embouchure du fjord du Saguenay, on repère un troupeau de 100 à 110 individus. Le troupeau est composé majoritairement d'adultes, possiblement tous des mâles. Parmi les individus, on repère DL1415. On tente une biopsie, mais malheureusement la flèche passe juste au-dessus de sa crête dorsale. Ce n'est pas une mince tâche, viser une cible mouvante sur une plate-forme également en mouvement. Il faudra attendre une autre occasion pour obtenir ce petit bout de peau et de gras qui nous confirmera si nos soupçons sur le sexe de DL1415 sont justes et nous révèlera bien d'autres secrets. Au cours de cette rencontre, nous avons toutefois réussi trois biopsies sur d'autres bélugas. Une journée réussie!
August 30, 2012: near Anse à la Boule in the Saguenay, we cross paths with a herd numbering some forty individuals. The herd is noted to be disparate, comprising adults, young and four calves. The majority of the animals are alone, except the females and calves, who are swimming in two isolated groups. The solitary animals are probably males, based on their size and behaviour; DL1670 is identified amongst them.
À bord du pneumatique de recherche BpJAM, nous sortons aujourd'hui pour recenser les grands rorquals, mais avons aussi comme consigne de photographier les bélugas croisés en chemin. Nous rencontrons un troupeau de baleines blanches entre la batture aux Alouettes et les «dunes» de Tadoussac, qui sont en fait des terrasses marines. Nous comptons une quinzaine de bélugas, dont des bélugas encore gris, donc des jeunes. Parmi les bélugas, nous photographions DL1670. Des petits rorquals s'alimentent en surface, ce qui attire l'attention de croisiéristes et de plaisanciers. Pour diminuer la pression sur les baleines, nous choisissons de poursuivre notre chemin.
Le 6 septembre 2010, Franchement, la journée n'est pas idéale pour la photo-identification des bélugas. Le vent souffle fort, aux moutons (blancs) s'ajoutent des reflets qui rendent la visibilité des bélugas (blancs) moindre. Nous mettons le cap vers le fiord, en espérant que le temps y soit plus calme. Nous trouvons un troupeau d'une quarantaine d'individus composé d'adultes et de jeunes près de Baie-Sainte-Catherine. Les bélugas sont très actifs, ils font beaucoup d'activités de surfaces, comme des crachats, des coups de queue. Certains bélugas apparaissent de côté, dévoilant la moitié de leur ventre. DL1670 se trouve dans un groupe de 10 individus, des blancs (des adultes), des blancs sales (de jeunes adultes) et des gris bien bâtis (des ados). Dans le même groupe se trouvent aussi DL2319, DL2453, DL2452 et Néo. Alors que les bélugas étaient très actifs quelques secondes plus tôt, ils semblent s'évaporer. Nous attendons 10 minutes, mais ils ne réapparaissent pas à travers les vagues. Nous décidons de poursuivre notre chemin à la recherche d'autres animaux.
DL1670 est reconnu parmi une quarantaine d'individus, surtout des adultes blancs. Depuis sa première identification, on rencontre habituellement ce jeune mâle béluga à l'embouchure du Saguenay, ce qui nous laisse croire qu'il pourrait faire partie d'un des deux réseaux de mâles du Saguenay. Aujourd'hui, il se trouve en compagnie de Trèfle et d'autres mâles qui appartiennent au réseau du secteur aval, les «downstream boys» comme on les appelle. Nous croyons qu'il y a peu de rencontres entre les mâles des différents réseaux, mais l'appartenance définitive à un réseau pourrait s'établir tard dans la vie des bélugas… À suivre!