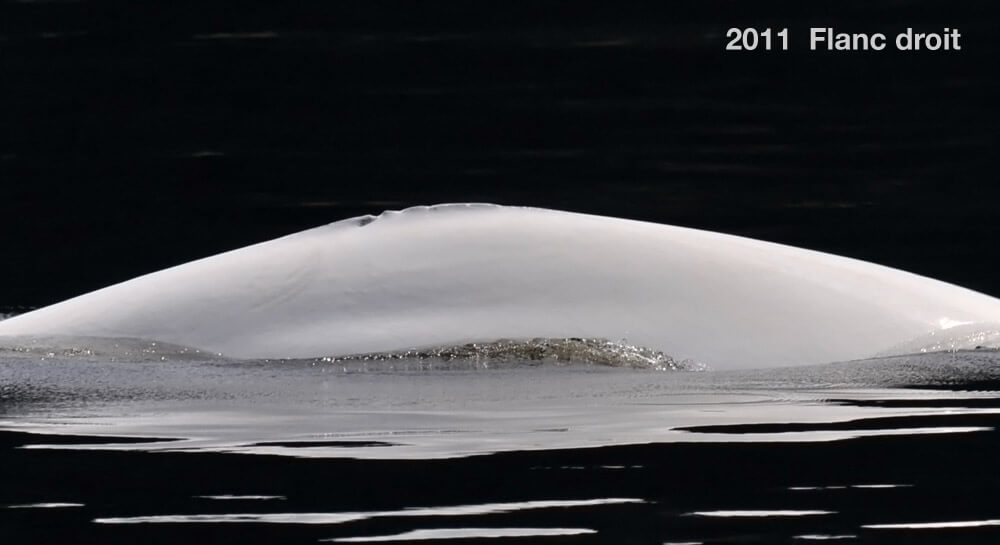 Adopted by the city of Lévis
ID number

DL0158

Sex

Female

Year of birth

Around 1979

Known Since

1989
Distinctive traits
One must look at Aquarelle's dorsal crest to recognize her, notably thanks to this scar on her right flank that leaves a large notch visible when she is observed from her left side. There are also small spots and other gashes.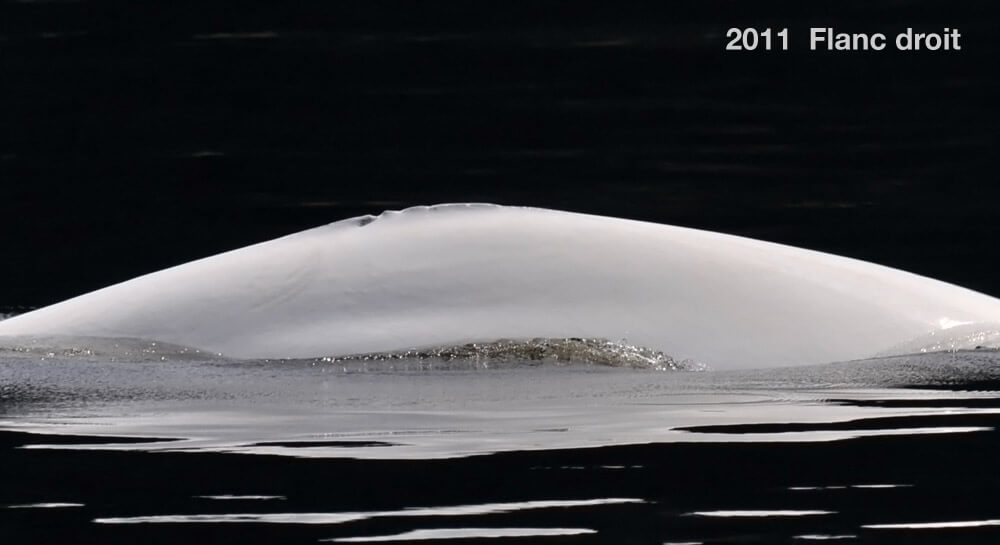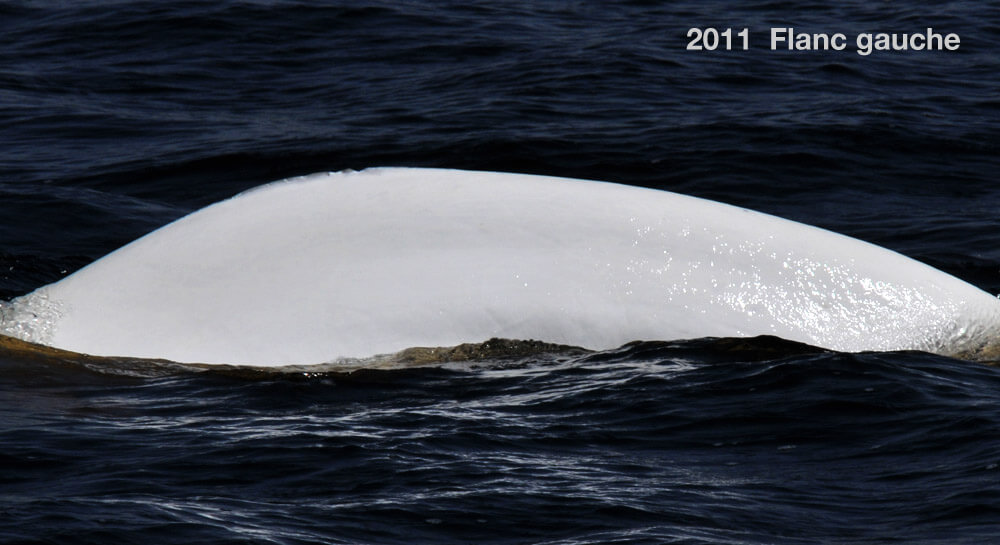 Life history
Our first encounter with Aquarelle goes back to 1989. She is slightly gray at the time. Beginning in 1992, she was always noted as being "white". Her dorsal crest remains black, however, making her easy to recognize. Belugas fade from gray to white in colour between the ages of 12 and 16. Aquarelle would therefore have been born around 1979s.
Her size and associations suggest that Aquarelle is a female of the Saguenay community. In the summer range, females form large communities in which they tend to newborns and young. These communities are faithful to traditional territories and exchanges between them are uncommon. Her companions include Slash, Élizabeth, and DL0169.
On September 20, 2001, a biopsy taken from her back confirms her sex: Aquarelle is indeed a female. Over the years, Aquarelle is seen regularly in groups comprising newborns. On a few occasions, she was spotted with a calf that seemed to be her own. Analysis of the DNA extracted from her biopsy will be used to reconstruct her family tree.
How her story unfolds will help us better understand the social and reproductive lives of belugas. By better understanding how belugas live, we will better be able to protect them.
Observations history in the Estuary
Years in which the animal was not observed Years in which the animal was observed
Latest news
The morning of July 4, 2011, the mouth of the Saguenay is blanketed in fog. We lose sight of the group of belugas that we were trying to follow. By the time we arrive in Baie Sainte-Marguerite, not a single beluga is present. We head back down the Fjord and initiate contact with a group of belugas whose path we had crossed a little earlier; Aquarelle is among them. The animals are very calm. Sometimes they remain motionless at the water surface. Then, after a few minutes, surface activity picks up again. The belugas become quite noisy as they head up the Saguenay.
We are in Baie Sainte-Marguerite in the Saguenay Fjord. Aquarelle is there in a herd of some twenty individuals, including adults and young. The percentage of young grays is quite high, with at least 50% of the individuals falling into this category. To this day, it is still unknown why belugas are particularly fond of this bay. Once they reach this area, they sometimes stay there and swim in circles for several hours on end. Socializing behaviours are often observed here and their "voices" can be heard regularly, both below and above the surface!
We're observing Aquarelle in the Saguenay Fjord, at Anse à Pierrot to be exact. She's swimming in a herd of 40 or so belugas that are making their way downstream. Within the herd, we notice a few entirely white individuals, but half of the animals are gray or slightly gray. Aquarelle is accompanied by Yogi, DL0553 and DL1903, three other females from the Saguenay community. One animal showing a deformity on its back is also near Aquarelle; this is only the second time we are observing it.
The sponsor
The city of Lévis adopted Aquarelle and is participating in the solidary adoptions of Neige, Nics, Solidaire, Bilou and Cica with other riverside municipalities of the St. Lawrence (2014).
Click on the name below to discover texts, drawings and videos composed by children of participating schools on Facebook.
Aquarelle was named by the 4th grade class of the École du Grand-Fleuve in Saint-Romuald as part of the Our Beluga's Name is…contest.