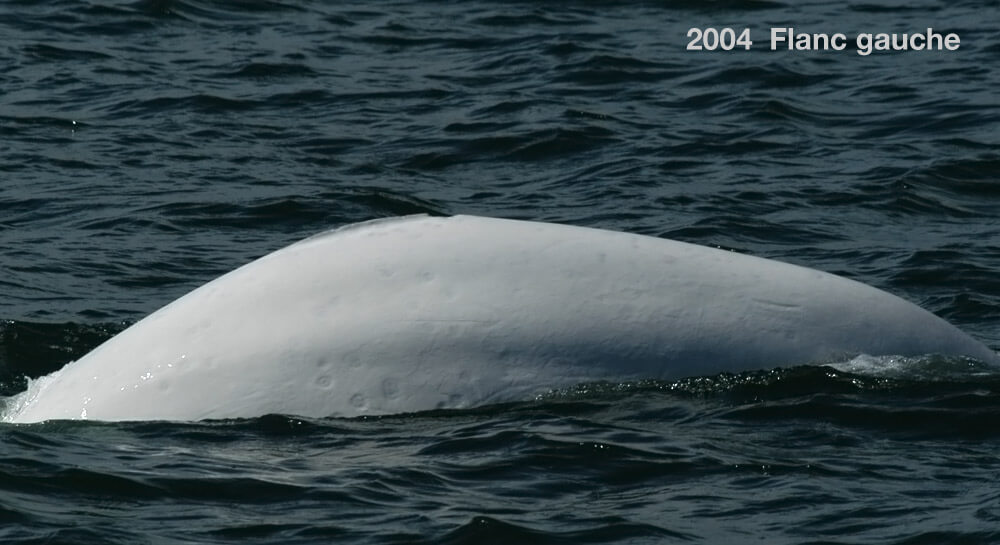 Adopted by Road Scholar
ID number

DL0393

Sex

Presumed female

Year of birth

Around 1990

Known Since

1993
Distinctive traits
Amalena is easily recognizable even if she has no scar on her sides. She is identified by a large notch with straightened ends, at the end of the dorsal crest and with the other small notches on its crest.
Life history
Known since 1993, it was slightly grey and since 2004, it has always been noted white. She would therefore have been born around 1990.
Her habits, size and company suggest that she is a female from the Saguenay community.
Observations history in the Estuary
Years in which the animal was not observed Years in which the animal was observed
Latest news
It's a special day aboard the Bleuvet… Our research boat is host to guest researcher Valeria Vergara from the organization Ocean Wise, who has collaborated with GREMM every summer since 2015. The team is also accompanied by a film crew that is putting together a documentary on beluga research. To kick off the day, we enter the Saguenay River. Our other boat was carrying out spotting activities earlier in the day, so we know we will find belugas here.
We find a herd moving up the Fjord. Discovered earlier this morning by our colleagues, this herd includes Amalena. We deploy our drone to try to document the animals' build. Meanwhile, Valeria records underwater communication using a hydrophone. We stay with the belugas for almost an hour before leaving. Will we succeed in recognizing Amalena when we analyze our videos and recordings?
Belugas are even earlier risers than we are! It's 7:20 in the morning, and all eyes are on Baie Sainte-Marguerite. Already, a herd of twenty or so individuals is gathered in the bay. Did they spend the night beneath the tower while we were gone? By the time we get situated atop the tower, it's 7:45. We begin photo-ID'ing the belugas. The group is mostly composed of adults: 20 pure white animals and three that are still grey, meaning they are no more than 16 years old. Amongst the adults, we recognize comrads Vita and Mirapakon and females Amalena and Athéna, who are also companions. We also note the presence of Pascolio, a female with a deformed back. She, too, belongs to the Saguenay community of females. The belugas linger in the bay for three more hours before they depart. Two days later, we were deeply saddened to find out that Athéna had died. Will analysis of the sound and video recordings made on July 27 clue us in on the last moments of this 45-year-old (at least) female's life?
The sky greets our team on board the Bleuvet with a light mist. We're sailing off the coast of Île Rouge, near Tadoussac, when we spot a herd of eight belugas including adults, young and one newborn. For an hour, we attempt to approach the herd to photograph each one of the animals, but they disappear in the waves and avoid us. Now the belugas that were once all around us have disappeared. After about thirty minutes of waiting, we're just about to leave, when suddenly we see the herd reappear as it makes its way up the Saguenay. We are able to photograph them, but most of the animals show no markings, which makes them very difficult to recognize. In fact, only once he's returned to the laboratory does the technician manage to identify Amalena in the photos. The mystery remains on the identity of the belugas that were accompanying her that day.
The summer of 2016 – our 32nd season at sea with the belugas – was once again rich in encounters and surprises. Observations include sightings of Amalena on at least four occasions. She is one of the most familiar belugas to our research team. The sightings of 2016 bring the number of encounters with Amalena since 1998 to 55. She has been observed every summer except 2003.
August 24, 2016: we're observing Amalena in the Saguenay Fjord, at Anse Saint-Étienne to be exact. She's swimming in a herd of 15 belugas making their way upriver along the shoreline. Within the herd, we notice a few entirely white individuals – including the female Athéna – but 50% of them are gray or slightly gray. We also observe one newborn. The latter is observed swimming alongside several adults, including the male DL9018, which is unusual!
The Saguenay is a place where cows and bulls of different generations mingle: male networks mix with female communities like Amalena's and with juveniles, as well as with groups of young males, a.k.a. the "teenagers".
The sponsor
Road Scholar, previously known as Tadoussac Elderhostel, has adopted Eldy (2000), Canusa (2001), Tadou (2004), Amalena (2014) and Nomi (2015), I have been coming to Tadoussac since the age of 8 months (i.e. since 1938) and I, my wife, daughters, son-in-law and grandchildren love this country. We were raised with these whales, and belugas in particular, and participants in my Elderhostel groups were also touched by these wonderful whales, so we decided to help protect and preserve them by contributing funds to the adoption program. To learn more about Tadoussac Elderhostel, you can visit Tadalac.com.
Thank you, Benny Beattie.