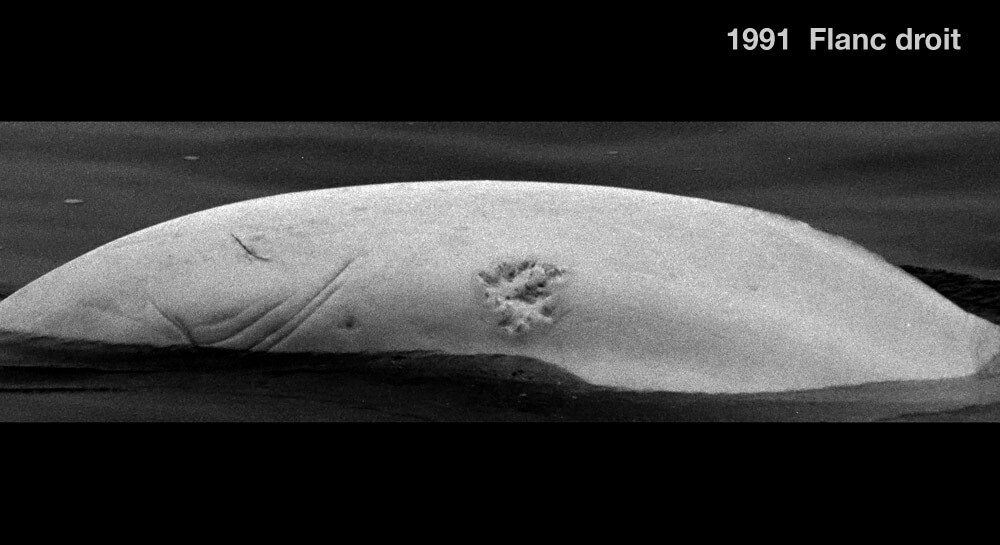 Adopted by les Écoles de la Commission Scolaire de Varennes et Place Longueuil
ID number

DL0081

Sex

Female

Year of birth

Before 1977

Known Since

1989
Distinctive traits
Autant il est très facile de reconnaître Aqua-Bulle grâce à sa large cicatrice irrégulière flanc droit, autant les détails légers de sa crête dorsale rendent la tâche plus difficile du flanc gauche.
Life history
Aqua-Bulle est observée pour la première fois en 1989. Elle est déjà d'un blanc immaculé. Elle est donc née avant 1977.
Sa petite taille, ses habitudes et la présence d'un nouveau-né à ses côtés nous confirment qu'Aqua-Bulle est une femelle de la communauté du Saguenay.
Il existe une forme de ségrégation chez les bélugas. Les femelles et les jeunes utilisent surtout la partie amont de l'aire de répartition estivale de la population. Elles y forment de grandes communautés dans lesquelles elles s'occupent des nouveau-nés et des jeunes. Nous avons pu identifier trois communautés de femelles, chacune occupant un territoire propre. Les associations entre les femelles d'une même communauté sont variables. Elles pourraient varier selon l'état reproductif des femelles, si elles sont gestantes ou non ou accompagnées d'un jeune.
Observations history in the Estuary
Years in which the animal was not observed Years in which the animal was observed
Sponsor
Six Schools of the Commission Scolaire de Varennes adopted Aqua-Bulle (1992).
Place Longueuil adopted Aqua-Bulle (1992).