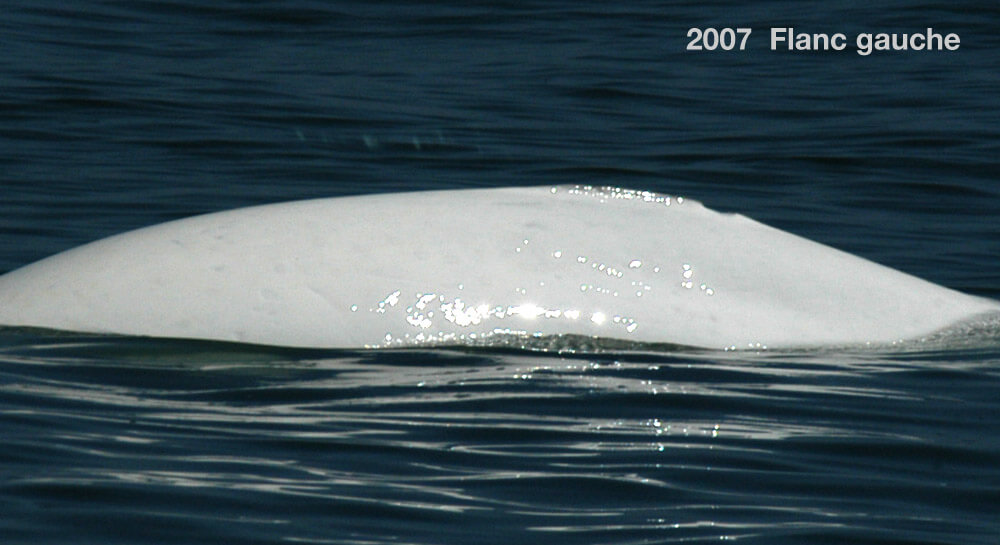 Adopted by Road Scholar
ID number

DL0579

Sex

Female

Year of birth

Before 1980

Known Since

1994
Distinctive traits
Nomi's dorsal crest is sufficiently marked to identify her from both flanks, particularly by the deep gash in its posterior part. There is also a grey line on each side below the crest.
Her story
Our first encounter with Nomi goes back to the summer of 1994. She was already white at the time, making her age difficult to estimate. However, as belugas fade from gray to white in colour between the ages of 12 and 16, we can affirm that Nomi would have been born no earlier than the early 1980s.
Her size and associations suggest that Nomi is a female of the Saguenay community. In their summer range, females form large communities in which they tend to newborns and young. These communities are faithful to traditional territories and exchanges between them are uncommon. DNA analysis of a biopsy sample taken from her back in 2000 would confirm her sex: Nomi is indeed a female.
Her companions include Yogi, Élizabeth and DL0169, females of the Saguenay community like herself. Associations between females of the same community are generally not very stable. They may vary depending on the females' reproductive status and whether or not they are pregnant or accompanied by a calf. Nomi was observed on several occasions accompanied by calves and young belugas. We must await more detailed analysis of such associations before we can confirm which of the aforementioned calves may have been her own.
How her story unfolds will help us better understand the social and reproductive lives of belugas. By better understanding how belugas live, we will better be able to protect them.
Observations history in the Estuary
Years in which the animal was not observed Years in which the animal was observed
Latest news
Autumn is setting in and it is starting to get chilly on board the BpJAM, GREMM's inflatable research boat. We are navigating through one- to two-foot-high waves, which means a steady hand is needed to be able to take pictures sharp enough to identify our belugas. Near Rivière-du-Loup, we encounter a herd of fifteen to twenty individuals, mostly greys and two calves. Nomi is in the middle of this group. She has a young grey beluga nearby. Is this one of her own offspring that continues to follow her? Is she sharing knowledge with it? In the month of September, we usually take biopsy samples from belugas. We could have determined whether or not the two were related. However, due to COVID-19 protocols, we were unable to have a large enough team on board to be able to take such samples. As a result, we'll have to wait to crack this mystery!
We're on our way to the lighthouse at Cap de la Tête-au-Chien aboard the BpJAM, our inflatable research vessel. It's early afternoon and conditions are favourable, with light wind and good visibility. We spot a small herd of 4 or 5 individuals, take a few photos and then spot another group, this one numbering nearly a dozen animals. Half the belugas still have grey skin, an indication that they are relatively young. Two large females are swimming among them: Bleuoutremer and Nomi. The wind begins to pick up. We photograph a few more belugas. By around 2:30, the waves become more intense. After we've had enough of being rocked about in our small boat, we decide to return to our home port of Tadoussac.
Early in the morning we set out to encounter belugas. At the mouth of the Saguenay, we spot a herd of a dozen or so individuals composed of adults and young. After an hour of observations and photo-ID work, we lose sight of all the individuals. The belugas dive and vanish below the surface, making our job all the more challenging. Seeing their white backs in the distance, we decide to go ply the waters off Île Rouge. Great choice! We manage to take several photos of a white adult with a calf. Back at the research station, we scan through the photos taken and recognize Nomi! However, at the present time we cannot confirm whether or not the calf is hers.
Au large de la Pointe-Noire, nous observons Nomi parmi un troupeau d'une vingtaine d'individus. Le troupeau est composé d'adultes et de jeunes. Nomi nage en compagnie d'Athéna et de DL0169, deux autres femelles de la communauté de femelles du Saguenay. Aux côtés des flancs de Nomi, on remarque la fréquente présence d'un jeune individu. Plusieurs observations seront nécessaires pour confirmer s'il s'agit de son jeune. Le troupeau est peu actif, il remonte très lentement dans le fjord du Saguenay.
Le 15 juillet 2013, Nomi se trouve dans un troupeau d'une trentaine de bélugas dans l'embouchure du fjord du Saguenay, des adultes et des jeunes. Après avoir effectué une série d'aller-retour dans l'embouchure, le troupeau se disperse en plusieurs petits groupes et prend la direction du large. On ne pourra pas les suivre puisque l'estuaire est couvert de brume.
L'embouchure du Saguenay est un lieu où se croisent les réseaux de mâles et les communautés de femelles. De grands troupeaux se forment, mais de façon éphémère, pour ensuite se diviser à nouveau en plus petites unités stables de femelles avec les jeunes et de mâles.
Sponsor
Road Scholar, previously known as Tadoussac Elderhostel, adopted Eldy (2000), Canusa (2001), Tadou (2004), Amalena (2014) and Nomi (2015).
Je viens à Tadoussac depuis l'âge de 8 mois (c'est-à-dire depuis 1938) et moi, ma femme, mes filles, mon gendre et mes petits enfants adorons ce pays. Nous avons été élevés avec ces baleines, et les bélugas en particulier.
Les participants de mes groupes d'Elderhostel ont aussi été touchés pas ces merveilleuses baleines, alors on a décidé de participer à leur protection et leur préservation en versant des fonds dans le programme d'adoption. J'ai aussi décidé de « matcher » personnellement les dons qui sont faits.
Pour en savoir plus sur Tadoussac Elderhostel, vous pouvez visiter Tadalac.com (en anglais).
Merci,
Benny Beattie