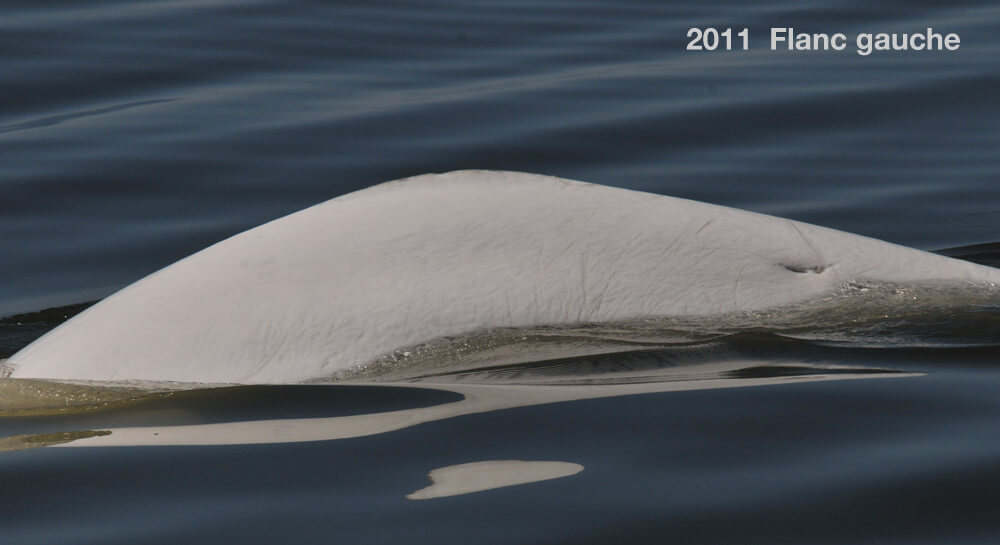 Adopted by la grande séduction : congrès sur la médecine d'urgence
ID number

DL0512

Sex

Female

Year of birth

Around 1985

Known Since

1994
Distinctive traits
It is easier to identify Marjo from her left side thanks to the scar on her peduncle resembling a pair of eyeglasses. To confirm her identity from the right, one must carefully study the details of her dorsal crest.
Her story
Our first encounter with Marjo goes back to 1994, at which time she was gray. She turned entirely white around 2000. Belugas fade from gray to white in colour between the ages of 12 and 16. Marjo would therefore have been born in the mid-1980s, around the same time our beluga research project was initiated.
Her small size, habits and regular presence in herds comprising adults and young suggested that Marjo was a female belonging to the Saguenay community. In their summer range, females form large communities in which they tend to newborns and young. These communities are faithful to traditional territories and exchanges between them are uncommon. The presence of a newborn at Marjo's sides in 2014 confirmed her sex.
In 2001 and 2002, she had also been seen with a young gray individual, possibly a calf that she had borne the year before. At birth, calves have brown skin. Later, they turn bluish gray and remain this colour until they're about two years old. Juveniles aged 2 and up have gray skin, which then fades to white when they reach adulthood.
How Marjo's story unfolds will help us better understand the social and reproductive lives of St. Lawrence belugas. By better understanding how belugas live, we will better be able to protect them.
Observations history in the Estuary
Years in which the animal was not observed Years in which the animal was observed
Latest news
Special day aboard the Bleuvet… Our research boat is host to guest researcher Valeria Vergara from the organization Ocean Wise, who has collaborated with the GREMM every summer since 2015. The team is also accompanied by a film crew that is putting together a documentary on beluga research. To kick off the day, we enter the Saguenay River. In the distance, we spot a herd of 30 to 40 individuals coming out of Baie Sainte-Marguerite. On the other side of the river, near Anse Saint-Etienne, there is another herd of 40 to 60 belugas. We photograph the groups before taking out the drone. By the time we're ready to launch, the belugas are gone. We spot a new group. While photographing the animals and flying over them with the drone to document their behaviour, we recognize Marjo and Pure Laine. Meanwhile, Valeria records underwater communication using a hydrophone. Will we be able to recognize your beluga in our videos and sound recordings?
L'été 2016, notre 32e saison en mer avec les bélugas, a encore été riche en rencontres et en surprises. Bonne nouvelle, après une absence remarquée l'année dernière, nous avons revu Marjo à deux reprises cet été. Depuis notre première rencontre avec Marjo en 1994, elle a régulièrement « manqué à l'appel ». On cherche toujours à mieux comprendre ces brèves absences: reflètent-elles ses déplacements ou bien les aléas de notre échantillonnage?
Le 5 juillet 2016, nous sommes au large de l'anse à la Boule dans le Saguenay quand nous apercevons Marjo dans un troupeau d'une vingtaine d'individus. Le troupeau est composé d'adultes et de jeunes. Marjo nage en compagnie de Yogi et de DL9018, deux de ses compagnes de la communauté de femelles du Saguenay. Aux côtés de Marjo, on remarque la présence d'un jeune gris. Toutefois, cette observation ne nous permet pas de confirmer s'il s'agit bien de son jeune. Au moment de notre rencontre, le troupeau est peu actif, il remonte très lentement dans le fjord du Saguenay. Les animaux sont dispersés et seuls. Après une heure d'observation, ils se réunissent en quatre groupes. Finalement, le troupeau termine sa course, non pas à l'habituel terminus qu'est la baie Sainte-Marguerite, mais à l'anse Sainte-Étienne où ils « flâneront » les prochaines heures. Peut-être sont-ils tombés sur un banc de proies bien alléchant!
L'équipe de terrain du Bleuvet n'avait pas encore entamé sa 32e saison lorsqu'une assistante de recherche du GREMM, qui se trouvait à bord d'un bateau de croisière pour le programme de photo-identification des grands rorquals au large de la baie de Tadoussac, a pris des clichés de Marjo. Elle nageait en compagnie de huit bélugas, incluant des adultes et des jeunes. Le troupeau était très actif. L'assistante de recherche a observé plusieurs queues hors de l'eau et les animaux se sont dirigés rapidement vers le fjord du Saguenay.
We're at the Tadoussac marina to make a minor repair on our boat. One of the captains tells us that earlier he saw a group of belugas raising a bit of a ruckus near Buoy K54 at the mouth of the Saguenay. We decide to head to the scene. We discover nearly a dozen males badgering Marjo. A brouhaha on the surface ensues, bodies rubbing up against and rolling over one another. We can even see their pink erect penises. Cooperation amongst males to reproduce with Marjo? Sexual play? Difficult to say, as such behaviour has rarely been documented and is poorly known. Seemingly completely exasperated, Marjo periodically attempts to separate from the group. The bulls catch up to her in no time and the pestering resumes. Her calf, seen the day before with her, is absent.
The scene observed that day raises questions on belugas' reproductive strategies. In both dolphins and chimpanzees, groups of males are known to practise infanticide so that the females become available to reproduce again more quickly. Might this same strategy be shared by belugas?
À l'embouchure du Saguenay, nous rencontrons un troupeau de 10 bélugas. Nous reconnaissons immédiatement Yogi, une femelle que nous suivons depuis des décennies. À ses côtés se trouve un nouveau-né. Est-ce le sien? Au bout de quinze minutes, le nouveau-né va rejoindre le flanc d'un autre individu. Il retourne après un certain temps vers Yogi, et répète le manège quelques fois. Un groupe de quatre individus se rapproche. Nous reconnaissons parmi eux Marjo et la femelle DL1508. Un deuxième nouveau-né est observé dans le troupeau. Soudain, les animaux commencent à nager rapidement vers l'amont.