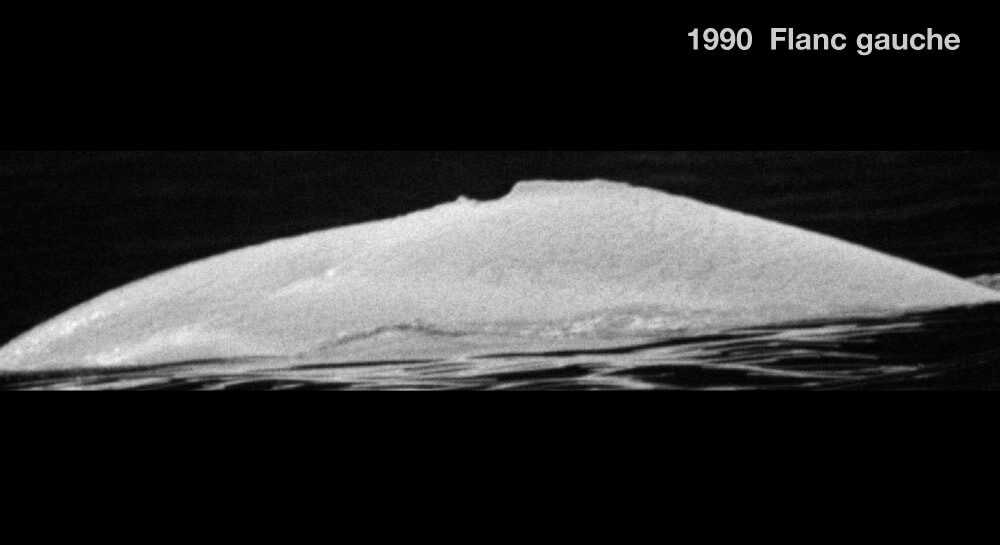 Adopted by Commission scolaire Valin Students and Staff
ID number

DL0099

Sex

Unknown

Year of birth

Before 1961

Known Since

1977
Distinctive traits
La large partie manquante de la crête dorsale de Douceur est son détail le plus frappant. Elle possède également une petite cicatrice sur chaque flanc en avant de la crête.
Life history
Notre première rencontre avec Douceur remonte en 1977. Il était déjà un béluga adulte complètement blanc. Le passage à la couleur blanche survient autour de 12 à 16 ans. Douceur serait donc né avant 1961.
Malgré une marque très évidente, Douceur a été observé peu de fois. Les données ne nous permettent pas de déterminer son sexe ni son aire de fréquentation pendant la saison estivale.
Le 28 juillet 1990, l'équipe reconnaît Douceur au large de Saint-Fabien-sur-Mer. Il se dirige vers les îles du Bic en compagnie de quelques adultes; ils ont le corps couvert de vase. Un signe d'alimentation dans les fonds vaseux de l'estuaire? En effet, parmi les proies des bélugas, on retrouve celles vivant près du fond de l'eau comme des vers et des crustacés enfouis dans les sédiments.
Observations history in the Estuary
Years in which the animal was not observed Years in which the animal was observed
Latest news
Nous avons observé Douceur la dernière fois en 1990. Cette observation remonte à plus d'une vingtaine d'années. Que lui est-il arrivé? Est-il demeuré invisible à l'œil du chercheur pendant tout ce temps? Chose certaine, son histoire demeure une source d'informations précieuses pour nos connaissances sur cette population fragile.
Sponsor
Commission scolaire Valin Students and Staff adopted Douceur (1990).