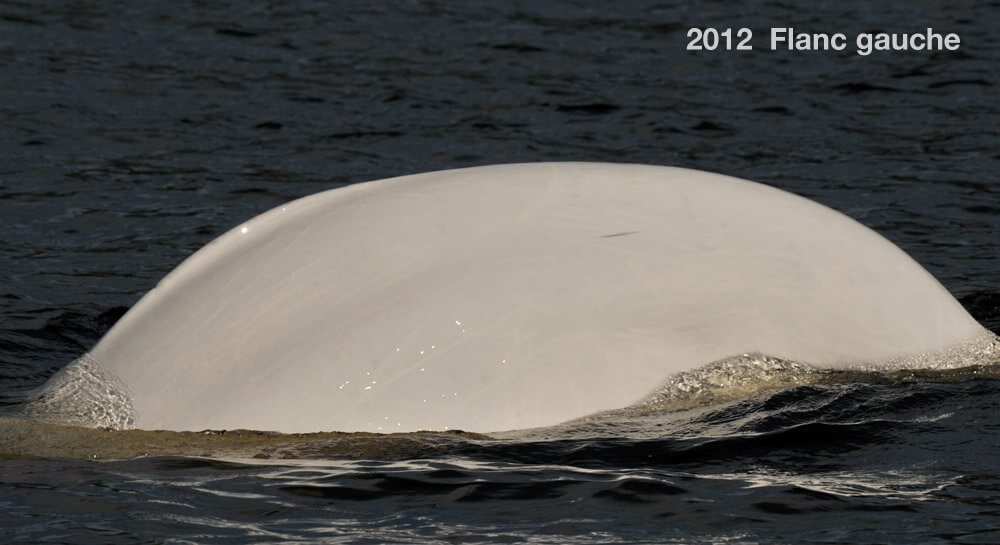 Adopted by Cynthia Fish
ID number

DL1628

Sex

Female

Year of birth

Around 1985

Known Since

2000
Distinctive traits
Were it not for the small gray line on her left peduncle combined with the small gash in her dorsal crest, Pure Laine would be indistinguishable from other belugas.
Her story
Our first encounter with Pure Laine goes back to the summer of 2000. She was slightly grayish in colour at the time. Belugas fade from gray to white in colour between the ages of 12 and 16. Pure Laine would therefore have been born around 1985 or earlier.
Even if no biopsy has been performed, her size, habits and regular presence in herds comprising adults and young suggest that Pure Laine is a female belonging to the Saguenay community. In their summer range, females form large communities in which they tend to newborns and young. These communities are associated with traditional territories. Pure Laine is first observed with a calf in 2002. The observation is a brief one and Pure Laine is not seen again for the remainder of the season. The team is unable to confirm whether or not the newborn was her own.
Pure Laine is regularly seen in the company of DL0030, Slash and Miss Frontenac, all of whom are also females from the Saguenay community. Associations between females of the same community are generally not very stable. They may vary depending on the females' reproductive status and whether or not they are pregnant or accompanied by a calf.
How Pure Laine's story unfolds will help us better understand the social and reproductive lives of belugas. By better understanding how belugas live, we will better be able to protect them.
Observations history in the Estuary
Years in which the animal was not observed Years in which the animal was observed
Latest news
Special day aboard the Bleuvet… Our research boat is host to guest researcher Valeria Vergara from the organization Ocean Wise, who has collaborated with the GREMM every summer since 2015. The team is also accompanied by a film crew that is putting together a documentary on beluga research. To kick off the day, we enter the Saguenay River. In the distance, we spot a herd of 30 to 40 individuals coming out of Baie Sainte-Marguerite. On the other side of the river, near Anse Saint-Etienne, there is another herd of 40 to 60 belugas. We photograph the groups before taking out the drone. By the time we're ready to launch, the belugas are gone. We spot a new group. While photographing the animals and flying over them with the drone to document their behaviour, we recognize Marjo and Pure Laine. Meanwhile, Valeria records underwater communication using a hydrophone. Will we be able to recognize your beluga in our videos and sound recordings?
Aboard the GREMM's research vessel Bleuvet, we make our way toward Îlet aux Alouettes off the coast of Baie-Sainte-Catherine and Pointe Noire. We encounter a herd of 30 belugas consisting of adults, grays and a newborn. Within the herd we recognize Pure Laine, who is swimming together with DL2377, a beluga that has only ever been photographed once, way back in 2005! Alongside DL2377 is a newborn. Is it hers? Only multiple other observations or a biopsy of both animals would allow us to confirm their relationship, or lack thereof. The more we observe these belugas, the more we get the sense that they are swimming in every direction. This type of behaviour leads us to believe that they are feeding. We decide to let them eat in peace and head up the Saguenay to look for other herds.
L'été 2016, notre 32e saison en mer avec les bélugas, a encore été riche en rencontres et en surprises. Nous avons, entre autres, revu Pure Laine au moins à cinq reprises. En 2015, elle avait été observée accompagnée de nouveau-nés, mais nous ne pouvions pas confirmer qu'elle en était la mère. Cette année, lors des différentes rencontres avec l'équipe, elle était chaque fois accompagnée d'un bleuvet. Ces observations nous laissent croire qu'elle a bien donné naissance en 2015.
Le 16 septembre 2016, nous observons Pure Laine dans le fjord du Saguenay, entre l'anse à la Barque et le cap de la Boule. Elle nage parmi un troupeau de 40 bélugas qui se dirige vers l'embouchure du fjord. Au sein du troupeau, on remarque des individus entièrement blancs — dont les femelles bien connues Blanche, Miss Frontenac et Athéna — mais 70 % des bélugas sont gris ou légèrement gris. Il s'agit donc d'un troupeau d'adultes, mais essentiellement composé de jeunes. On y observe aussi deux nouveau-nés. Le Saguenay est un lieu où s'entrecroisent les sexes et les générations de bélugas l'été: les réseaux de mâles s'entremêlent aux communautés de femelles, comme celle de Pure Laine, et les jeunes, ainsi qu'aux groupes de jeunes mâles, les « ados ».
Nous naviguons dans le fjord du Saguenay. Pure Laine se trouve dans un troupeau d'une dizaine d'individus, comprenant des adultes et des jeunes. Parmi un groupe de deux adultes et deux jeunes, on observe Pure Laine qui nage en compagnie de Yogi, une vieille femelle de la communauté du Saguenay et de deux jeunes bélugas encore gris. L'ensemble du troupeau est en formation très serrée. Les bélugas nagent les uns contre les autres et se dirigent vers l'amont. Comme le vent se lève et devient très fort, nous devons quitter le troupeau pour nous mettre à l'abri.
Cet été, nous avons rencontré Pure Laine cinq fois. Lors de plusieurs rencontres, Pure Laine a été aperçue à proximité de nouveau-nés. Nos observations n'ont toutefois pas pu nous permettre de confirmer que l'un de ces petits était bel et bien le sien! Voici le récit de l'une de ces rencontres.
Le 28 août 2015, Nous naviguons dans l'embouchure du Saguenay près du site d'observation de Pointe-Noire. Nous ne sommes donc pas les seuls à suivre de près le troupeau dans lequel se trouve Pure Laine, des visiteurs du site scrutent également les mouvements des animaux depuis les hauteurs du belvédère. La dizaine d'individus, des femelles accompagnées de jeunes, tournent en rond, plongent et refont surface au même endroit à plusieurs reprises. Nous soupçonnons qu'ils s'alimentent. À bord du bateau, il y a une certaine excitation, car cette semaine nous commençons un tout nouveau projet sur les sons des nouveau-nés bélugas. Nous effectuons un enregistrement de ce troupeau, mais les bélugas sont muets! Ce n'est que partie remise!
Voilà un contact riche en nouveau-nés! Nous sommes à l'embouchure du Saguenay, à quelques mètres de notre port d'attache de Tadoussac. Entre la pointe Rouge et la pointe Noire, nous observons cinq nouveau-nés, dont ceux de Marguerite, de Miss Frontenac et de Blanche. Pure Laine nage à leurs côtés. Pour le moment, nous n'avons jamais pu confirmer que Pure Laine est fertile. La verrons-nous bientôt avec un petit? Nous laissons les bélugas avec des nouveau-nés tranquilles, nous allons vers un groupe d'adultes afin de prélever deux biopsies.
Sponsor
Cynthia Fish adopted Pure Laine (2014).