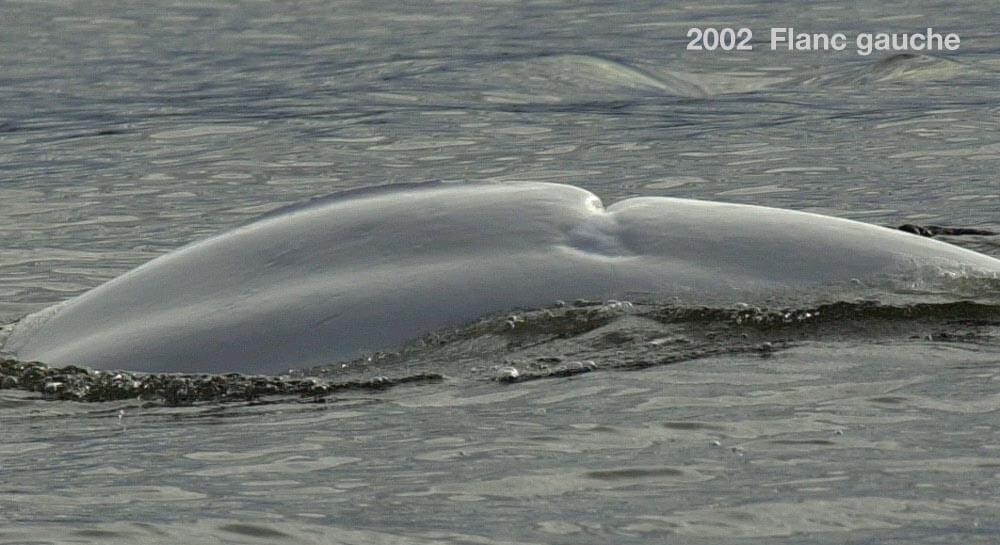 Adopted by Annick Mottet-Brady
ID number

DL0115

Sex

Female

Year of birth

Before 1977

Known Since

1989
Distinctive traits
On reconnaît Canadine à sa large cicatrice en arrière de sa crête dorsale qui descend sur les deux flancs. Sa crête irrégulière parsemée de détails est un bon complément qui aide à confirmer son identité.
Life history
Nous avons rencontré Canadine pour la première fois en 1989. Déjà toute blanche à l'époque, elle serait donc née avant 1977.
Canadine est une femelle, son sexe est confirmé par une biopsie, soit l'analyse génétique d'un minuscule morceau de peau prélevé sur son dos. Son histoire nous laisse croire qu'elle appartient à la communauté de femelles de la rive sud.
Les observations ont permis de déterminer que Canadine était une femelle de la communauté de la rive sud. Elle était presque toujours vue avec une autre femelle, Ondine, ce qui est bien étonnant, car les femelles, contrairement aux mâles, ne forment habituellement pas d'association durable entre elles. Après 1995, ces deux femelles n'ont pas été revues ensemble.
Observations history in the Estuary
Years in which the animal was not observed Years in which the animal was observed
Latest news
Le 14 octobre 2009, nous sillonnons le secteur de l'île Rouge. Nous croisons un groupe d'une trentaine d'individus constitué d'adultes, de jeunes et de quatre veaux. Comme le vent se lève, nous ne perdons pas de temps à mettre en place notre protocole de photo-identification. Nous reconnaissons Canadine qui nage en compagnie d'un gros gris. Le troupeau n'est pas facile à suivre, car il s'est scindé une fois pour former de petits groupes de deux à trois individus pour ensuite se réunir à nouveau. Malgré tout, nous décidons de suivre ce troupeau qui se dirige vers l'île Verte.
Sponsor
Annick Mottet-Brady adopted Canadine (1994).