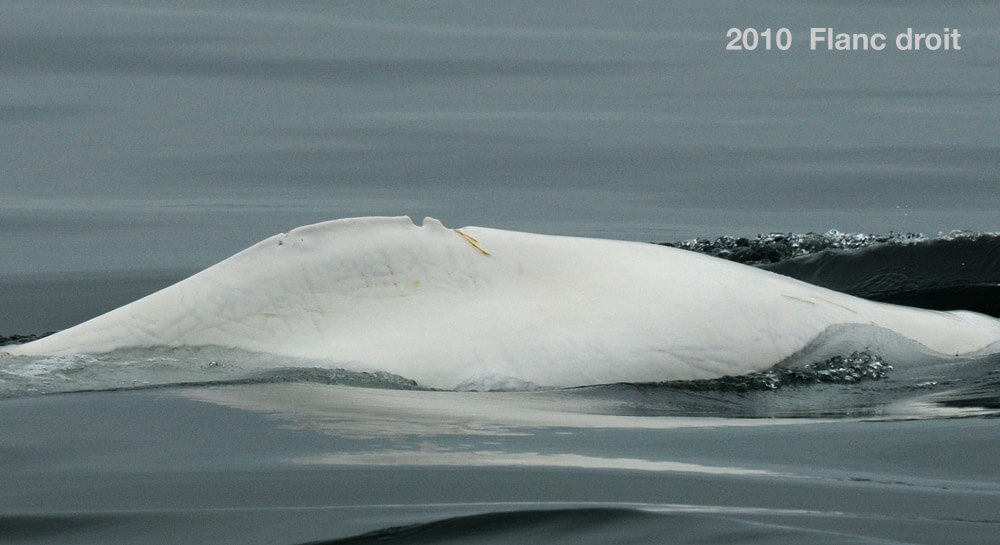 Adopted by the region of Rivière-du-Loup
ID number

DL0116

Sex

Female

Year of birth

Before 1974

Known Since

1990
Distinctive traits
Les marques d'Ondine sont multiples. Tout d'abord, il y a les trois profondes cicatrices dans sa crête dorsale. Il y a également la petite cicatrice juste en arrière de son évent, visible surtout du flanc gauche.
Life history
À notre première rencontre en 1990, Ondine était déjà blanche. Elle serait donc née avant 1974.
Sa petite taille et la présence d'un nouveau-né aux côtés d'Ondine nous ont indiqué qu'elle était une femelle de la communauté de la rive sud du fleuve Saint-Laurent.
Ondine est une femelle béluga sans doute assez âgée. Les observations régulières jusqu'en 1995 nous ont permis de déterminer qu'elle était une femelle appartenant à la communauté de la rive sud. Étonnamment, elle était presque toujours vue avec Canadine ; les femelles bélugas, contrairement aux mâles, ne forment habituellement pas d'associations durables avec d'autres individus. En 1994, Ondine était accompagnée d'un veau et en 1995, d'un bleuvet.
Observations history in the Estuary
Years in which the animal was not observed Years in which the animal was observed
Latest news
En 2010, surprise : Ondine est photographiée dans la baie des Chaleurs! Quelques semaines plus tard, elle est de retour à la tête du chenal Laurentien, amaigrie. Il faudra attendre le mois d'août 2012 pour avoir de nouveau de ses nouvelles : plusieurs signalements d'un béluga apparemment mal en point, dérivant entre Les Escoumins et Les Bergeronnes, parviennent au Réseau québécois d'urgences pour les mammifères marins. Le 15 août, Robert Michaud, directeur de la recherche au GREMM, se rend au Centre de découverte du milieu marin aux Escoumins pour documenter l'un de ces signalements. Il confirme qu'il s'agit d'Ondine et qu'elle semble mal en point.
Sponsor
The region of Rivière-du-Loup adopted Ondine (1993).