Early fall is the best time of year for whales!" says Renaud Pintiaux, who has been watching cetaceans nearly every day in the Saguenay-St. Lawrence Marine Park for years. The golden hues, the fresh air conducive to spotting spouts – even beluga spouts – the foliage just starting to turn, all combine to make for unforgettable contemplations.
On September 22, Renaud observes a large gathering of fin whales with the rising tide. Fifteen individuals huddle together, joining forces to round up prey. Gulls get in on the action and snatch up a few fish. Renaud manages to photograph what's dangling from their beaks: capelin. A small shoaling fish, capelin is a rich and fatty prey, and a favourite target of whales as well as birds and even certain large fish. More nourishing than sand lance, capelin are perfect for "topping off" before before undertaking migration.
In the Marine Park, a few humpbacks are still cashing in on the abundance of food. On September 22, H930 and H944 put on an incredible show for observers on the water. "We saw them through the clear water and, for the first time, I really had the impression of watching them fly underwater," relates Renaud Pintiaux. The first part of the humpback whale's scientific name – Megaptera novaeangliae – translates as "big wings", a reference to the species' large pectoral fins. Occasionally, humpbacks spread them and appear as if they are flapping wings.
North Atlantic right whale in the Estuary
On September 23, as the wind picks up and the waves grow larger, Renaud Pintiaux notices one whale that's different from the humpbacks. Its spout is broader and V-shaped. He can't make out a dorsal fin, but is that because of the waves, he wonders? Then, the whale dives and reveals a completely smooth tail indentation. He can't believe his eyes. Nearly twenty minutes later, the whale resurfaces. This time, he and the captain are certain: it is indeed a North Atlantic right whale, two nautical miles from the coast of Les Bergeronnes. Unfortunately, he is unable to take a photo.
During sightings of the species in 2015 and 2016, the right whales made only brief appearances in the Estuary. They can travel large distances<!. In the Gulf of St. Lawrence, researchers have calculated that they can cover 50 km in one day!
This species is endangered, with approximately 400 individuals and only about 100 females of reproductive age. To help the species in its recovery, observers are required to stay at least 400 metres away, even if it's tempting to try to get closer…
"Autumn blues"
Harbour Porpoises, which were plentiful just a few weeks ago, now appear to have left the Estuary. They can still be found in the Gulf of St. Lawrence, where Jacques Gélineau is at sea.
He sets sail this week with the director of the Mingan Island Cetacean Study, Richard Sears. Blue whales seem to be mostly in the Sept-Îles area these days. Other species are present in lower numbers, with a handful of feeding fin whales and a single humpback. "Autumn blues," chuckles Jacques Gélineau. But not so fast! Just because you can't see them doesn't mean they're not there. Fall navigating conditions reduce the size of coverage areas, can hamper visibility and occasionally mean that long stretches pass between trips. And it goes without saying that a healthy dose of luck is needed to spot whales. With just a few breathing sequences on the surface, a whale's appearance can easily go undetected if one is not vigilant.
Half a tail!
On September 20, a naturalist aboard a whale-watching cruise off Forillon in the Gaspé Peninsula is surprised to see a fin whale with its caudal fin cut in half. "The entire left lobe is missing!" It's an old, well healed wound, but it's impressive," she points out. A fin whale with only one tail lobe was photographed in the Estuary in 2017. In the Mediterranean, a fin whale nicknamed Fluker lived from 1996 to 2018 with a single lobe, after losing the other in a collision. However, since it lost the second lobe in 2019, possibly in an entanglement that cut off circulation in the tail, it is believed to be doomed. In the Estuary, a tail-less beluga appears to be managing to lead a "normal" life. This goes to show that whales can sometimes adapt to a handicap. But because each species swims a little differently, the impact of the loss of the caudal fin lobes is not the same.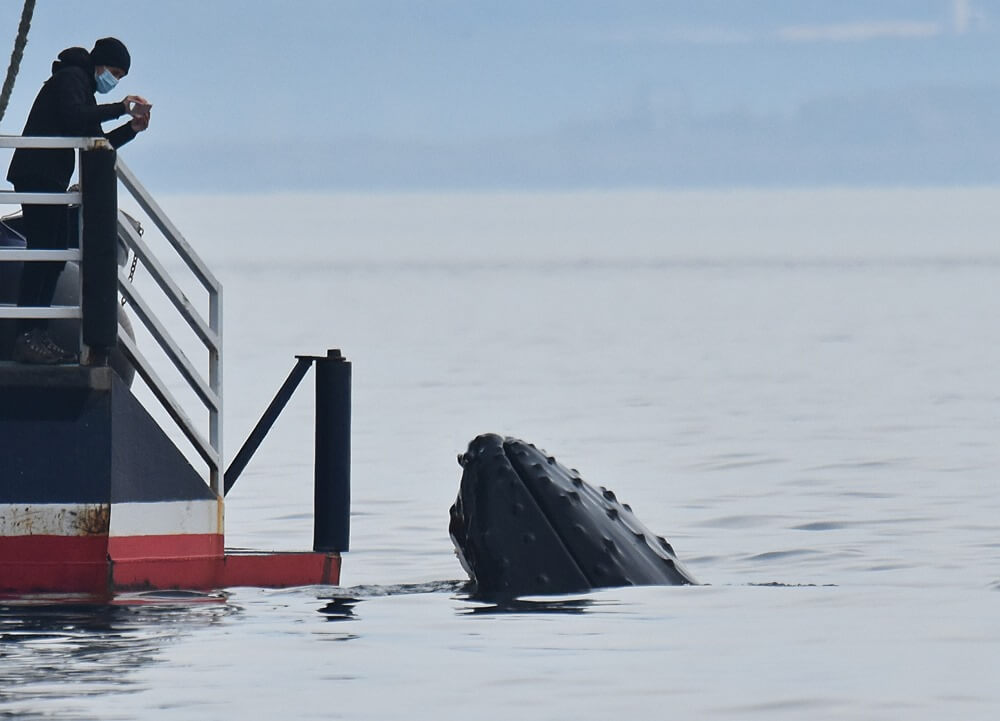 Humpback H944 approaching a whale-watching boat © Renaud Pintiaux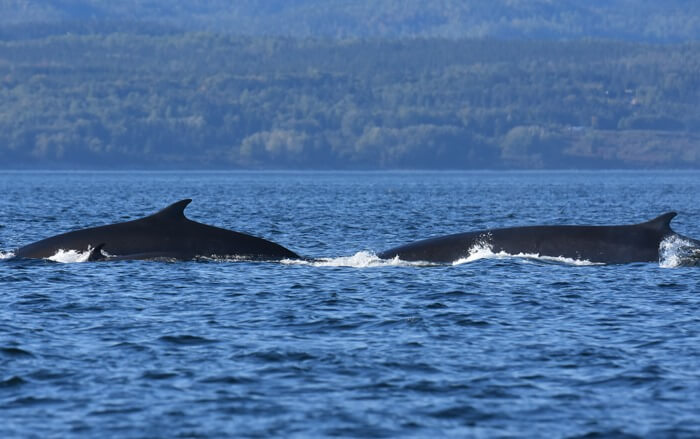 Congregating fin whales © Renaud Pintiaux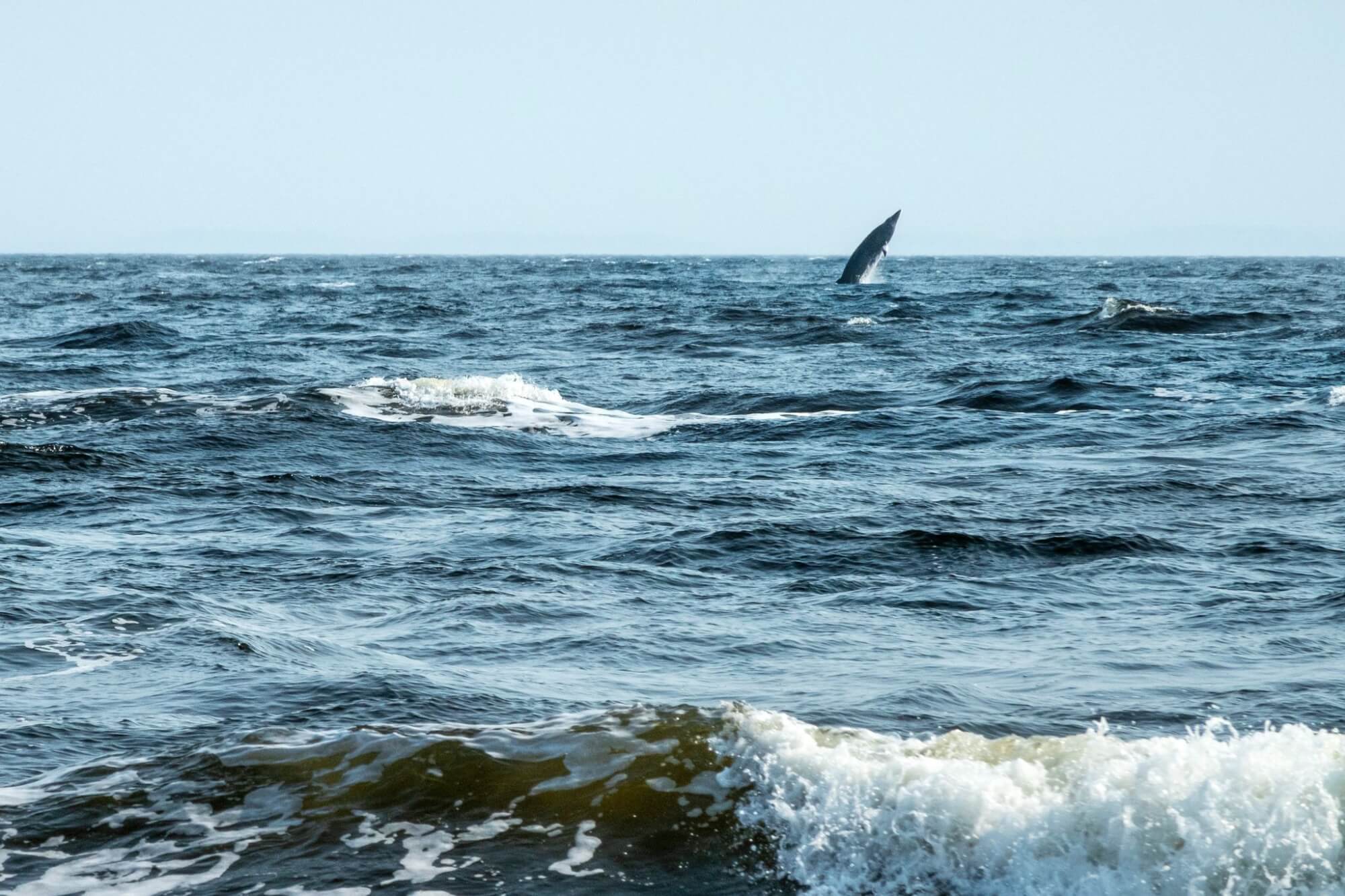 A minke whale jumped in front of Gallix. It was 3 minutes of great joy for the observer!© Marielle Vanasse
This is the last weekly sighting map!
This column will continue to run throughout the year, but we will no longer be publishing the map until next June.
The observations give a rough idea of the presence of whales, but do not in any way represent the true distribution of cetaceans in the St. Lawrence. Enjoy!
The map works well on Chrome and Firefox, but less so on Safari.
To display the list of observations, click on the icon in the upper left corner.