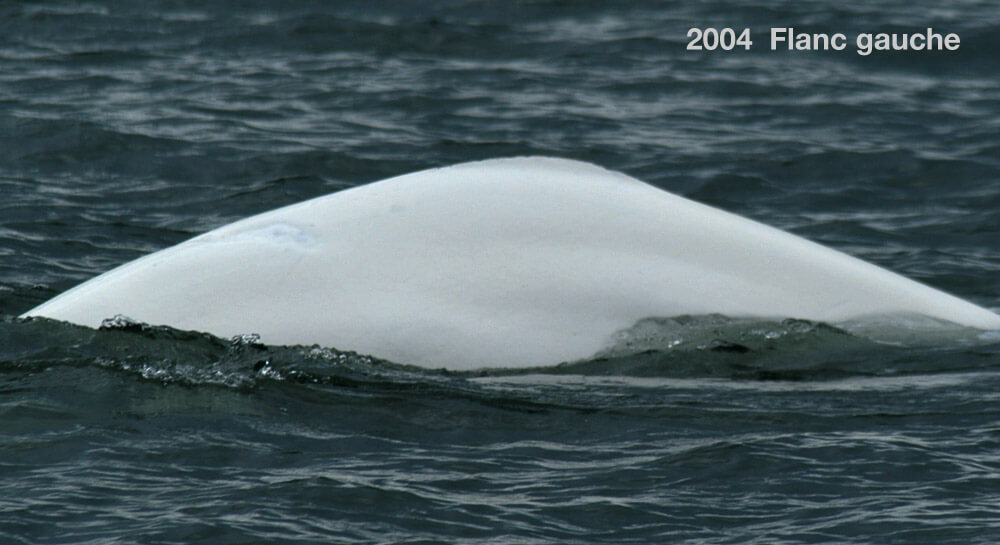 Adopted by CBC Community Network and listeners
ID number

DL0066

Sex

Female

Year of birth

Before 1970

Known Since

1986
Distinctive traits
La longue cicatrice sur le dessus du flanc de Tadeus qui s'étend des deux côtés aide à l'identifier facilement. En plus de cela, sa crête dorsale est parsemée de petites encoches sur toute sa longueur.
Life history
Tadeus a été photographiée pour la première fois en 1986. Elle était blanche. Elle serait donc née avant 1970.
Le sexe de Tadeus a été confirmé par une biopsie : il s'agit d'une femelle. Elle ferait partie de la communauté de femelles du fjord du Saguenay.
Tadeus est une femelle. Comment le sait-on? Grâce à une biopsie. On prélève, à l'aide d'une arbalète qui propulse une fléchette munie d'un dard, un minuscule morceau de gras et de peau, dans lequel se trouvent les secrets génétiques de l'animal. Le GREMM fait des biopsies sur des bélugas depuis 1994 pour identifier le sexe et les liens familiaux de l'individu.
Observations history in the Estuary
Years in which the animal was not observed Years in which the animal was observed
Latest news
En début d'après-midi, près de l'île Verte, nous repérons un troupeau d'une vingtaine de bélugas. On reconnaît Tadeus, qui nage parmi un troupeau d'adultes et de jeunes. Les conditions de travail sont difficiles : le vent et la barre de courant compliquent la tâche. Néanmoins, nous arrivons à prélever une biopsie sur un des adultes. On pense aussi avoir reconnu Coquine Blanche qui est accompagnée d'un jeune béluga gris. Il est 15h : la journée de travail doit se terminer comme le vent s'est levé drastiquement.
La dernière observation de Tadeus remonte à plus d'une dizaine d'années. Est-elle morte? Est-elle demeurée invisible à l'œil du chercheur pendant tout ce temps? Chose certaine, son histoire demeure une source d'informations précieuses qui nous aident à mieux comprendre cette population fragile.
Sponsor
CBC Community Network and their listeners adopted Tadeus and Bonnie (1989).