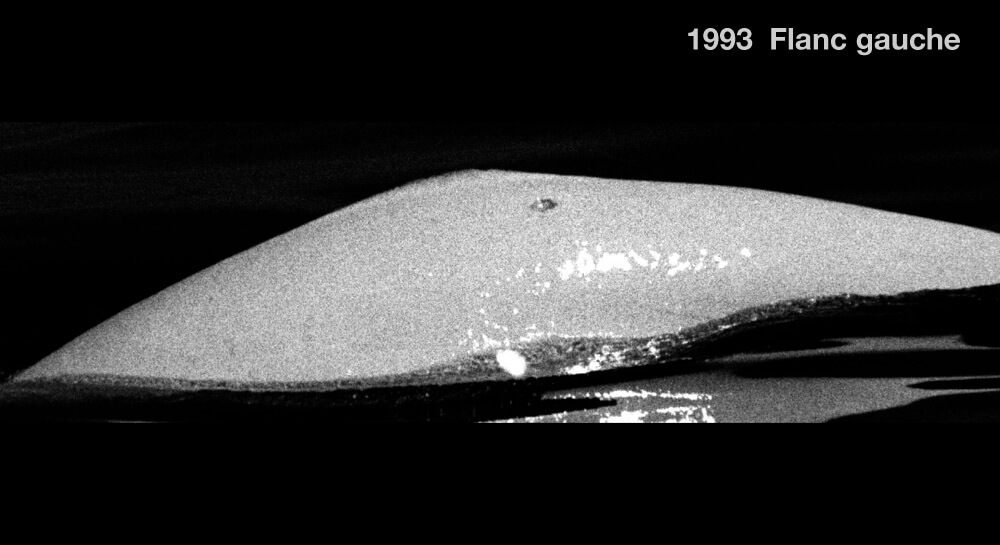 Adopted by Québec-Téléphone
ID number

DL0068

Sex

Presumed female

Year of birth

Before 1971

Known Since

1987
Distinctive traits
Sur le flanc gauche de Muska, juste en dessous de la crête, se trouve une petite cicatrice. Combinée aux entailles de sa crête dorsale, cette marque permet de la distinguer. Muska n'est pas connue du flanc droit.
Life history
Muska a été photographiée pour la première fois en 1987. Elle était blanche, donc elle serait née avant 1971.
Sa petite taille et la présence d'un jeune aux côtés de Muska nous permettent de présumer qu'elle est une femelle. Toutefois, en raison du manque de données, nous ne pouvons pas définir avec quelle communauté de femelles elle gravite.
En été, les femelles forment de grandes communautés dans lesquelles elles s'occupent des nouveau-nés et des jeunes. Ces communautés sont attachées à des territoires traditionnels et il y a peu d'échanges entre elles. La mise bas des bélugas du Saint-Laurent se déroule généralement de juin à septembre. Les petits sont allaités pendant environ deux ans. Cette période d'apprentissage et de soins de la mère est vitale pour la survie du nouveau-né.
Observations history in the Estuary
Years in which the animal was not observed Years in which the animal was observed
Latest news
Muska nage dans le secteur de la batture aux Alouettes. Elle n'est pas seule, quelques bélugas adultes, des bélugas juvéniles et un nouveau-né composent son troupeau. D'autres bélugas sont repérés en périphérie, mais on les perd de vue.
La dernière observation de Muska remonte à plus d'une vingtaine d'années. Que lui est-elle arrivé? Est-elle morte? Est-elle demeurée invisible à l'œil du chercheur pendant tout ce temps? Impossible de savoir pour le moment. Chose certaine, son histoire demeure une source d'informations précieuses pour nos connaissances sur cette population fragile.
Sponsor
Québec-Téléphone adopted Muska (1989)