Patte d'Oie (1970-2010)
Beluga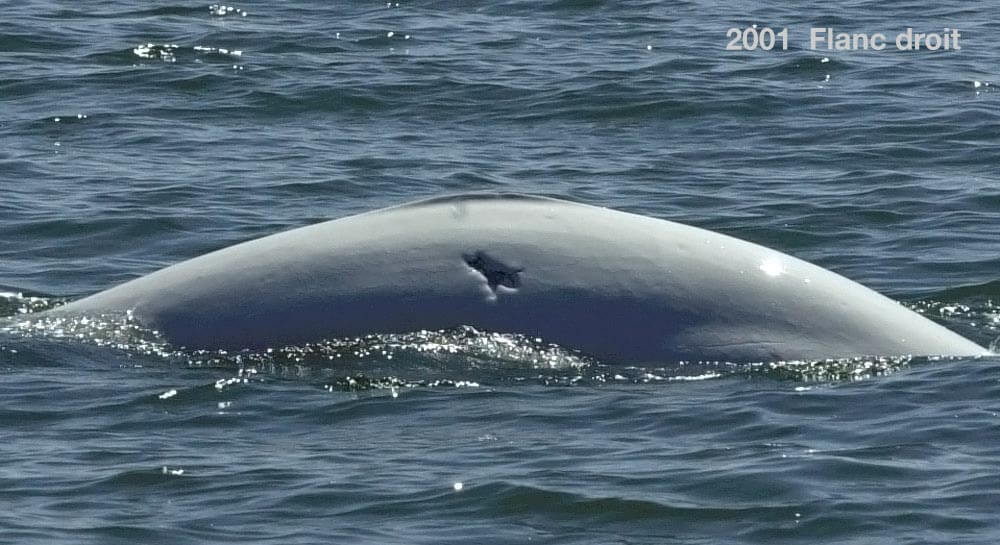 Adopted by Peinture Internationale
ID number

DL0036

Sex

Female

Year of birth

1970 (death in 2010)

Known Since

1987
Distinctive traits
Sur le flanc droit de Patte d'Oie, en dessous de la crête, se trouve la cicatrice qui a inspiré son nom. Sa crête dorsale n'a qu'une seule petite entaille peu profonde, ce qui n'est pas suffisant pour le reconnaitre flanc gauche.
Life history
Observée pour la première fois en 1987, Patte d'Oie était complètement blanche. Elle serait donc née avant 1971.
Sa petite taille et la présence d'un nouveau-né aux côtés de Patte d'Oie nous ont indiqué qu'elle était une femelle de la communauté de la rive sud du fleuve Saint-Laurent.
Patte d'Oie est trouvée morte en 2010. Lorsqu'une carcasse de béluga est retrouvée et qu'elle est fraiche, elle est envoyée par camion à la Faculté de médecine vétérinaire de l'Université de Montréal, à Saint-Hyacinthe. Une nécropsie détaillée et des analyses chimiques permettront d'en apprendre beaucoup sur les causes de décès de l'animal et son exposition à la pollution.
Observations history in the Estuary
Years in which the animal was not observed Years in which the animal was observed
Latest news
Patte d'Oie est aperçue dans le secteur de l'ile Verte en compagnie d'une trentaine de bélugas et même des petits rorquals sont présents dans le secteur. Parmi les individus observés, un béluga crache de l'eau et d'autres chassent visiblement des proies sous la surface. Cette journée-là, l'équipe tente deux biopsies sur des individus du groupe.
C'est la dernière fois que nous avons vu Patte d'Oie. Elle a été trouvée morte neuf ans plus tard, en 2010. L'examen post-mortem a révélé qu'il s'agissait d'une femelle âgée de plus de 40 ans de 3,69 m.
Sponsor
Peinture Internationale adopted Octave, Aile Joyeuse, Blanche-Neige, Oreillette, Patte d'Oie and Vagabonde (1988).