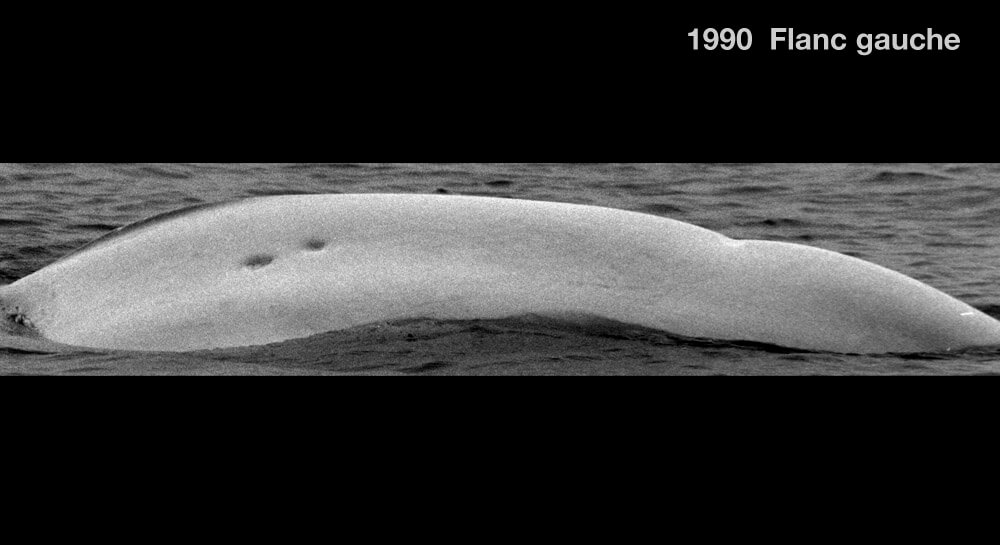 Adopted by Zoological Society of Montreal
ID number

DL0078

Sex

Female

Year of birth

Before 1973

Known Since

1989
Distinctive traits
Les deux cicatrices sous la crête dorsale évoquant la forme de deux yeux sont un bon moyen d'identifier Nyatamah. On peut aussi la reconnaitre à sa grosse cicatrice au pédoncule.
Life history
Nous avons rencontré pour la première fois Nyatamah en 1989. Elle était déjà d'un blanc immaculé. Nyatamah serait née avant 1973.
Sa petite taille et ses fréquentations nous ont permis de confirmer que Nyatamah est une femelle. Elle appartient à la communauté de femelles de la rive sud du Saint-Laurent.
Nyatamah fait partie du groupe des femelles qui, pendant la saison estivale, se cantonne dans le secteur des îles de Kamouraska. L'équipe de recherche l'a vue en compagnie d'un nouveau-né de façon récurrente. Cette association a permis de soupçonner, pour finalement confirmer, que Nyatamah est bel et bien une femelle et probablement une mère. La mise bas des bélugas du Saint-Laurent se déroule généralement l'été. Les petits sont allaités pendant environ deux ans. Cette période d'apprentissage et de soins de la mère est vitale pour la survie du nouveau-né.
Observations history in the Estuary
Years in which the animal was not observed Years in which the animal was observed
Latest news
Nyatamah est observée au large de Kamouraska. Nous repérons un troupeau d'une dizaine d'individus, des adultes et des jeunes. Après plusieurs minutes d'observations, nous réalisons que l'un des jeunes, un nouveau-né, nage constamment aux côtés de Nyatamah. C'est probablement son petit.
La dernière observation de Nyatamah remonte à plus d'une vingtaine d'années. Que lui est-il arrivé? Est-elle morte? Est-elle demeurée invisible à l'œil du chercheur? Impossible de savoir pour le moment. Chose certaine, son histoire demeure une source d'informations précieuses pour nos connaissances sur cette population fragile.
Sponsor
Zoological Society of Montreal adopted Nyatamah (1989).