Nakamu (1973-1991)
Beluga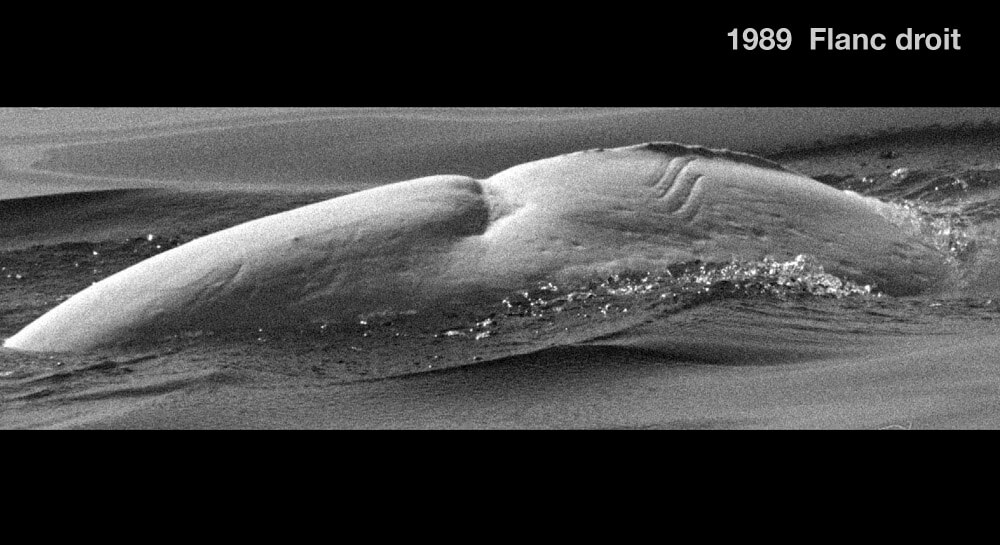 Adopted by students of the faculté de droit de l'Université de Montréal
ID number

DL0077

Sex

Male

Year of birth

Before 1973 (death in 1991)

Known Since

1989
Distinctive traits
Nakamu est facilement reconnaissable avec sa grosse cicatrice en arrière de la crête dorsale qui descend sur les deux flancs. Les multiples entailles dans sa crête sont également un bon moyen de l'identifier.
Life history
Observé qu'une seule fois en 1989, Nakamu était complètement blanc. Nakamu serait donc né avant 1973.
Le manque de données sur ces habitudes et ses affiliations ne nous permet pas d'identifier le secteur qu'il fréquente.
Nakamu n'a été observé qu'une seule fois en 1989. Lors de cette rencontre, il était accompagné d'une quarantaine de bélugas, des adultes et des jeunes. Les individus nageaient près les uns des autres, tournaient en rond et revenaient à la surface, après une plongée, le corps couvert de vase. C'était la première année que nous observions ce type de comportement. Nous nous posons toujours la question : est-ce un indice d'alimentation dans les fonds vaseux ou bien un moyen tout simplement pour se gratter ou, encore, pour le plaisir de se rouler dans la vase?
Observations history in the Estuary
Years in which the animal was not observed Years in which the animal was observed
Latest news
Sur le rivage du village Les Boules, dans le Bas-Saint-Laurent, nous découvrons la carcasse de Nakamu. L'examen post-mortem permet de confirmer que Nakamu est un mâle de 3,87 mètres. Malheureusement, nous n'avons pu confirmer son âge.