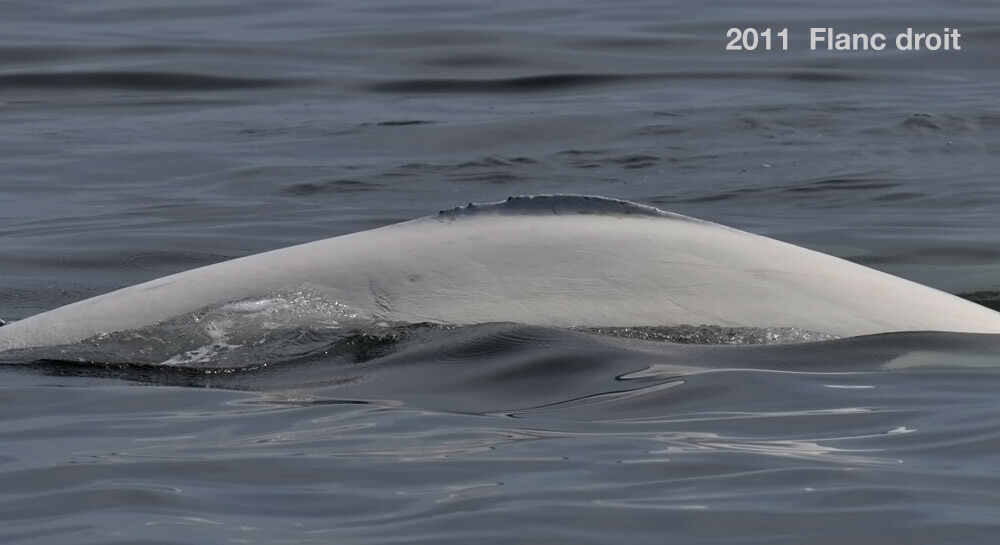 Adopted by The riverside municipalities of the St. Lawrence
ID number

DL0266

Sex

Presumed male

Year of birth

Around 1980

Known Since

1989
Distinctive traits
The silhouette of Nics's well marked dorsal crest changed slightly in 1998 with the appearance of two new notches in the hind part of the crest.
His story
When we first encountered Nics in 1989, he was still gray, but already fairly big. He gradually faded to become all white in the late 1990s. His dorsal crest remained black, however, making him easy to identify. Belugas fade from gray to white in colour between the ages of 12 and 16. Nics would therefore have been born around 1980.
His associations and the sectors that he frequents suggest that Nics is a male. Like other adult bulls of the population, he spends summers in groups composed essentially of males. He is part of one of the two male networks that frequent the Saguenay Fjord, its mouth as well as the part of the Estuary as far as Les Escoumins. The members of these networks do not intermingle with other male networks, even if their territories do overlap.
Within these networks, adult males form groups of companions who remain more or less faithful over the years. These associations may play a role in belugas' reproductive lives. Nics's most regular companions are males DL0218 and DL0670.
How Nics's story unfolds will teach us volumes on the evolution of belugas' social lives. For example, who will his lifelong companions be? By better understanding how belugas live, we will better be able to protect them.
Observations history in the Estuary
Years in which the animal was not observed Years in which the animal was observed
Latest news
L'été 2016, notre 32e saison en mer avec les bélugas, a encore été riche en rencontres et en surprises. Nous avons, entre autres, revu Nics le 27 août. Bien que nous ne disposions pas encore d'une biopsie pour confirmer le sexe de Nics, la suite de son histoire, ses associations et les secteurs qu'il fréquente, nous permettent d'être de plus en plus confiant que Nics est bel et bien un mâle.
Le 27 août 2016, nous naviguons dans l'embouchure du Saguenay, près de l'îlet aux Morts lorsque nous apercevons Nics dans un troupeau d'une soixantaine d'individus, des adultes blancs et de jeunes adultes gris. Nous reconnaissons aussi DL0218 — un mâle du Saguenay et compagnon de longue date de Nics — ainsi que Trèfle, un mâle du réseau « Downstream boys » particulièrement observé entre Tadoussac et Les Escoumins.
Les animaux sont très actifs: une « scène » représentative de nos rencontres avec les troupeaux de jeunes mâles. Certains bélugas sortent la tête en surface, comme pour nous espionner, d'autres sortent la queue hors de l'eau. Ils plongent et remontent plusieurs fois dans une barre de courant probablement où sont piégées les proies. Une heure plus tard, la marée s'inverse et la barre de courant s'atténue. Le comportement des animaux change: ils se dirigent très lentement, profitant du courant de la marée descendante, vers l'aval.
Nics is spotted in a herd of about twenty individuals off the south shore between the communities of L'Isle-Verte and Le Bic. The herd consists of both adults and young and we count at least two newborns. Nics is swimming in tight formation with several other large belugas. Judging by their size, it seems that they are all adult males. Amongst them, we also recognize DL0218, one of Nics' regular companions. Although in summer males spend most of their time away from females, they are occasionally seen in their company (between 20 and 25% of the time). Why this is the case remains a mystery!
Le 9 août 2011, nous sommes au large des Bergeronnes. Nics se trouve dans un troupeau d'environ 150 bélugas, tous des adultes blancs, répartis en groupes de 8 à 10 individus. Ces grands rassemblements, de nature éphémère, regroupent essentiellement des mâles. Progressivement, le troupeau se divise et Nics se retrouve dans un plus petit troupeau. La taille moyenne de ces troupeaux de mâles se situe autour d'une vingtaine d'individus.
Sponsors
The riverside municipalities of the St. Lawrence solidary adopted Neige, Nics, Bilou, Cica and Solidaire (2014).
Beauharnois; Bécancour; Candiac; Carleton-sur-Mer; Charlemagne; Chute‐aux‐Outardes; Châteauguay; Contrecoeur; Grande Rivière; La Pocatière; Lanoraie; Les Bergeronnes; Louiseville; Lévis; Matane; Montmagny; Montréal; New-Richmond; Notre-Dame-des-Sept-Douleurs; Percé; Pincourt; Port-Cartier; Québec; Repentigny; Rimouski; Saint-André; Saint-Zotique; Sainte-Anne-de-Sorel; Sainte-Anne-des-Monts; Saint‐Ignace‐de‐Loyola; Saint‐Siméon; Salaberry-de‐Valleyfield; Sept-Iles; Sorel-Tracy; Tadoussac; Varennes
Click on the names below to discover texts, drawings and videos composed by children of participating schools on Facebook as part of the Our Beluga's Name is… contest.
Neige was named by the special education class of the École Saint-Alexandre in Port-Cartier.
Nics was named by the 5th and 6th grade class of the École Élisabeth Turgeon in Rimouski.
Bilou was named by the 3th grade class of the École de Ste-Thérèse-De-L'Enfant-Jésus in Saint-Jérôme.
Cica was named by the 2th grade class of the École de la Ruche in Lévis.
Solidaire was named by the 5th grade of the École Our Lady of Pompei in Montreal.