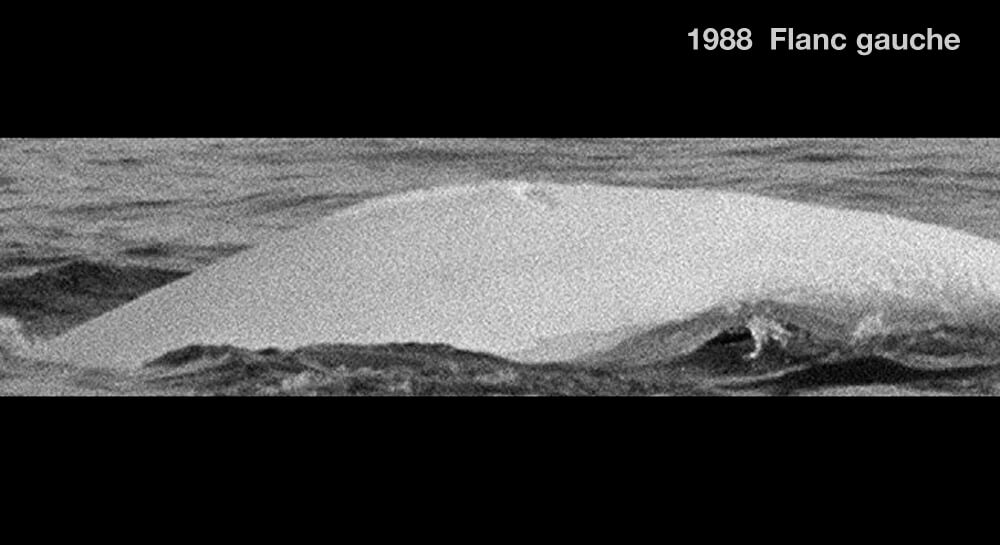 Adopted by the youth of the region of La Pocatière and Environnement Jeunesse C.L.P.
ID number

DL0061

Sex

Unknown

Year of birth

Before 1972

Known Since

1988
Distinctive traits
Mercure se distingue par deux grosses cicatrices sur son flanc gauche; la première se trouve entre sa tête et sa crête dorsale et la seconde est juste à la fin de sa crête.
Life history
Observé qu'une seule fois le 3 octobre 1986, Mercure était tout blanc. Il serait donc né avant 1972.
Le manque de donnée à son sujet ne peut nous permet pas, pour l'instant, d'identifier le secteur qu'il fréquente.
La première rencontre avec Mercure a lieu le 12 août 1988 près de l'île Rouge en plein milieu de l'estuaire. Déjà un adulte, il se trouve à l'intérieur d'un troupeau de plus de 40 individus composé d'adultes et de jeunes. D'autres individus sont reconnus dans ce troupeau: Walter, Trèfle, Nip, DL0049 et DL0059.
Observations history in the Estuary
Years in which the animal was not observed Years in which the animal was observed
Latest news
La seule observation de Mercure remonte à plus de 25 ans. Est-il mort? Est-il demeuré invisible à l'œil du chercheur pendant tout ce temps? Chose certaine, son histoire demeure une source d'informations précieuses qui nous aident à mieux comprendre cette population fragile.
Sponsor
The youth of the region of La Pocatière and Environnement Jeunesse C.L.P. adopted Mercure (1989)