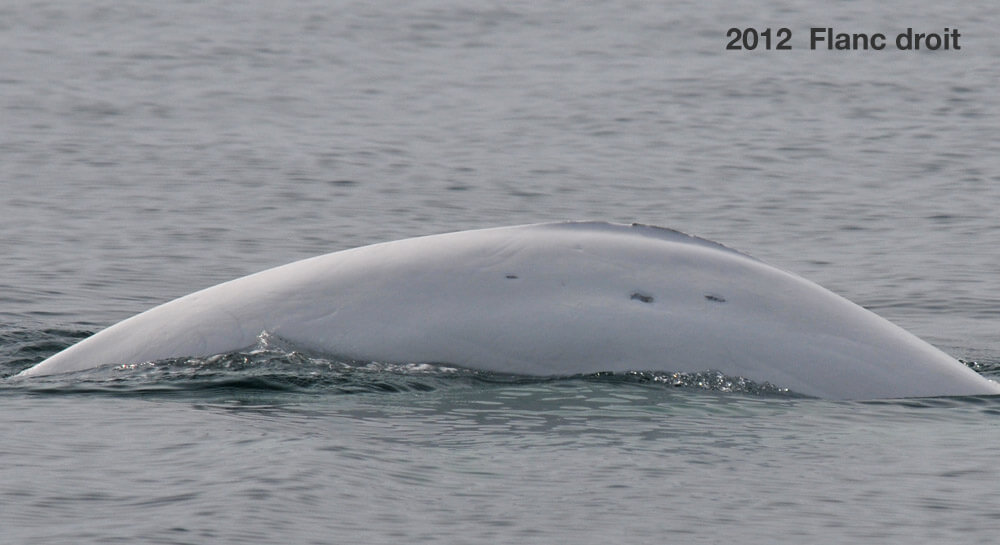 Adopted by Beluga Shipping GMBH
ID number

DL0354

Sex

Male

Year of birth

Before 1978

Known Since

1994
Distinctive traits
Lugi se distingue des autres bélugas avec ses trois petites cicatrices en dessous de la crête dorsale sur le flanc gauche. La large entaille de sa crête permet également de l'identifier du flanc droit.
Life history
La première fois que Lugi est photographié, en 1994, il est déjà d'un blanc immaculé. Il est donc né avant 1978.
Le sexe de Lugi a été confirmé par l'analyse génétique d'une biopsie: il s'agit d'un mâle. Il fait partie du réseau de mâles du secteur entre Tadoussac et Les Escoumins.
Lugi est un béluga mâle. Visuellement, il est difficile de déterminer le sexe d'un individu. Les mâles sont généralement plus longs et plus gros que les femelles. Comment avons-nous découvert le sexe de Lugi ? En prélevant un minuscule morceau de gras et de peau, dans lequel se trouvent les secrets génétiques de Lugi, avec l'aide d'une arbalète qui propulse une fléchette munie d'un dard. Le GREMM fait des biopsies sur des bélugas depuis 1994 pour identifier le sexe et les liens familiaux des animaux.
Observations history in the Estuary
Years in which the animal was not observed Years in which the animal was observed
Latest news
Nous croisons Lugi dans un troupeau d'une soixantaine d'individus à l'embouchure du Saguenay. Lugi est accompagné d'adultes, de jeunes et d'un nouveau-né. L'ensemble du troupeau se dirige tranquillement vers l'aval du Saint-Laurent. Nous tentons une biopsie, mais le dard passe juste au-dessus de l'animal! Déception! Un brouillard épais s'installe dans l'embouchure et faute de visibilité, nous devons quitter le troupeau. Nous prenons donc la direction de l'amont du fjord où la visibilité semble encore bonne pour trouver d'autres bélugas.
Sponsor
Beluga Shipping GMBH adopted Lugi (2009).