Sometimes you have to get up at the crack of dawn if you want to be rewarded with exciting observations. This is what happened on May 25 to a passionate photographer at Cap de Bon-Désir in Les Bergeronnes. For her, getting up before first light meant seeing a humpback whale, a sighting made all the more striking by the colours of the rising sun reflecting off the glistening water. Capturing these images with her camera on this beautiful morning was ample compensation for the 3:45 a.m. wake-up call!
A little later that day, the same observer also had the chance to see 3 or 4 minke whales as well as a lone humpback heading toward Les Escoumins. She also spied a mother beluga and her calf, not to mention a large gathering of belugas later on to cap off this amazing day of marine mammal watching. "It was a day full of surprises!" she exclaims.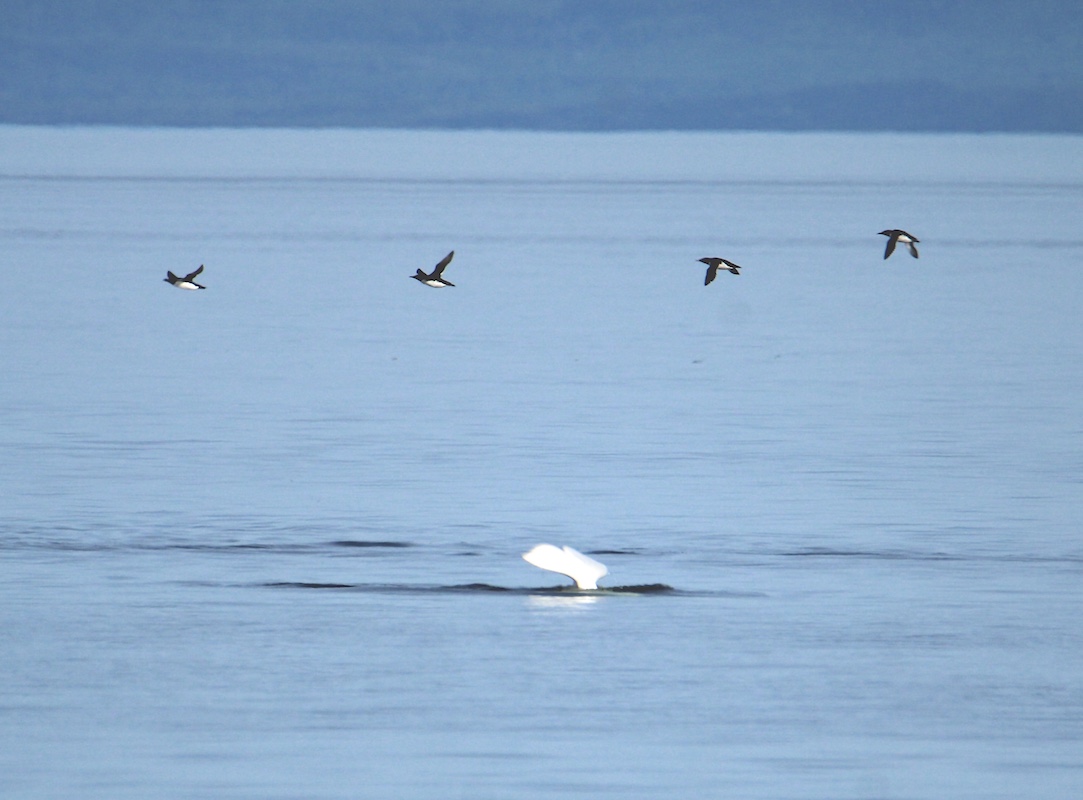 A beluga whale sighting is always appreciated! © Julie Deschêne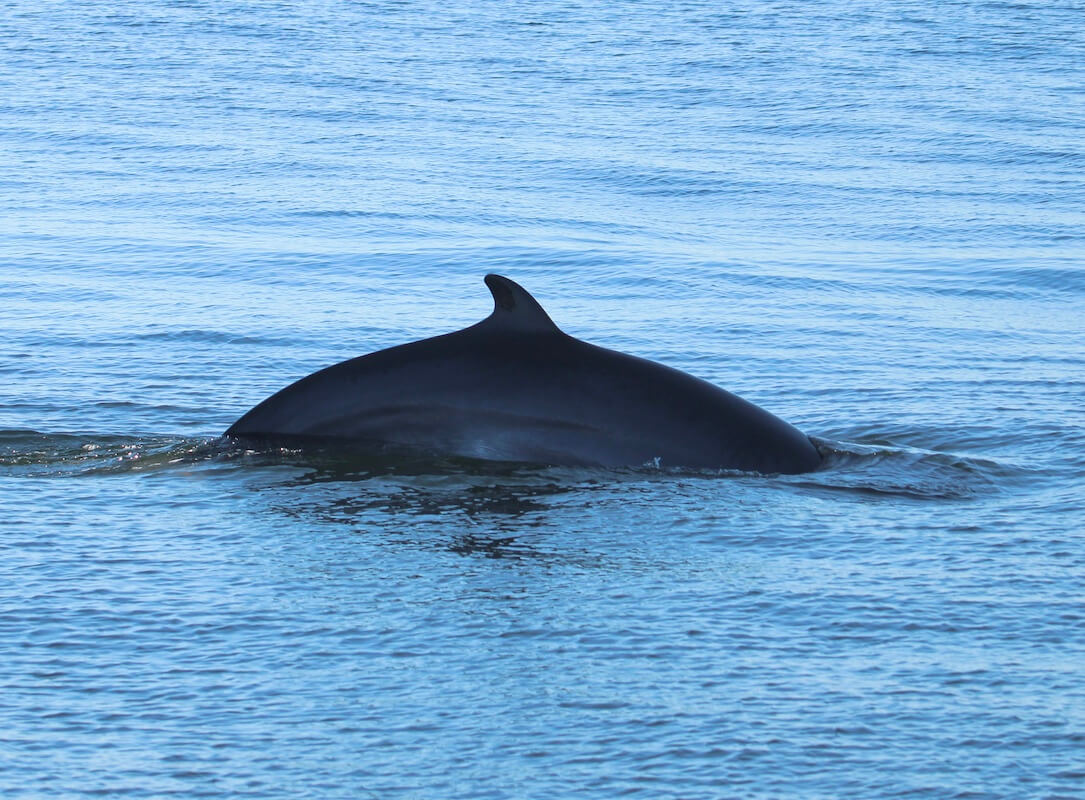 This week, minke whales were observed everywhere on the St. Lawrence. © Julie Deschênes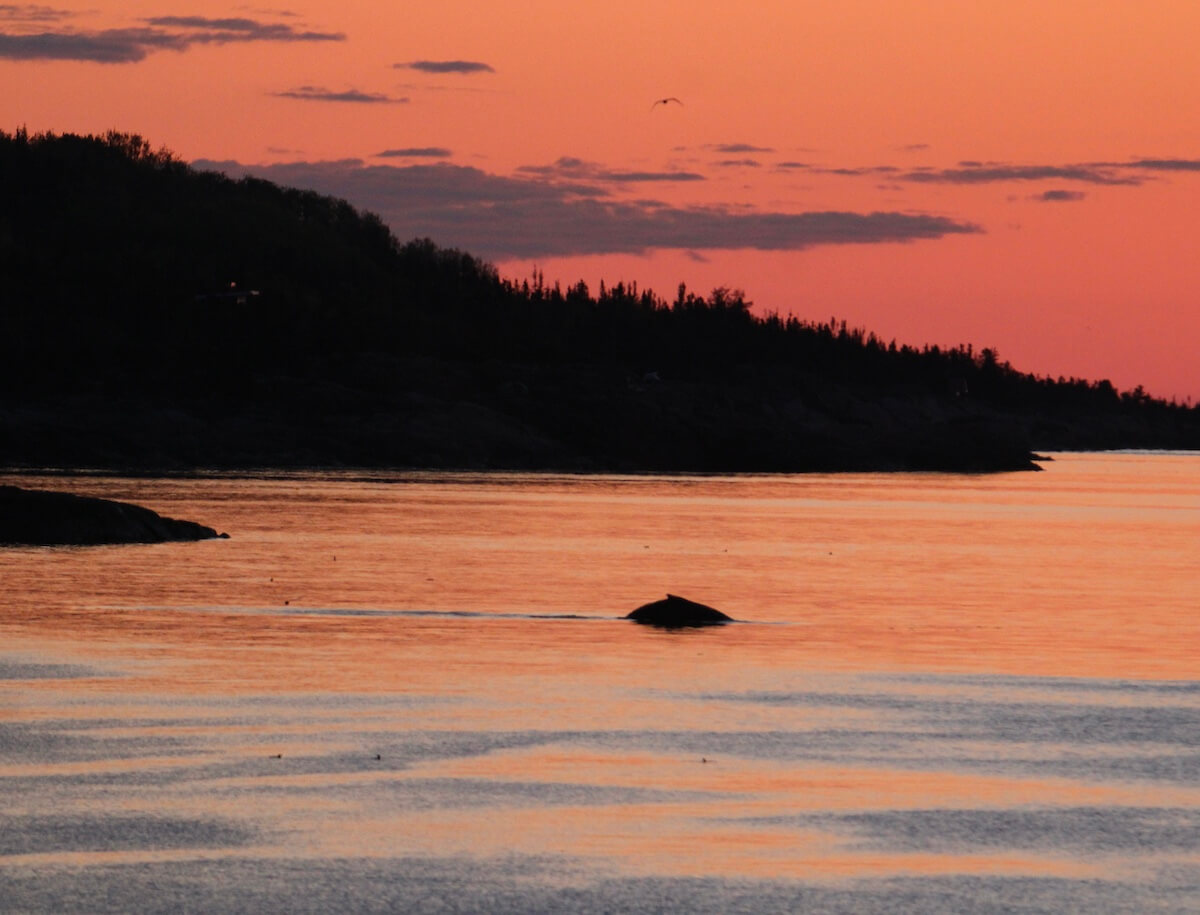 A humpback whale in the morning colors. © Julie Deschênes
In the early morning of June 1, two minke whales, one humpback, numerous porpoises, a beluga and a good fifty or so harp seals were seen at the same place.
Minke whales along the coast
In the North Shore (Côte-Nord) region, near Franquelin, marine mammals are being observed offshore. Minke whales have been abundant all week, and the spout of a humpback was even seen on the horizon on May 31. Near Sept-Îles, a volunteer from the Quebec Marine Mammal Emergency Response Network observes a minke whale just before responding to a call.
Almost daily, minkes, humpbacks, fins and belugas have been dazzling visitors to the Tadoussac dunes. Farther offshore, near Prince Shoal, about 20 harp seals were seen on May 31. "They were heading for the gulf! There was a fin whale and grey seals, too! Then on Sunday I saw minke whales," exclaims one die-hard observer. On Tuesday, May 31, a humpback whale breached off the coast. Even if seeing a multi-tonne whale hurl itself out of the water is an awe-inspiring experience in itself, these acrobatics are not performed for pure entertainment. Communication between individuals, cleansing of parasites, play or seduction… a number of hypotheses have been put forward.
A somewhat special beluga
During a cruise around the Saguenay-St. Lawrence Marine Park, lucky visitors are treated to one humpback whale, several minke whales and two belugas. One of them appears to have a deformed back; it was identified by GREMM researchers as DL2450 a.k.a. 'Néo,[DA1] ' a well-known male in the region. Ever since he was first observed in 2005, this bull has been sighted almost every year. It should be pointed out that its deformed spinal column combined with the black dots on its right flank makes it easy to recognize. This facilitates the photo-identification process.
Its curved back may be due to any number of reasons. It could be genetic or the result of a traumatic event such as a collision with a ship. Néo is not the only beluga with a distinctive deformation. There is also Pascolio, a female who was first encountered in 1985, and Scolio, another well-known individual. Ultimately, the cause of this particularity remains unknown, but the number of individuals afflicted is a source of intrigue for researchers.
On the other side of the river
In Gaspésie, a few humpbacks have been reported near the shores of Cloridorme. In the heart of the gulf, off the coast of the Magdalen Islands, a meticulous observer spots two minke whales in the choppy seas. Marine mammal enthusiasts have their eyes on the horizon in search of the backs or tails of whales. From the coast, others are keeping their eyes peeled for the small heads of pinnipeds.
CIMM team well received
The CIMM's summer crew received a warm welcome from the belugas of the St. Lawrence. Several individuals paid a visit to Tadoussac Bay early in the week, while a few groups were seen swimming up and down the Saguenay to the rhythm of the tides. Amongst the naturalists in the making, some took the opportunity to scan the bay with their binoculars in search of white backs while others were ecstatic about this first sighting of the season. And we wish them many more!