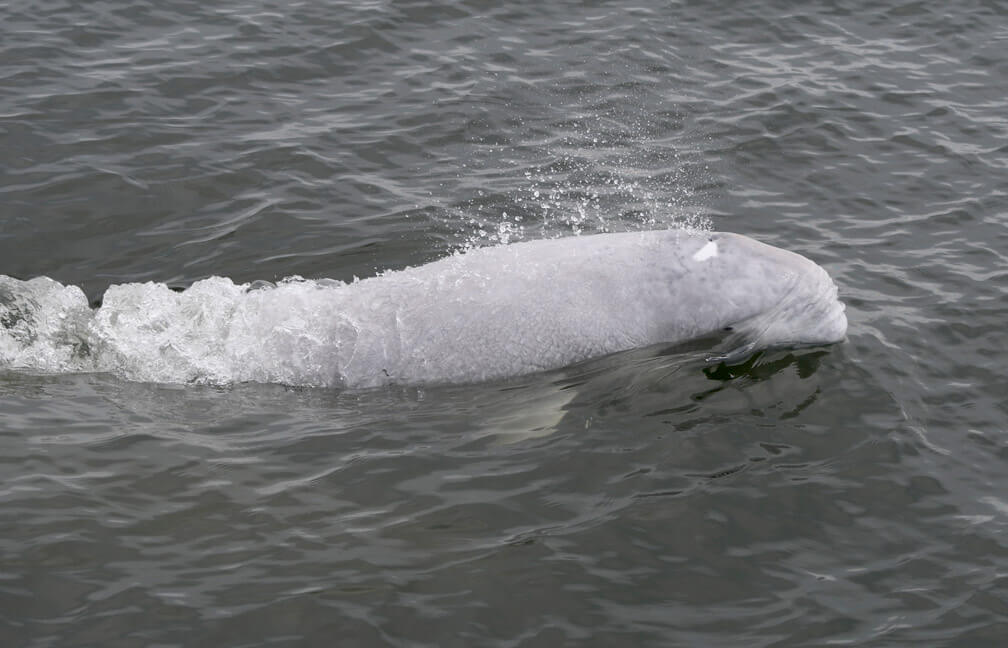 Collective adoption by En cours d'adoption
ID number

DL9104

Sex

female

Year of birth

Circa 2013

Known Since

2019
Distinctive traits:
DL9104 has a few small white spots on the left side of its peduncle, behind the dorsal ridge. It is not known what causes these light spots on belugas' already white skin.
Viewed from the right, DL9104 shows a teardrop-shaped spot near its blowhole. Below that is a scattering of several white scars. Some of them are shaped like a microoganism called an amoeba.
Since this beluga has spots on both sides, the research team dubbed it "Deuxmino", a nod to the popular tile-based game and the fact that another beluga is already named Domino.



Tooth marks usually disappear quickly.

Amoeba-shaped spots
Amoeba-shaped spots, seen from another angle

Her/his story
The young beluga DL9104 has very unusual skin. Its whitish spots caught the team's attention in 2019. Its still grey skin (belugas turn completely white around the age of 12 to 16) and small size suggest it was between 5 and 7 years old when it was first identified.
At the time of this first encounter, DL9104 had many teeth marks on its back. Belugas use their teeth in their social activities. Their way of giving their friends a good back scratch? Demonstrating their dominance? A form of play? We don't know yet, but perhaps DL9104 will teach us about social interactions in young belugas and the role they fill in their development. However, we know that these scars disappear quite quickly.
Is DL9104 a male or a female? The answer should come soon: on October 2, 2019, the GREMM team took a biopsy – a tiny sample of fat and skin – which should reveal not only the animal's sex, but also its lineage, contaminant levels and perhaps even its exact age.
DL9104 is observed in groups of both adults and juveniles, and sometimes with calves. How DL9104's story unfolds will help us better understand the social and reproductive lives of belugas. By better understanding how belugas live, we will be able to better protect them.
You can adopt DL9104 by clicking here. You can donate the amount of your choice.
Observations history in the Estuary
Years in which the animal was not observed Years in which the animal was observed
Adopt this beluga
Help raise the $5,000 needed to adopt this beluga.

22%
Sponsors
Chantal Jalbert  I suggest Moustache for a name.
Alexandra Deschênes Maui would be a good name for this beluga.
Helde Philipps I suggest Tanker.
Alain Sénécal I propose W8bigo (which is pronounced "wonbégo" and means "white" in Abenakis. The Abenakis are located on the south shore of the St. Lawrence River.
Marie-Hélène Lavallée I suggest Circa.
Anne-Sophie Lessard I suggest "Siku", which is one of the names given to ice in Inuktitut!
Nancy Jacques I suggest Billy, which may be suitable for a male or a female.
Nicole Daigle Frezza Persévérance
Andrée Côté I like the proposed name Sika.
Collectivités écologiques Bas-Saint-Laurent Our group suggests W8bigen as a name.
Yolande Klein – Les Canardises I propose Loubel as a name for this beluga.
Noémie Boivin
Yanick Hamel I suggest Bernard as a name.
Maxence Scott Lacroix
Magalie Bergeron and Lucie Jutras: Banquise or Alaska
Mireille Fisette: I suggest Blizzard but otherwise I like Circa and W8bigo 😉