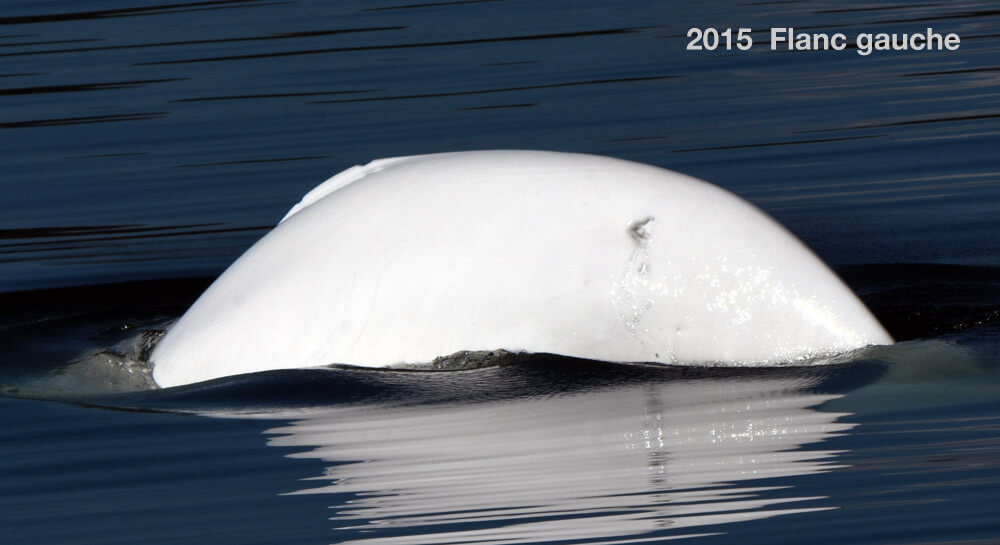 Adopted by Bleuoutremer
ID number

DL1688

Sex

Femelle

Year of birth

Avant 1984

Known Since

2000
Ses traits distinctifs
On reconnait DL1688 grâce a une profonde cicatrice en forme de pointe de flèche au son pédoncule du côté gauche.
Son histoire
La première rencontre avec DL1688 remonte en 2000. Elle était déjà blanche. Nous ne pouvons pas déterminer avec précision son âge. Le changement de couleur chez les bélugas, soit le passage du gris au blanc, survient entre l'âge de 12 à 16 ans. On peut donc affirmer que DL1688 est née avant 1984.
Sa petite taille et ses fréquentations nous laissent croire que DL1688 est une femelle. Dans l'aire de répartition estivale, les femelles forment de grandes communautés dans lesquelles elles s'occupent des nouveau-nés et des jeunes. Ces communautés sont attachées à des territoires traditionnels et il y a peu d'échanges entre elles.
DL1688 appartient à la communauté du Saguenay. Elle a été observée avec d'autres femelles connues comme DL2273, DL0553, Pascolio et MarjoDL1688 est régulièrement observée dans des groupes incluant des nouveau-nés. En 2004, elle fut observée avec un veau qui semblait être le sien.
La suite de son histoire nous aidera à mieux comprendre la vie sociale et reproductive des bélugas. C'est en comprenant comment vivent les bélugas que nous serons en mesure de mieux les protéger.
Observations history in the Estuary
Years in which the animal was not observed Years in which the animal was observed
Dernières nouvelles
We're on our way to the lighthouse at Cap de la Tête-au-Chien aboard the BpJAM, our inflatable research vessel. It's early afternoon and conditions are favourable, with light wind and good visibility. We spot a small herd of 4 or 5 individuals, take a few photos and then spot another group, this one numbering nearly a dozen animals. Half the belugas still have grey skin, an indication that they are relatively young. Two large females are swimming among them: Bleuoutremer and Nomi. The wind begins to pick up. We photograph a few more belugas. By around 2:30, the waves become more intense. After we've had enough of being rocked about in our small boat, we decide to return to our home port of Tadoussac.
We are near the north shore in the middle estuary between Baie-Saint-Paul and Tadoussac. Visibility is perfect. We recognize DL1688 among a herd of about ten individuals, adults and young. They are all close to the coast and are swimming in single file towards the upper St. Lawrence. At the end of the line, we recognize Pascolio, a matriarch from our photo-identification program. After an hour of observation, other animals join our herd to form a larger herd of about 20 animals.
Sponsors
Bleuoutremer adopted DL1688 and named her Bleuoutremer.