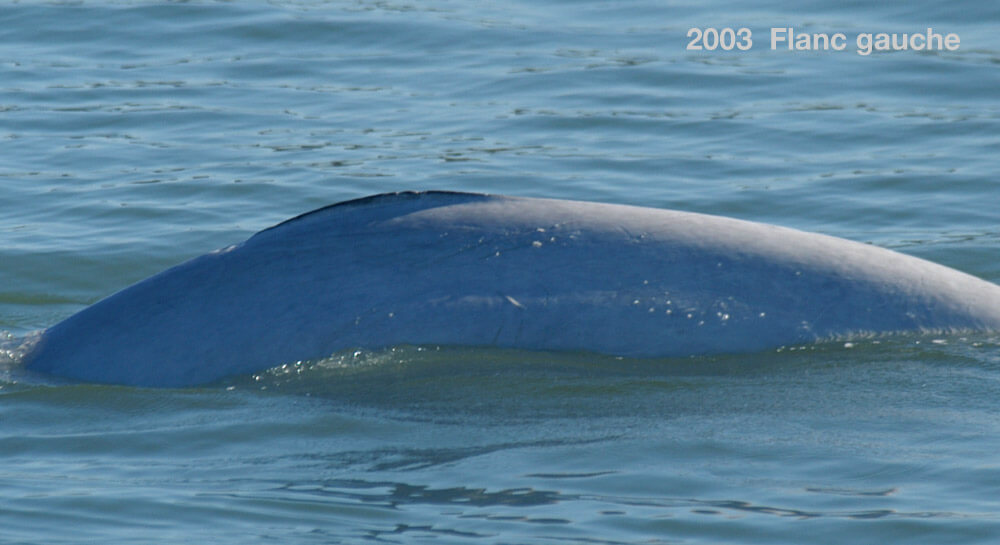 Adopted by Conferon Incorporated
ID number

DL0144

Sex

Female

Year of birth

Around 1983

Known Since

1990
Distinctive traits
Les deux petites cicatrices rapprochées juste devant sa crête dorsale sont la signature de Conferon Connie. Dans sa crête se trouvent également deux petites encoches dont l'une d'elles est apparue plus tard, entre 1999 et 2003.
Life history
We first met Conferon Connie in 1990. At the time, she was gray. When we met her in 2007, she was slightly grey. In 2015, she was all white. The colour change in beluga whales, from grey to white, occurs between the ages of 12 and 16. Conferon Connie is believed to have been born around 1983.
The sex of Conferon Connie is confirmed by genetic analysis of a biopsy taken from her back; she is a female. She is a member of the female community on the south shore of the St. Lawrence River.
In the summer, the females form large communities where they care for newborns and young. These communities are attached to traditional territories and there is little exchange between them. The South Shore area, so far, had little exposure to shipping noise. The islands located in the centre of the estuary, such as Île Blanche, create a sound screen for the habitat of females accompanied by young along the south shore.
Observations history in the Estuary
Years in which the animal was not observed Years in which the animal was observed
Sponsor
Conferon Incorporated  adopted Conferon Connie (2000).