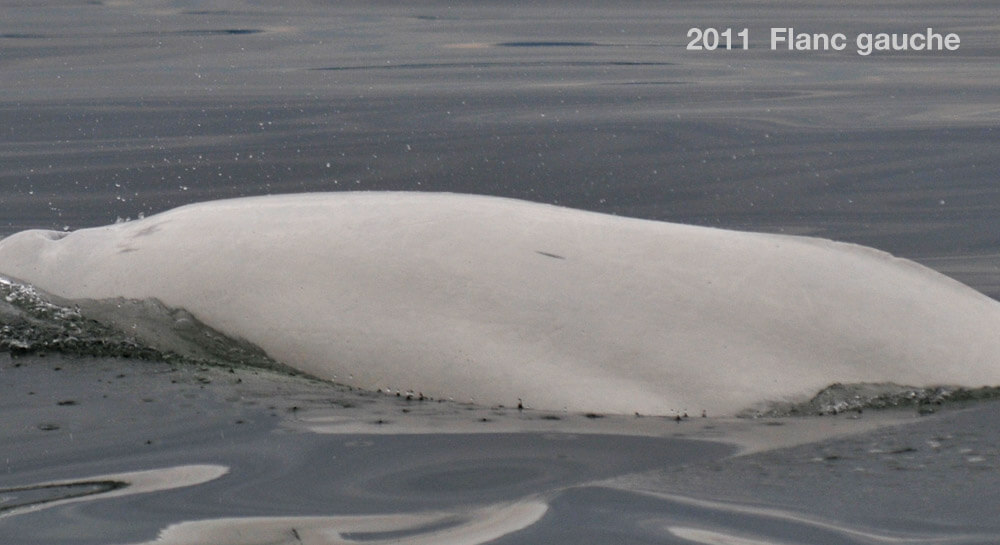 Adopted by Dawn L. Duquet
ID number

DL0476

Sex

Female

Year of birth

Before 1990

Known Since

1994
Distinctive traits
Le flanc gauche de Bonheur porte des marques bien différentes: des tâches grises sur sa tête, une petite ligne grise devant la crête et trois cicatrices juste avant le pédoncule. Pour le flanc droit, on utilise les détails de sa crête dorsale.
Life history
Our very first encounter with Bonheur dates back to 1994. At the time, it was a juvenile beluga whale. Over the years, its coloration has faded and since 2002, it has been almost perfectly white. In 2011, it was completely white. Bonheur would have been born in the early 1990s.
Bonheur is a female; her sex is confirmed by a biopsy, the genetic analysis of a tiny piece of skin taken from her back. For the moment, we can't yet determine which community of Bonheur females belongs to. In summer, there is strong sexual segregation among adult beluga whales. Both males and females show marked preferences, both in their associations and in the areas they frequent. In juveniles and young adults such as Bonheur, this behaviour is not as marked.
Bonheur is a female. How do we know this? Through a biopsy. A tiny piece of fat and skin, containing the animal's genetic secrets, is removed with a crossbow that shoots a dart with a stinger. GREMM has been conducting biopsies on belugas since 1994 to identify their sex and family ties.
Observations history in the Estuary
Years in which the animal was not observed Years in which the animal was observed
Latest news
Nous naviguons dans l'embouchure du Saguenay, près de la rivière aux Canards à Baie-Sainte-Catherine lorsque nous apercevons la femelle Bonheur dans un troupeau d'une cinquantaine d'individus, des adultes blancs et de jeunes gris. Nous reconnaissons aussi DL0743, un mâle du Saguenay.
Les animaux sont très actifs. Ils se mettent à plonger et remonter au même endroit à plusieurs reprises, un comportement qu'on appelle le « miling » qui est souvent associé à l'alimentation. L'embouchure du Saguenay est une zone de rencontre! Les réseaux de mâles bélugas y croisent des troupeaux de femelles avec des jeunes. Des rassemblements s'y forment, de façon éphémère, en raison de l'abondance de nourriture.
Notre bateau est situé sur la rive nord de l'estuaire maritime entre Tadoussac et Rivière-Portneuf. Nous observons un troupeau d'une vingtaine d'individus et Bonheur se trouve parmi eux. Le troupeau est composé d'adultes et de jeunes. Ils passent leur temps à plonger est à remonter à la même place. L'eau étant très clair, c'est impressionnant de les regarder bouger ainsi. Parmi le troupeau, nous repérons un petit groupe de femelles. On les distingue bien parce qu'elles sont petites et rondes. Près du bateau, nous entendons une forte respiration mais ne pouvons pas repérer l'individu à l'origine de ce bruit, ce qui est inhabituel comme situation!
Sponsor
Dawn L. Duquet adopted Bonheur (2000).