On the occasion of International Volunteer Day (December 5), we would like to highlight the important contributions made by the 181 volunteers from the
Quebec Marine Mammal Emergency Response Network, who dedicated more than 750 hours of their time this year to the cause.
Volunteers are our eyes and our hands in the field. Throughout 2018, they gathered scientific data, and sometimes even collected organ or tissue samples from marine mammals found dead on the shores of the St. Lawrence.
In addition to helping the scientific community gain vital knowledge for marine mammal conservation, volunteers are actively involved in raising awareness and educating the public about the life history of these sometimes difficult-to-understand marine animals.
Volunteers are one of our Network's greatest strengths; thank you to all those who are involved!
Volunteer Réjean Côté ties an identification tag around the flippers of a grey seal carcass.
Volunteers Émilie Simard and Jade Brossard attach a line to a beluga carcass in the Parc National du Bic, Rimouski to bring it to shore.
Volunteers from the Magdalen Islands during a necropsy of a humpback whale: Dolores Cyr, Doris Brasset, Fabienne Michot, Sophie Beauchemin, Michael Lainesse, Claude Bourque, Nicolas Koch and Yoanis Menge.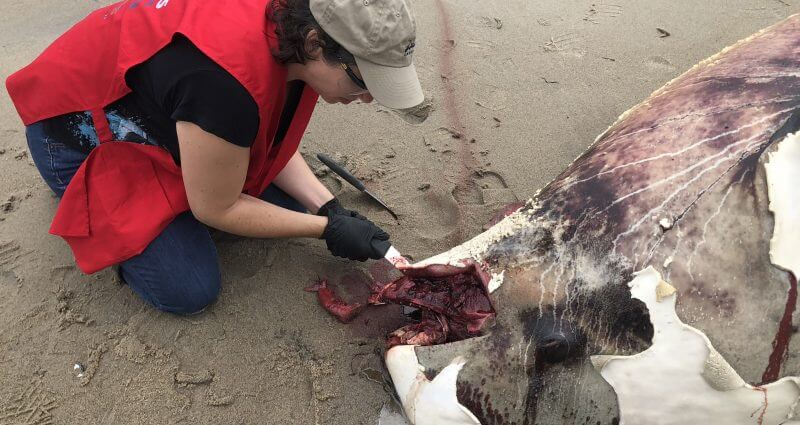 A volunteer samples a beluga carcass on a beach in Pointe-aux-Outardes