On September 5, 2021, i.e. the Sunday before Labour Day, the excitement was palpable in Tadoussac. With over 500 visitors coming to admire the whale skeletons on display, it was a busy weekend at the Marine Mammal Interpretation Centre Marine Mammal Interpretation Centre (CIMM)! But above all, a general euphoria could be sensed at the reception when word began to spread that the passengers of certain whale-watching boats had been lucky enough to observe sperm whales off the coast of Les Escoumins!
At least four sperm whales...
Three sperm whales were photographed by one of GREMM's former research assistants. Given that he saw one individual dive just before he arrived at the site, he concluded that at least four sperm whales were present. Some captains even report seeing five!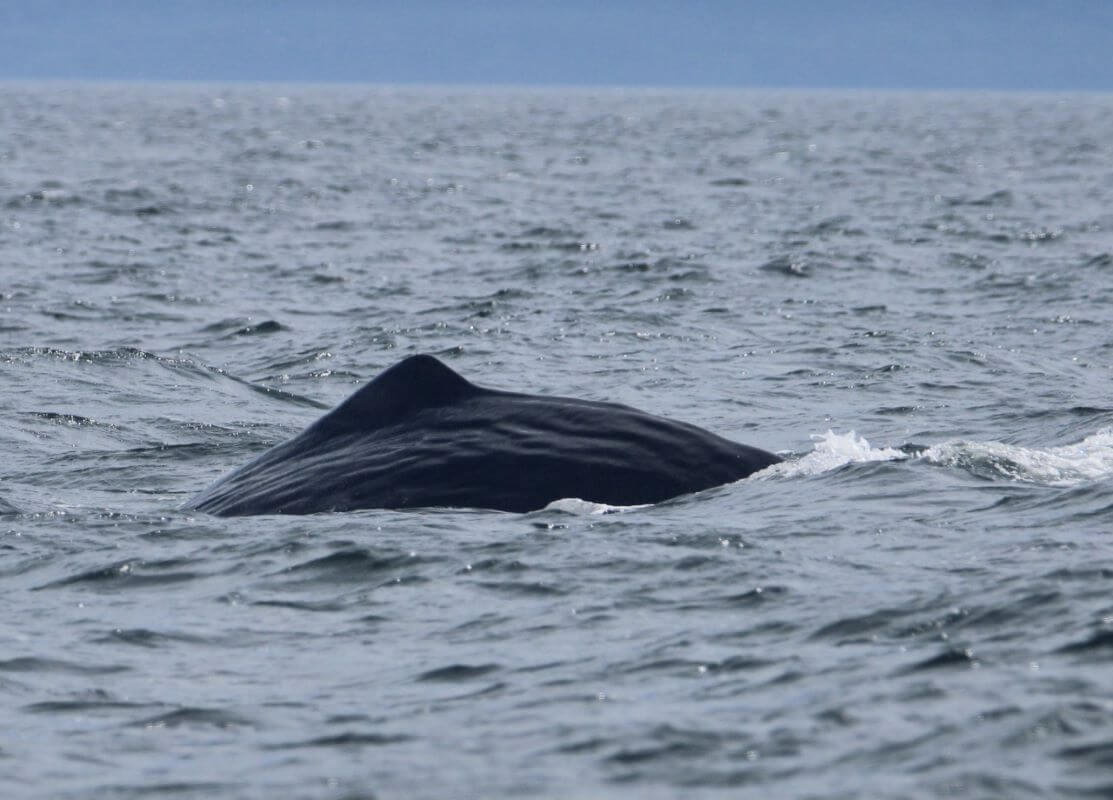 The largest of the toothed whales, the sperm whale can be recognized by the wrinkled skin on the back of its head © Julie Deschênes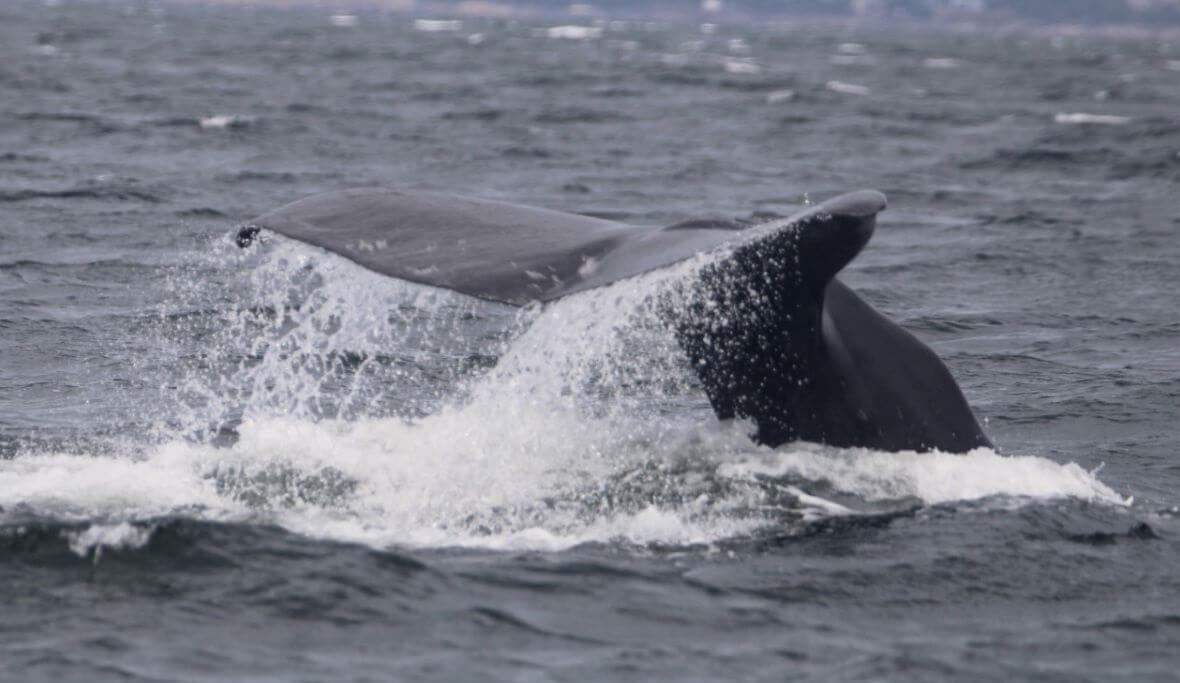 © Julie Deschênes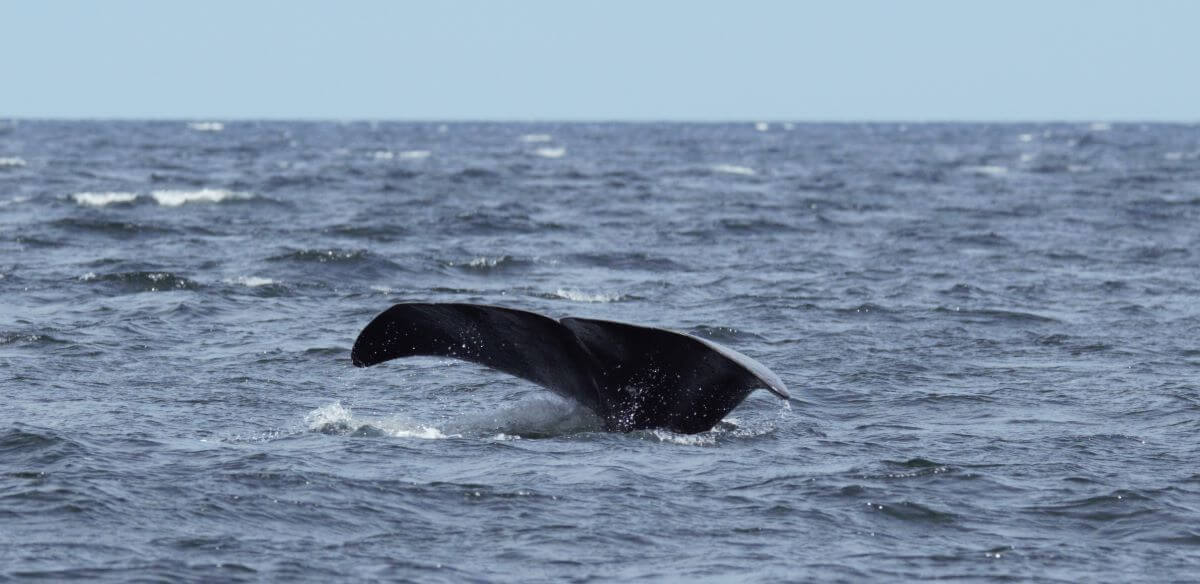 © Mathieu Roy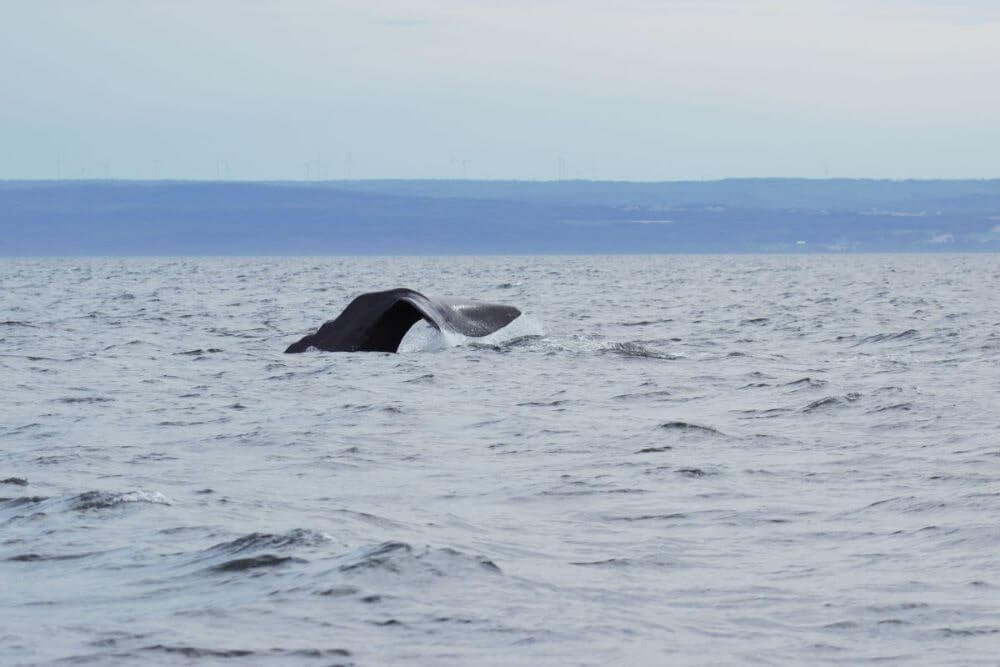 © Mathieu Roy
… and two giant blues!
Some of those who struck out on the chance to observe the sperm whales on September 5 were nevertheless entitled to a nice consolation prize! Indeed, two blue whales on the move were seen  near the middle of the river near Baie-des-Bacon. MICS was able to identify these majestic individuals: B082 a.k.a. Crinkle and B485 a.k.a. Auk.
Spouts as far as the eye can see
The "hot spot" for sightings this week was undoubtedly between Les Escoumins and Tadoussac! "Humpbacks and fins were everywhere!" exclaims one observer after observing about 20 humpback whales and 20 fin whales on September 1 near the Marine Environment Discovery Centre (CDMM), including a cluster of seven fin whales. "I've never seen so many whales from a single rock," she says. And to cap off this magical day, she even observed two breaches just as the sun was going down!
The following day, three humpbacks (H782 and her calf as well as Seventeen) were seen breaching multiple off Les Escoumins. A whale enthusiast's dream! Surface behaviour can sometimes surprise observers. A visitor wrote to us after observing "a humpback whale lying on its back and slapping its tail about 24 times in a row." We do not know the exact reason for these extravagant behaviours that are part of the humpback repertoire, just like breaches or pectoral fin slapping on the water surface.
According to photographer Renaud Pintiaux, we're up to around 50 humpbacks in the Estuary in 2021, including nearly 20 whom we don't yet know! "Spouts galore […], what an exceptional season!" he writes.
Quiet week in the Gulf
In the Gulf, cetacean sightings were much less numerous this week. Two humpback whales and large numbers of minke whales were seen in Pointe-des-Monts. On September 6, one humpback as well as porpoises and tuna were spotted in Sept-Îles. In the Mingan Archipelago, there were porpoises, minke whales, and a small group of white-beaked dolphins, but what really caught the attention of our observer were the 2,000 howling seals on Île du Wreck. On the other side of the St. Lawrence, near Cacouna and Rivière-du-Loup, there have also been significant numbers of seals. Only a handful of belugas were seen in the area. In Kamouraska, not a single cetacean seems to have made an appearance. On the other hand, in Matane, about twenty Atlantic white-sided dolphins were present this week.
In Gaspé, a captain's day was made by five to ten humpbacks concentrated in just a few square kilometres near Cap Gaspé, not to mention a number of white-sided dolphins. In the Bassin sector of Amherst Island in the Magdalen Islands, we are told that the seas have been "quite rough lately," but that two minke whales were observed hunting together.
Little white backs
Belugas were very active this week in the Saguenay, much to the delight of their observers. On September 3, a number of white backs were observed in particular near L'Anse-de-Roche as well as from the Pointe-Noire Interpretation and Observation Centre in Baie-Sainte-Catherine. But one observer's highlight of the week was undoubtedly when seven belugas put on a a little show in front of her home in Saint-Irénée. "At high tide, they appeared like beautiful white mushrooms under a lead grey sky!" she exclaims.
Other denizens of the sea
Cetaceans aren't the only creatures that inhabit the St. Lawrence! One observer had the good fortune to see a basking shark opposite her home in Saint-Yvon: "It wasn't diving and was just darting straight ahead… At one point, I was even afraid that I might be gaping at a log!" she laughs.
Sporadic visitors to the Gulf, bluefin tuna were also present this week in Sept-Îles and Gaspé. "They were jumping, often completely out of the water!" describes one mariner. When they're not leaping, the presence of tuna can be recognized by the unique water currents they create. As for birds, Manx shearwaters were seen off the coast of Les Escoumins. Additionally, thousands of northern gannets were present in the Cap-des-Rosiers area: "A sight to behold! They were dive-bombing sardines on the water surface," reports one observer.
An emotion-packed week!
Where are the whales this week? Observation map
These data were reported by our network of observers. The observations give a rough idea of the presence of whales, but do not in any way represent the true distribution of cetaceans in the St. Lawrence. Enjoy!
Click on the whale or seal icons to see the species, number of individuals observed, additional information or photos of the sighting. To zoom in on the map, click on the icon in the upper right corner. The map works well on Chrome and Firefox, but less so on Safari.
To display the list of observations, click on the icon in the upper left corner.