One might think that the roller coaster temperatures of autumn are hardly conducive to marine mammal sightings. However, this is not quite the case! While the weather was not the most mild this week, several species were still reported.
South shore
On the south shore, the last few days have been marked by fall storms, with wind and rain keeping many marine mammal observers indoors from Bonaventure to Percé. However, in Cap Gaspé, a hundred or so harbour porpoises and a single minke whale were spotted on October 13. A captain also reported seven or eight humpbacks throughout the week, roughly eight nautical miles from the cape! At Haldimand beach near the Saint-Jean River in Gaspé, about twenty harbour and grey seals were seen in the water. Harbour seals are year-round residents of the St. Lawrence, whereas grey seals are present from spring to fall in both the gulf and estuary.
A whale at the end of the tunnel
Exciting encounter on Sunday at Cap-à-l'Aigle in La Malbaie! One observer reports "a humpback breached three times, did a little spyhopping, rolled over onto its back and began slapping the water surface with its pectoral fins… After which it disappeared!" In addition to this exuberant performance, harbour porpoises were also seen on October 18.
The north shore was shrouded in fog. Nevertheless, passengers on the ferry departing the Saint-Siméon terminal had the chance to observe a number of marine mammals. One observer comments: "We were able to see the minke whale swim past the marina two times, followed by a few seals and a small pod of porpoises… despite a blanket of fog so thick you could cut it with a knife!"
Passengers out for a cruise in the Saguenay-St. Lawrence Marine Park, are spoiled: minke whales, humpbacks, harbour porpoises, Atlantic white-sided dolphins and grey seals all find their way into the trip list. What's more, awesome views of belugas are enjoyed by all on board as the animals approach the ship! Humpback whales have been spotted many times in the Tadoussac area, including a few well-known individuals: H871 is present on Thursday; Peter and H857 (page in French) make an appearance on October 16; and H8045 a.k.a. Menutan surfaces on October 17 with Cédille's 2021 calf. On Sunday, observers were pleasantly surprised to see three fin whales, which have been particularly scarce in the region this summer.
Grande-Pointe in Les Escoumins has been the site of frequent visits by marine mammals. Reports from these parts include one humpback, one minke whale, two groups of harbour porpoises as well as grey seals. One rainy morning, a lone beluga is also spotted through the mist. Between the ferry terminal in Les Escoumins and the marina in Les Bergeronnes, it's rorquals that are stealing the show! A handful of humpbacks, one fin whale and several minke whales were all seen from the coast.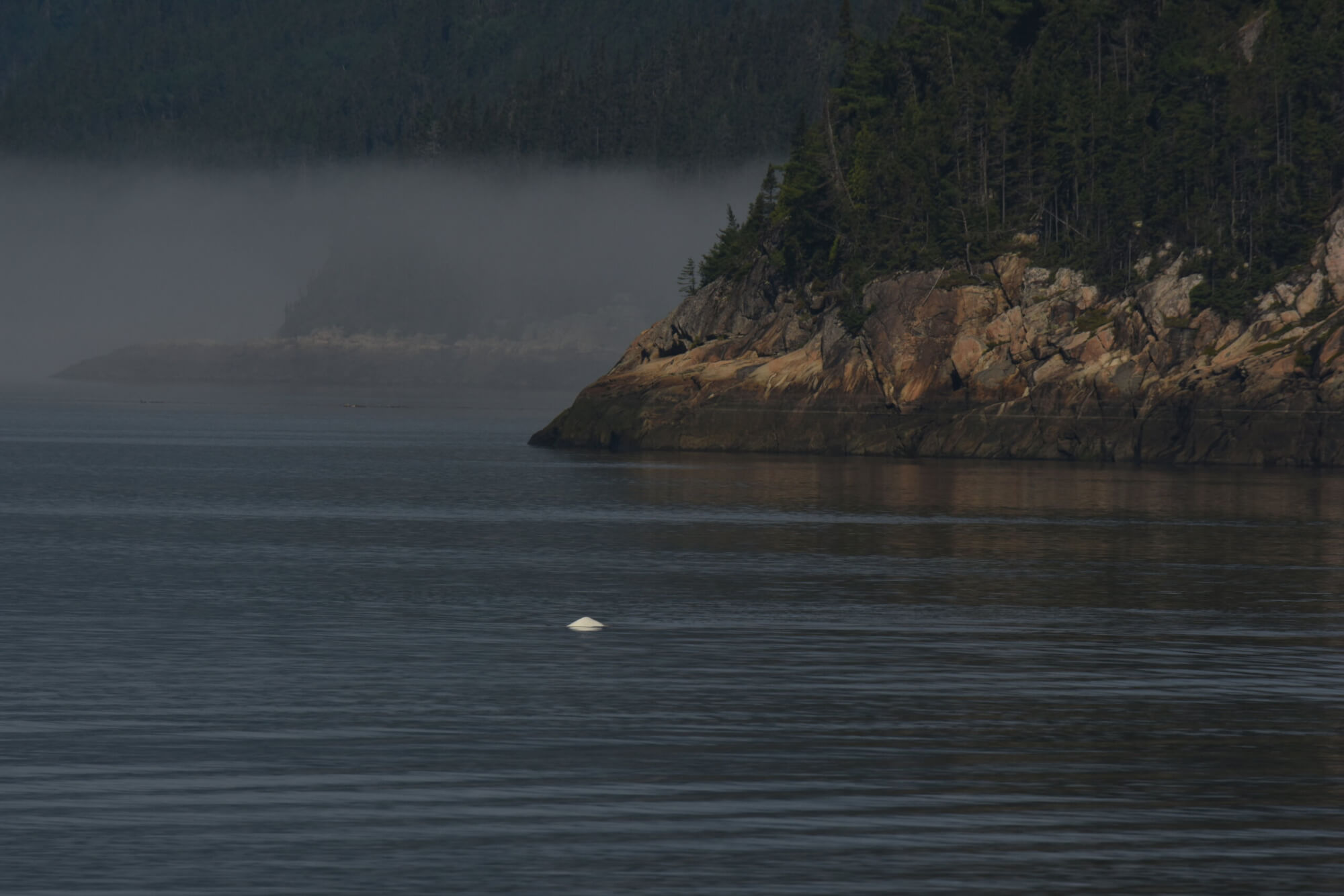 Although the species is usually gregarious, one beluga was spotted swimming alone. © GREMM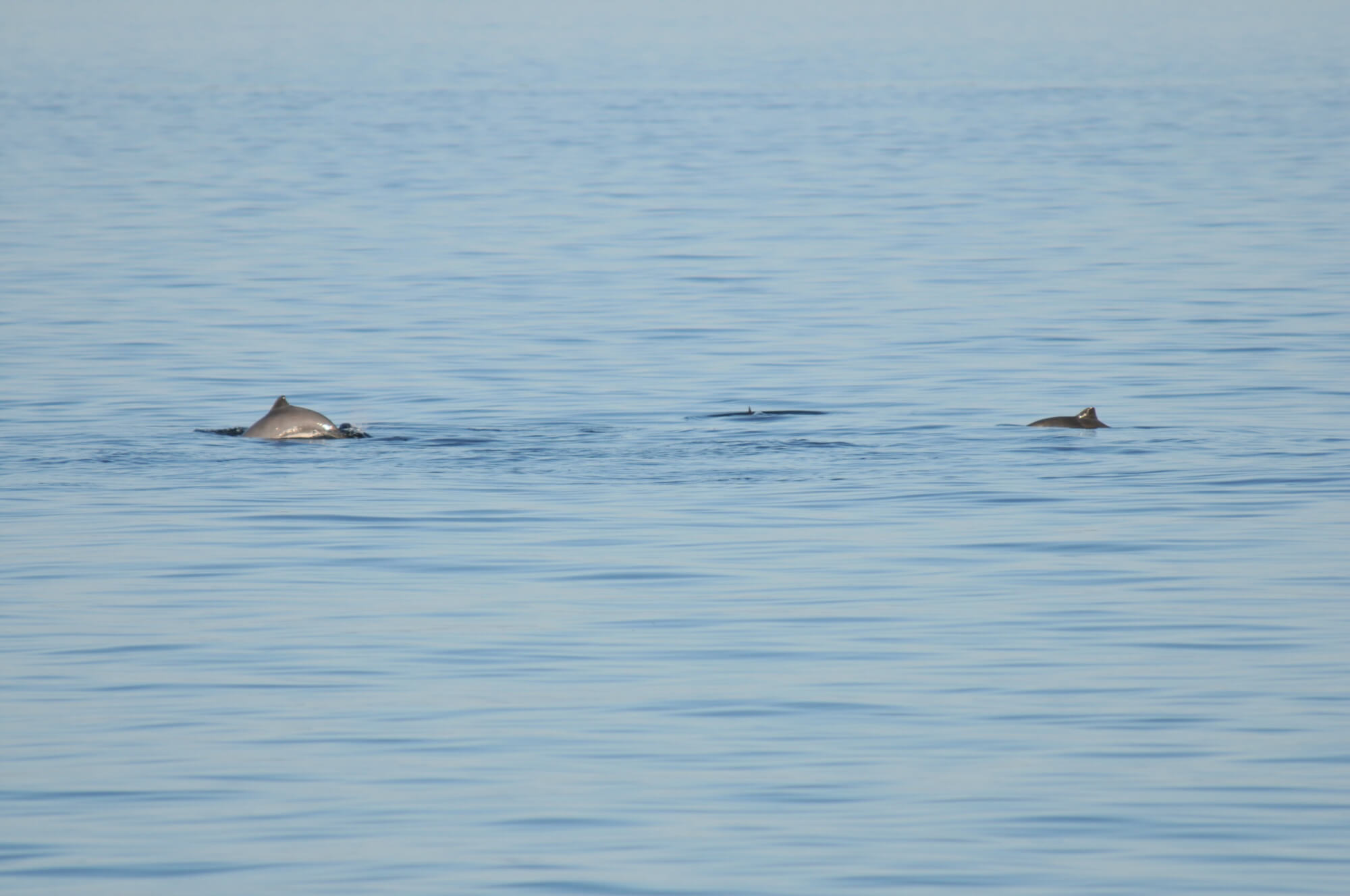 One group of 7 and another group of 25 harbour porpoises were spotted near Les Escoumins © GREMM
GREMM received a call from an observer in Baie-Comeau, who related the presence of two humpbacks in his area this weekend.
Harbour porpoises seem to be beginning to leave Franquelin, with just one individual spotted this week. On the other hand, several sightings of grey seals were reported. As fall advances, the increasingly bare trees translate into better views of the river from Route 138. Likewise, a stop at a roadside rest area offered one observer a glimpse of four foraging minke whales, not to mention their exhalations at the water surface.
Following the stranding of an unlucky harbour porpoise in Sept-Îles, a volunteer from the Quebec Marine Mammal Emergency Response Network was dispatched to collect data from the carcass. In this kind of situation, volunteers are called upon to take notes on the site, measure the carcass, inform and educate any curious bystanders present during the intervention as well as establish a security perimeter.
On a recent trip out to sea south of Port-Cartier, a recreational boater saw grey seals as well as porpoises. A minke whale and two harbour porpoises were also spotted near the town docks on Tuesday. The next day, no fewer than three grey seals poke their curious heads above the water surface at the mouth of the Sainte-Marguerite River in Gallix.
Farther down the river, autumn storms have also been battering the coast of the Côte-Nord region. In Sept-Îles, for example, a local resident reports winds of 90 km/h as well as pouring rain for several days. Another resident, this time in Pointe-des-Monts, tells of waves reaching 4 or 5 metres high! Rain or shine, whales still have to come to the surface to breathe, but they only need about a second to do so.
Weekly sighting map
These data were reported by our network of observers. They give an idea of the presence of whales and do not represent the real distribution of whales in the St. Lawrence. Use them for fun!
Click on the whale or seal icons to discover the species, the number of individuals, additional information or photos of the sighting. To enlarge the map, click on the icon in the upper right corner. The map works well on Chrome and Firefox, but not so well on Safari.
To display the list of sightings, click on the icon in the upper left corner.