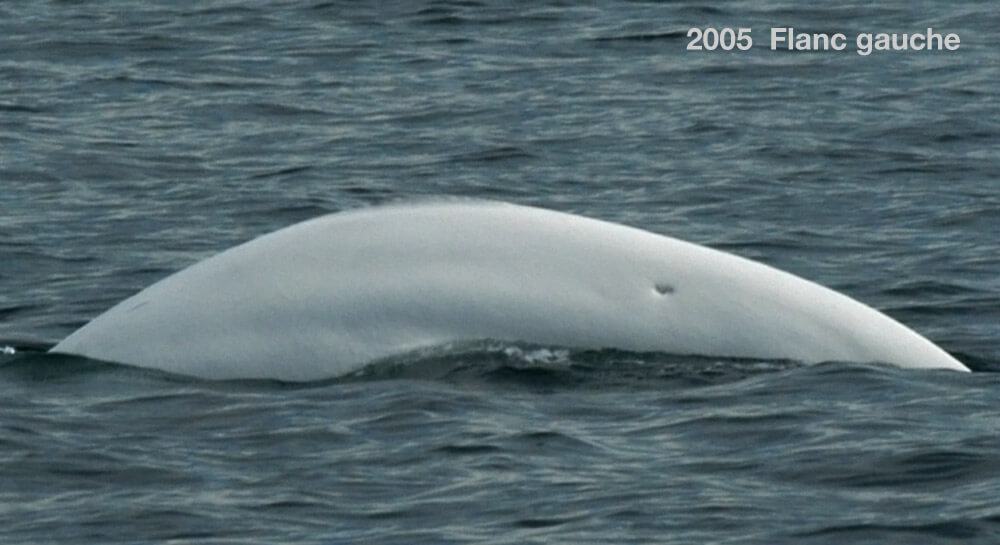 Adopted by Fairmont Le Manoir Richelieu
ID number

DL0575

Sex

Female

Year of birth

Before 1977

Known Since

1993
Distinctive traits
Perle peut être identifiée seulement par les détails de sa crête dorsale, mais la petite tache grise sur la partie avant, ainsi que la cicatrice ronde sur la partie arrière de son flanc gauche sont ses caractéristiques principales.
Life history
Notre toute première rencontre avec Perle remonte en 1993. Elle était parfaitement blanche. Perle serait donc née avant 1977.
Le sexe de Perle est confirmé par l'analyse génétique d'une biopsie prélevée sur son dos : il s'agit d'une femelle. Elle fait partie de la communauté de femelles du fjord du Saguenay.
Perle appartient à la communauté du Saguenay. Deux autres communautés de femelles existent : celles de la rive sud et de Kamouraska. Chaque communauté s'attache à un territoire, et il y a peu d'échanges entre elles. Les femelles bélugas deviennent des « expertes » de leur territoire, en connaissent bien les ressources et peuvent subvenir efficacement aux besoins de leur nouveau-né.
Observations history in the Estuary
Years in which the animal was not observed Years in which the animal was observed
Latest news
Nous sommes à l'embouchure du fjord du Saguenay. Nous croisons un troupeau d'adultes et de jeunes d'une vingtaine d'individus. Parmi les animaux, nous reconnaissons Perle que nous n'avions pas revue depuis quatre ans. La météo est parfaite, mais les reflets du soleil nous empêchent de bien distinguer tous les animaux.
Sponsor
Fairmont Le Manoir Richelieu adopted Perle (2005).