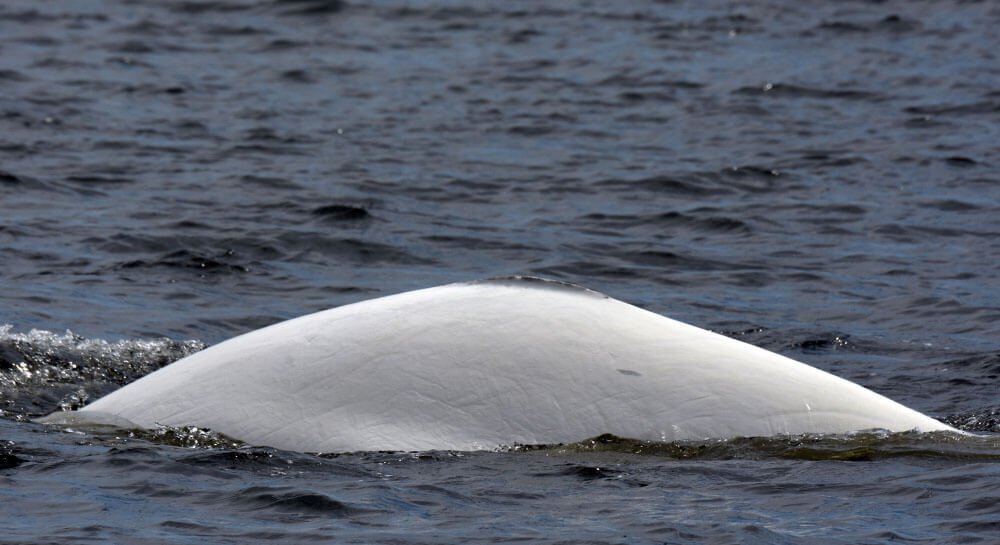 Adopted by Madeleine Bourgault
ID number

DL2377

Sex

Female

Year of birth

Before 1995

Known Since

2005
Distinctive traits
Madeleine has small, distinctive notches in her dorsal ridge. On her left flank, she shows a thin black line between her head and her dorsal crest, which allows us to identify her easily from this side. She is more difficult to recognize from the right.
Her story
Our first encounter with Madeleine dates back to 2005. At the time, she was still grey. By the time she was next observed in 2007, she had turned white, though her dorsal crest remained dark. Belugas fade from grey to white in colour between the ages of 12 and 16, meaning Madeleine would have been born around 1995.
A biopsy of a tiny fat sample taken from her back in 2008 confirmed that Madeleine is indeed a female.
Within their summer range, females form large communities in which they care for newborns and young. These communities are faithful to traditional territories and, for Madeleine, the Saguenay seems to be particularly important. She is regularly observed with Pure Laine and DL0235.
Associations between females of the same community are generally not stable and can vary according to the females' reproductive status, for example if they are pregnant or accompanied by young. Madeleine is often seen with young belugas, and was even spotted with a newborn in 2017. However, to date our observations have not yet allowed us to determine with certainty whether or not these were her own offspring. More in-depth data analysis will help shed light on her reproductivity, while a biopsy might help demonstrate whom she is related to.
How Madeleine's story unfolds will help us better understand the social and reproductive lives of belugas. By better understanding how belugas live, we will be able to better protect them.
Observations history in the Estuary
Years in which the animal was not observed Years in which the animal was observed
Dernières nouvelles
Le 3 septembre 2017, à bord du Bleuvet, le bateau de recherche du GREMM, nous nous dirigeons vers l'ilet aux Alouettes, au large de Baie-Sainte-Catherine et de la pointe Noire. Nous rencontrons chemin faisant un troupeau de 30 bélugas composé d'adultes, de gris et d'un nouveau-né. Dans le troupeau, nous reconnaissons Pure Laine, qui nage en compagnie de Madeleine! Aux côtés de Madeleine se trouve un nouveau-né. Est-ce le sien? Seules de nombreuses autres observations ou une biopsie des deux animaux nous permettront de le confirmer. Plus nous observons ces bélugas et plus nous avons l'impression qu'ils nagent dans toutes les directions. Ce type de comportement nous fait supposer qu'ils sont en alimentation. Laissons-les manger! Nous partons à la rencontre d'autres troupeaux en remontant le Saguenay.
3 juillet 2019 : Le BpJAM est de retour en mer pour la saison de terrain 2019, avec la même équipe que la saison précédente.
La matinée brumeuse nous oblige à rester à quai : difficile de trouver un troupeau dans le brouillard et encore plus de le suivre ou d'avoir une bonne idée du comportement général des bélugas. Autant profiter du «mauvais temps» pour avancer le travail de bureau.
En début d'après-midi, le brouillard se dissipe des eaux du parc marin du Saguenay–Saint-Laurent. Vite, il nous reste encore assez de temps avant la tombée du jour pour partir à la recherche de bélugas. Après quelques dizaines de minutes de recherche, nous trouvons un groupe de bélugas en aval de l'ile Rouge, au large de Baie-Sainte-Catherine, environ à mi-chenal. Le troupeau compte une quarantaine d'individus blancs et gris. Parmi eux se trouve DL0235, que le GREMM suit depuis 1990, et Madeleine.
Le groupe est plutôt difficile à approcher, tantôt multidirectionnel, tantôt en «milling», c'est-à-dire en plongeant de façon répétée et remontant à la même place. Les comportements que nous offrent ces bélugas sont plutôt intéressants. À la surface, les bélugas s'activent, crachent et vocalisent.
Après deux heures de prise de photo pour l'identification nous permettant d'actualiser notre «album de famille», nous décidons de lancer le drone pour avoir une meilleure idée de ce qui se passe sous la surface.
Nous observons d'abord des comportements sociosexuels : des coups de bassin, des frôlements, etc. Puis, ce qui était dur à documenter depuis le bateau devient évident : nous observons, pour la première fois depuis les airs, des bélugas chasser du poisson.
Pour voir la vidéo, consultez cet article!
Les parrains et marraines
Pour les 90 ans de Madeleine Bourgault, née à Saint-Jean-Port-Joli.
Puisse ta descendance observer profusément de magnifiques bélugas!