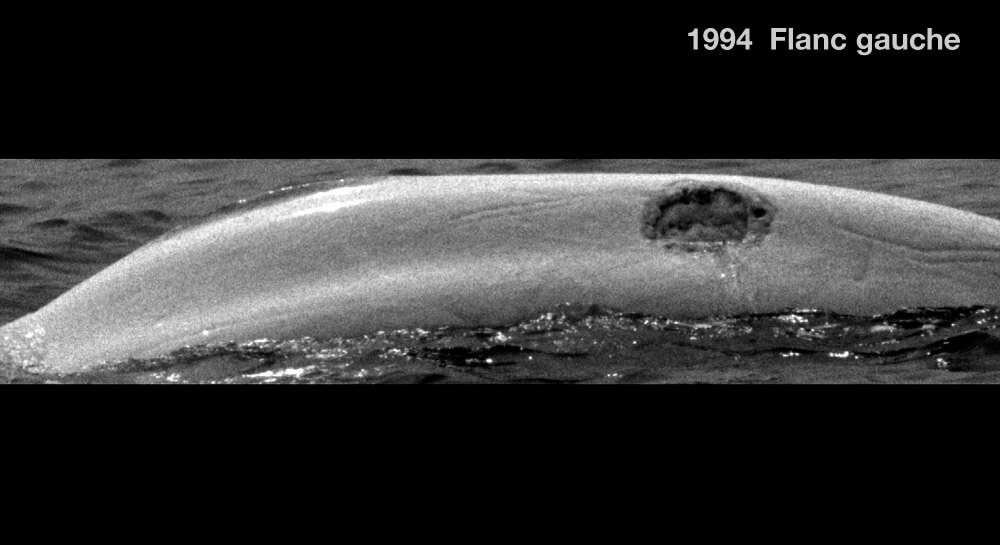 Adopted by l'école de langue française de Trois-Pistoles
ID number

DL0057

Sex

Unknown

Year of birth

Before 1973

Known Since

1987
Distinctive traits
Biscuit est connu uniquement du flanc gauche. Sa grosse cicatrice profonde et complexe au pédoncule le distingue des autres.
Life history
Lors de notre première rencontre avec Biscuit, en 1987, il était légèrement gris. À partir de 1993, on l'a toujours noté comme blanc. Il serait né autour de 1973.
Pour le moment, selon les fréquentations et les habitudes de Biscuit, nous ne pouvons pas confirmer son sexe ni son aire de répartition estivale. En été, il existe une forte ségrégation sexuelle chez les bélugas adultes. Les mâles et les femelles démontrent des préférences nettement marquées, autant dans leurs associations que dans les secteurs qu'ils fréquentent. Chez les juvéniles et les jeunes adultes ce comportement n'est pas aussi marqué.
À quelques reprises, l'équipe a entendu la «voix» de Biscuit. Avec ses compagnons, il vocalisait à la surface et sortait la tête et la queue hors de l'eau. Sifflements, claquements, grincements et grognements, le répertoire vocal du béluga est très étendu, d'où son surnom de «canari des mers». Ce répertoire pourrait être une adaptation à la vie près de la glace, où le bruit ambiant est omniprésent
Observations history in the Estuary
Years in which the animal was not observed Years in which the animal was observed
Le parrain
École de langue française de Trois-Pistoles adopted Biscuit (1990).