Season after season, tide after tide, the St. Lawrence River is like a beating heart. Marine currents, prey availability, and other sometimes mysterious parameters are all contributing factors to the movements of marine mammals. Upstream, downstream, toward the Estuary or out to sea. One might think that their movements are linear, in other words that whales enter the Gulf through the Cabot Strait, come to feed off the Gaspé Peninsula and Sept-Îles and then slowly make their way toward the Estuary, only to later embark on a migration in the opposite direction… but the reality is quite different!
Return of Tic Tac Toe
"There are wanderers, and then there are highly site-specific individuals," explains Christian Ramp, a researcher for Fisheries and Oceans Canada. For example, certain humpback whales are seen every year in the Gulf, but never venture into the Estuary, and vice versa. Others go back and forth and crisscross the entire St. Lawrence during the course of the summer." This appears to be the case with Tic Tac Toe. After arriving near Tadoussac in June, this favourite whale of cruise-goers was then sighted again near Baie-Comeau in July. Since yesterday, the matriarch has returned to the waters of the Saguenay-St. Lawrence Marine Park, where she has been rubbing fins with nearly a dozen other humpbacks, including Gaspar, H918, H887, H859, H909 (a.k.a. "Seventeen") and H943. "The Estuary is a relatively small feeding ground for our giants," explains one seasoned observer.
What a breach!
The Marine Park has also been hosting over a dozen fin whales, including a handful of well-known individuals (Piton, Trou, Omega, Zipper and Orion, to name a few). Are fin whales any less spectacular than humpbacks? Not necessarily! At around midday on Wednesday, GREMM researchers aboard the BPJam are on their way back from conducting photo-ID work when a fin whale leaps out of the water off Pointe Sauvage. The breach catches everyone by surprise… and no one has the time to take a picture! "Never before had I seen a whale fully extended like that," tells Timothée Perrero, senior research assistant for the large rorqual research program.
From shore, too, fin whales are making impressions. Friday July 23, they are reported all along the coast between Les Escoumins and Les Bergeronnes. Tourists, campers, paddleboarders and kayakers alike are enjoying the show. According to one vacationer, "From shore, we saw a large spout, then a dark grey back the length of a submarine slowly glide by."
Now you see them, now you don't!
But the comings and goings of whales in the St. Lawrence can sometimes be frustrating for cetacean enthusiasts. After weeks of intense action at sea, an observer from the Gaspé town of Saint-Yvon laments: "ZERO sightings this week despite multiple attempts and constantly staring out to sea… not even a single seal!"
A local resident in Saint-Irénée, too, longs for the groups of belugas that were omnipresent this past spring. "Lately, I haven't had the pleasure of watching them swim by. My husband, however, is lucky enough to see a lone beluga poke its head above the water from time to time," but that's about it. Belugas are currently present in numbers in Rivière-du-Loup. Juveniles, females with their calves, pure white adults… According to observers, the entire palette of colours is represented! In the Cacouna area, the black backs of harbour porpoises outnumber the white backs of belugas, and in Kamouraska, seals have been observed in hordes.
This week, acrobatic humpbacks and minke whales are being reported everywhere. On Monday, a minke whale breaches opposite the docks in Baie-Comeau. On the other side of the River, in Baie-des-Sables, two or three whales splash about during an aquatic show that lasts about thirty minutes. Last Thursday, three large caudal fins were spotted off Godbout. On Tuesday, the blasts of one or two humpbacks are seen close to shore in Franquelin and Pointe-des-Monts. The same day, an observer in Les Escoumins watches in awe as "an individual continually slaps its tail on the water surface for a good fifteen minutes."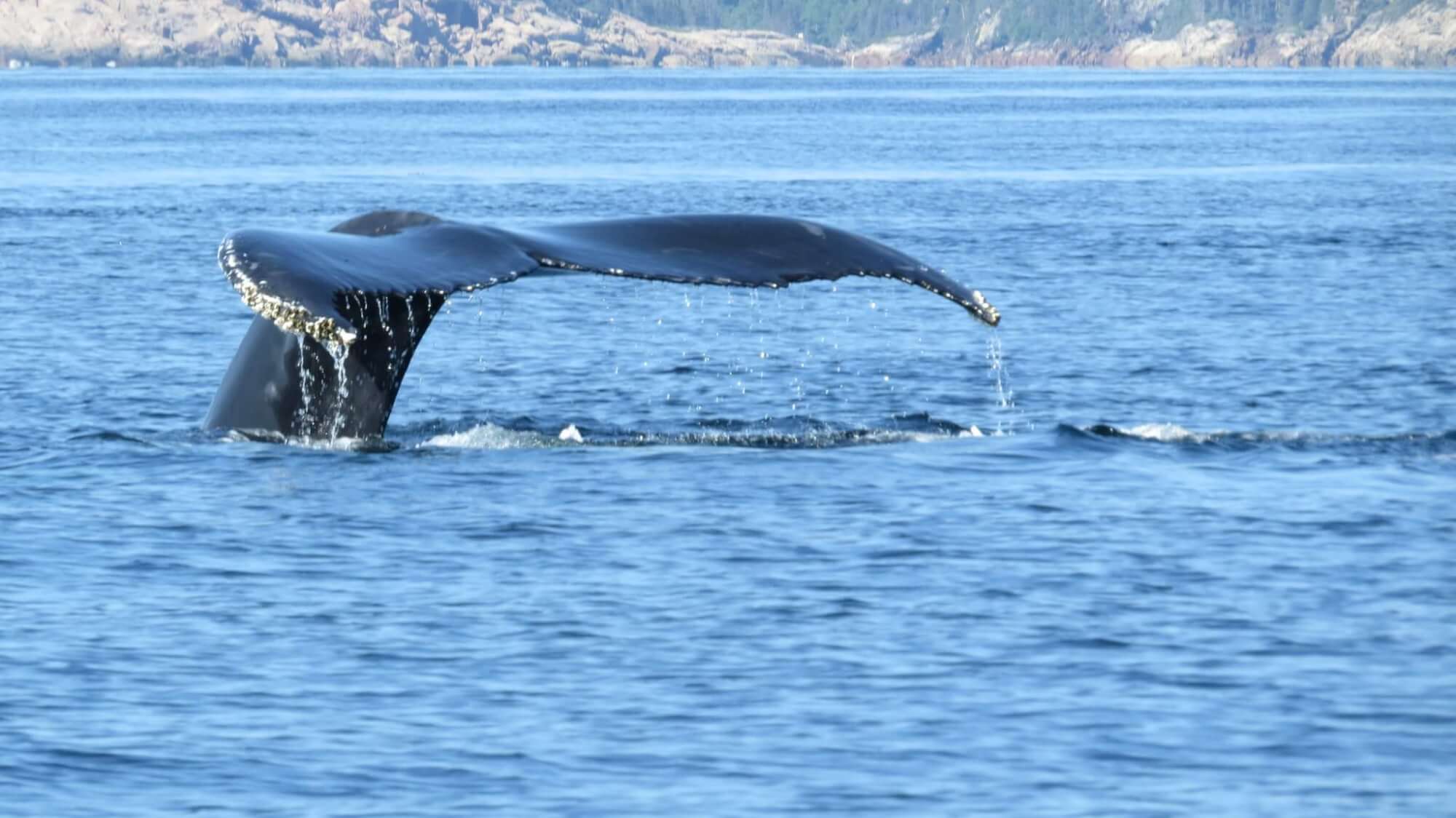 Humpback whale in Godbout © Manon Côté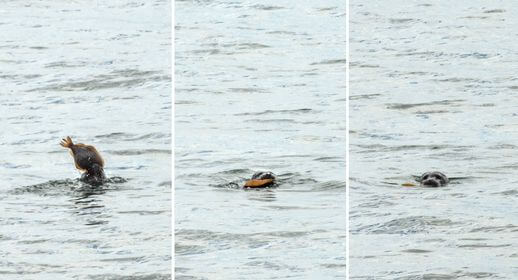 Seal foraging © Marielle Vanasse

Minke whale bearing a propeller scar in Havre-Saint-Pierre © François de Grandpré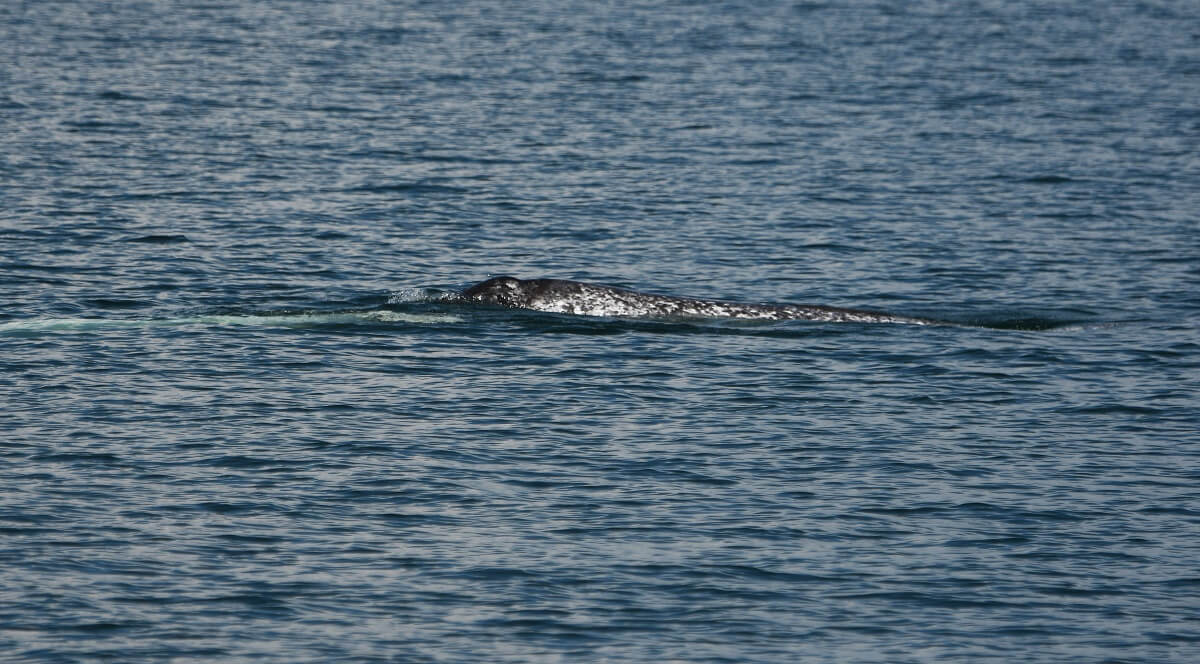 The narwhal was seen again by the GREMM team near Ile aux Basques. © GREMM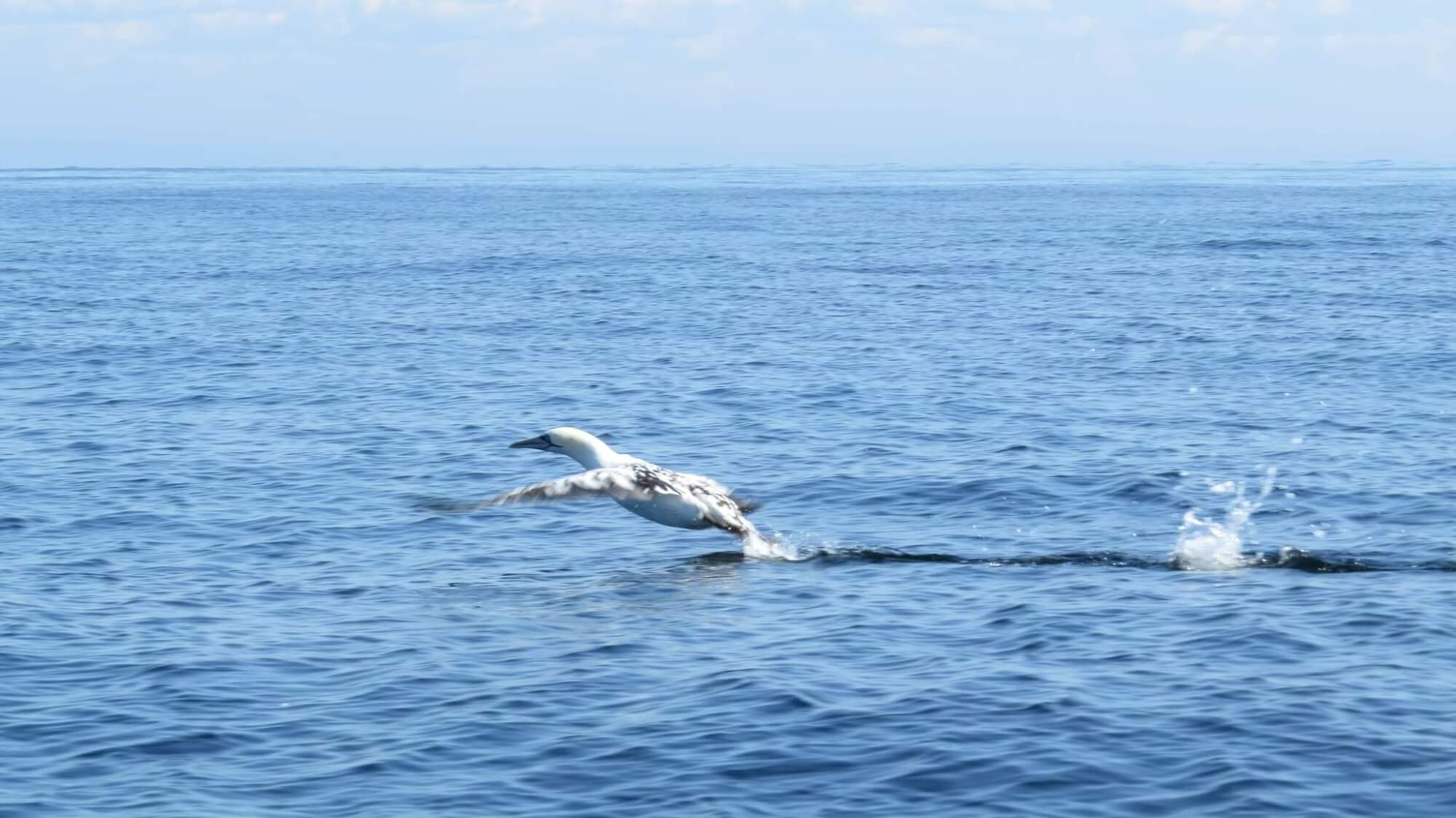 Gannet © Manon Côté
Finally, this week in Gaspé Bay, observers are excited to witness the arrival of Atlantic white-sided dolphins and their frolicking ways. "They always arrive in late July or early August," points out an employee of a whale-watching company. Humpback whales are still very much present, including a few well-known individuals such as Bolt and Paloma. On the other hand, not a single fin whale observed all week… not to mention the continuing glaring absence of blue whales. When will they return?
Where are the whales this week?
These observations give an idea of the presence of whales and do not represent the real distribution of whales in the St. Lawrence. Use them for fun!
Click on the whale or seal icons to discover the species, the number of individuals, additional informations or photos of the sighting.  To enlarge the map, click on the icon in the upper right corner. The map works well on Chrome and Firefox, but not so well on Safari.
To display the list of sightings, click on the icon in the upper left corner.