The waters of the St. Lawrence are populated by a multitude of marine mammals: Tic Tac Toe is back for a third time this season, blue whales swim in the estuary and North Atlantic right whales have been identified. A seldom-seen species also makes an impression: pilot whales have been seen in the Gulf! Other curiosities have been observed : a moose crossing the Saguenay river, gannets diving close to shore and bioluminescence.
Humpback whales or tour guides
Tic Tac Toe is back in St. Lawrence for a third time! Accompanied each time by a different whale, this week's companion was H915. She's been visiting us since 2000. She was absent from 2010 to 2019, but has been back every year since! Guadeloupe is also acting as tour guide for an individual that was first spotted in our waters this summer, VARF-193 aka KAVIK. The two humpback whales were seen at Cap de Bon-Désir swimming not far from each other. Tic tac Toe was also spotted in this area, breaching, in the company of a young whale.
From the Gulf to the Saguenay River: a whole lot of diversity!
In Gaspé Bay, one or two minke whales were seen feeding on several occasions, and were described as "beautiful spectacles". In the same area, porpoises, dolphins and four humpback whales were spotted.
In the middle of the Gulf, in the Mingan area, between 200 and 300 pilot whales were spotted. At Longue-Pointe-Mingan, MICS crossed paths with ten North Atlantic right whales on August 7, seven of which have already been identified!  In Sept-îles, there were plenty of porpoises, a fin whale and a minke whale.
In Pointe-des-Monts, two humpback whales were observed by a local resident before disappearing, leaving no trace of their visit. The resident also came across a grey seal here and there every day this week. Two minke whales of very different sizes, one very small and the other enormous, have also been seen in the area. On Tuesday, in Franquelin, from Côte bellevue, "one of my favorite spots", a marine mammal enthusiast observed two humpback whales swimming not far from shore, blowing occasionally as they rested. "They say they look like logs, and not for nothing! They were really big logs!" He was also lucky enough to spot some minke whales, seals and lots of porpoises.
In the area around Les Bergeronnes and Les Escoumins, local residents were treated to a colorful show this week: two blue whales, two fin whales, three humpback whales and three to four minke whales. Belugas, seals and harbour porpoises were also seen. A blue whale was spotted on Monday in front of the Quai des Pilotes station in Les Escoumins, as were several belugas on Wednesday morning offshore. Two humpback whales were spotted on Thursday morning in the estuary in front of Tadoussac. Belugas, minke whales and lots of grey seals were also seen in the Saguenay, while around 40 belugas were spotted at Baie Sainte-Marguerite in the same day. They included herds of females with young and a herd of large, very active males.
Unpredictable weather and mammals
While some saw nothing but fog, a few lucky souls were treated to a wave-making show in Franquelin: two surfing porpoises. A grey seal was also spotted with its head held high, trying to keep it out of the water with all that surf. A feeling we can all understand!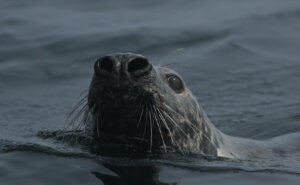 Moose, a mother and calf, also braved the waves of the Saguenay River. Appearing to have potentially taken to the water at Baie Sainte-Marguerite, they headed for the opposite shore, slightly downstream of Cap de l'Anse au Cheval.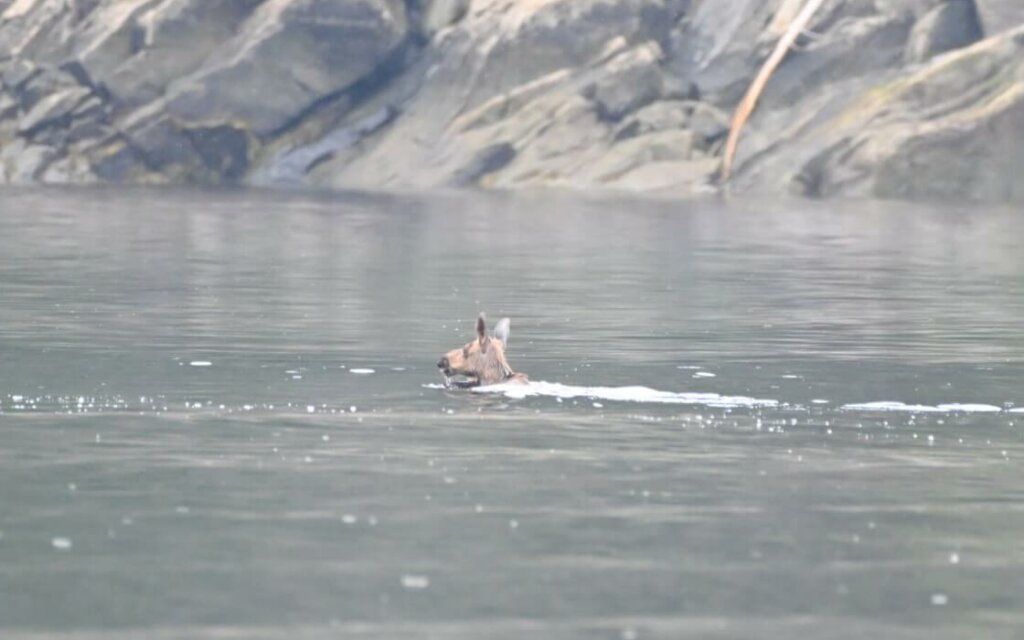 Abnormal bird show
At Pointe-des-Monts, local residents were treated to a spectacle of gannets just 150 meters from the shore: "Around 500 individuals were peaking into the water to nab sandeels for a few hours' cut. They landed occasionaly  to take short digestion breaks, then returned to their feast. Although this out-of-the-ordinary event was fantastic for the eye, onlookers were concerned about the animals' short distance from shore, as gannets are usually much further offshore.
The beauty of the very small
Wednesday evening, in Tadoussac, after the passage of a minke whale and then a humpback whale, members of the Group for Research and Education on Marine Mammals (GREMM) team were lucky enough to see bioluminescence: blue flakes illuminated the dark, cold waters of Pointe de l'Islet. One brave girl even went for a wade in the icy water, splashing the surrounding area with a shower of light, offering a spectacle that also lit up their childlike hearts.
Research is hard work!
The GREMM research team has identified its first beluga of the season. It was spotted on July 20 in Kamouraska! An eagle-eyed research assistant sounded the alarm: "I analyzed the videos and recognized the animal. The suspected identity of the individual in question was confirmed with the rest of the beluga team: it's DL236! It was first photographed in 2000. "It's a beluga from the southern community around Kamouraska, and the drone videos come from a research assistant's stay there! We've actually seen it a few times, including last summer. This year, however, she was accompanied by a calf! So that means she was pregnant in 2022! For the photogrammetry project, it's interesting because if we have her height measurements in 2022, we'll be able to compare them with those of 2023 to see the difference in size! How cool is that?"

DL236 with a calf © GREMM

DL236 © GREMM

DL236 with a calf seen from the drone © GREMM
DL236 with a calf seen from the drone © GREMM

DL236 seen from the drone © GREMM
Where are the whales this week? Observation map
These data were reported by our network of observers. They give an idea of the presence of whales and in no way represent the actual distribution of whales in the St. Lawrence. Use it for fun!
Click on the whale or seal icons to discover the species, the number of individuals, additional information or photos of the sighting. To enlarge the map, click on the icon in the top right-hand corner. The map works well on Chrome and Firefox, but not so well on Safari.
To display the list of sightings, click on the icon in the top left-hand corner.