Many of the humpback whales observed in summer in the St. Lawrence spend part of the winter in their breeding grounds in the Turks and Caicos Islands as well as Silver Bank and Samaná Bay in the Dominican Republic. A number of biologists, naturalists and scientists converge there to study these animals. Last February, Cathy McClain Bacon was there and sent me two photos, one of H531, a.k.a. La Souffleuse, and another of a young animal that was believed to be her calf and which had been observed on 4 consecutive days in the Turks and Caicos Islands. I was hoping to see them again in the St. Lawrence this season!
Last week, cashing in on a beautiful calm and sunny day, I set sail off the Gaspé Peninsula to do some photo-ID work for the Mingan Island Cetacean Study (MICS). Between 10 and 12 nautical miles off Rivière-au-Renard, I encountered a group of about fifteen fin whales and a dozen or so humpbacks. Amongst the humpbacks I documented were Gronier and Maki, – which are regulars in the Mingan region but have never been sighted in the Estuary – as well as Calanus. There were also two as-yet unknown mother-calf pairs. In fact, the majority of humpbacks encountered that day appeared to be young and absent from photo-identification catalogues.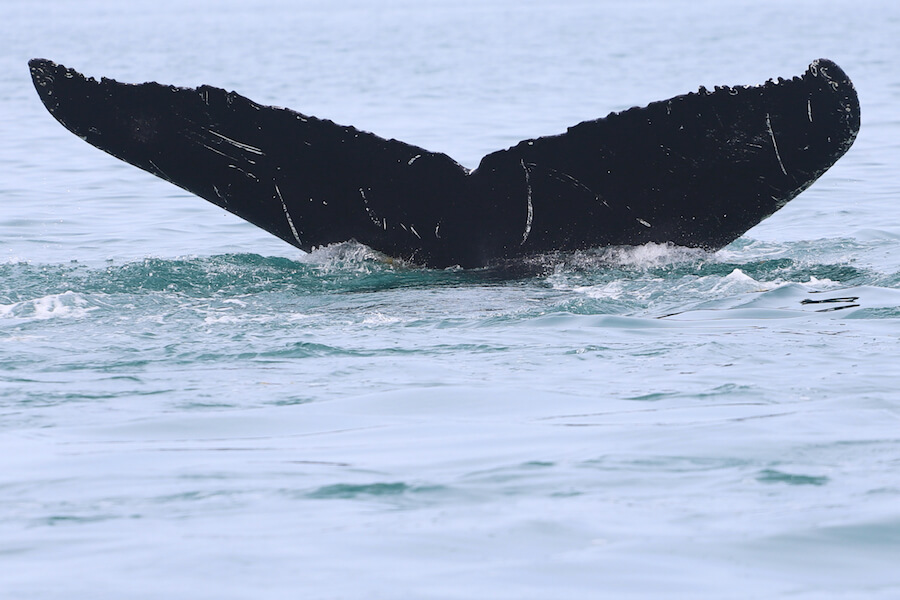 Gronier © René Roy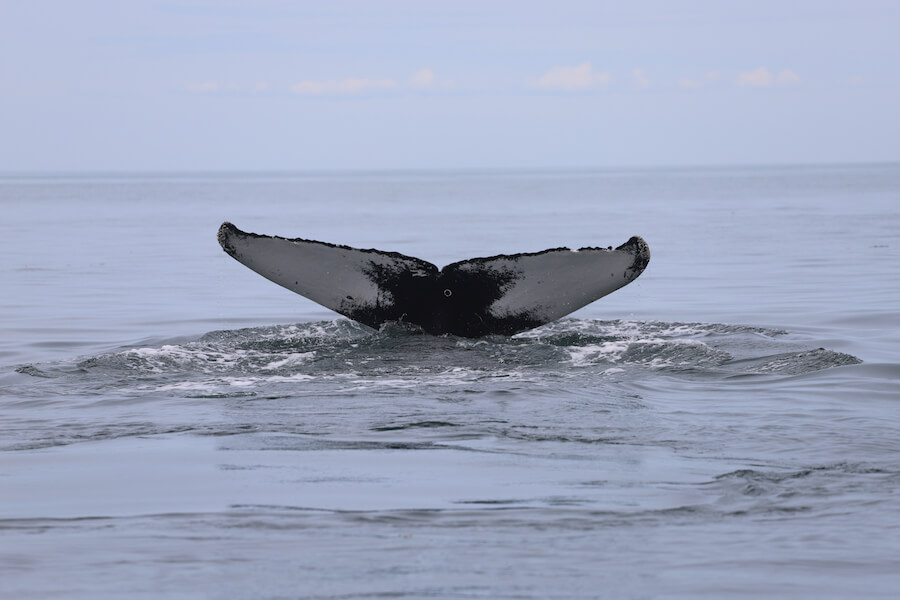 Maki © René Roy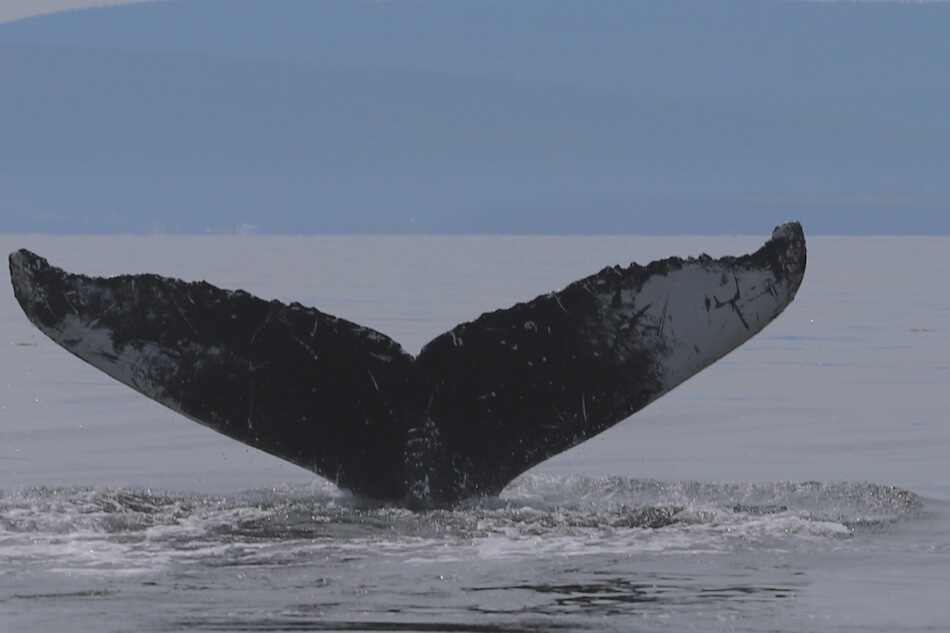 Calanus © René Roy
Poring over my photos back home in an attempt to identify these whales, I recognized an animal whose picture Cathy McClain Bacon had sent me last April. This was the whale that was with La Souffleuse when she was sighted in the Caribbean this winter. At the time, it was believed that La Souffleuse was the mother of this calf. This same humpback was not accompanied at all on July 21, when it was observed in a group feeding off the Gaspé Peninsula.
The day before, professional diver Patrick Bourgeois is off the coast of Franquelin in Quebec's Côte-Nord region when he spots a group of ten or so humpback whales. He then proceeds to film this group of very calm whales while maintaining a good distance. While viewing his video on YouTube, I recognize Tracks and… La Souffleuse. So, here she is on July 20 near Franquelin, while the animal observed at her side in February in the Turks and Caicos Islands was spotted alone the next day, over 250 km away.
What amazing observations and what luck, but should we make of it all? It is possible that the small humpback was mistakenly identified as the calf of La Souffleuse. Unless this calf was weaned in record time, which is not very likely since weaning usually occurs in the fall. As I mentioned in my most recent "Field Notes", humpback pairs consisting of an adult and a smaller animal can be confusing. It is only by observing the interactions between two animals of different sizes and their behaviour over a sufficiently long period that it can be determined whether or not they form a mother-calf pair.
A special thanks goes to Cathy McClain Bacon and Patrick Bourgeois for this wonderful collaboration that allowed us to follow these whales from the Caribbean to the St. Lawrence.
My photos were taken under permit number QUE-LEP-004-2021.