By Valerie Jolicoeur, master student at UQAM
This fall, I embarked on a major Master's project that focuses on the health of our iconic St. Lawrence belugas. Although the river is undeniably beautiful, its high rate of industrialization exposes belugas to numerous contaminants. My supervisor, Professor Jonathan Verreault, has a particular interest in flame retardants, additives that can notably be found in furniture, clothing, electronics and firefighting gear. They are used to slow the spread of flames during fires. These contaminants are known to be endocrine disruptors in many species, meaning they can interfere with hormone system regulation. Thus, the focus of my project is the impact of these contaminants on the thyroid hormones of belugas. Why thyroid hormones? It is suspected that these kinds of hormones play a role in the calving process in belugas, and their disruption by contaminants may be the cause of the recent uptick in postpartum mortality of females and their newborns.
Barely two weeks after embarking on my Master's degree at UQAM, I'm already in Tadoussac for the sampling campaign that will be conducted over the course of the next three weeks. Our objective is to collect at least 30 biopsies from belugas, which will allow us to analyze the contaminants and hormones contained in their fat. In this context, I joined the crew on board GREMM's (Group for Research and Education on Marine Mammals) research vessel Bleuvet, a team that included Michel Moisan, captain and biopsy rifle sharpshooter, Tim Perrero, who pilots the drone used to locate and film the herds, as well as research assistants Mathieu Marzelière and Laurence Tremblay, both armed with binoculars and a camera to identify belugas and participate in photo-identification.
Once a herd is spotted, we attempt to approach an individual that has been previously photo-identified. Michel then takes aim at the animal with a modified rifle using for ammunition a biopsy dart that will be reeled back onto the boat using a fishing pole. Now that's a real "rod-and-gun" combo! This is where I come in. My role is to recover the biopsy, separate the fat from the skin and then store the samples for later analysis: fat samples in super cold liquid nitrogen and skin samples in a cooler.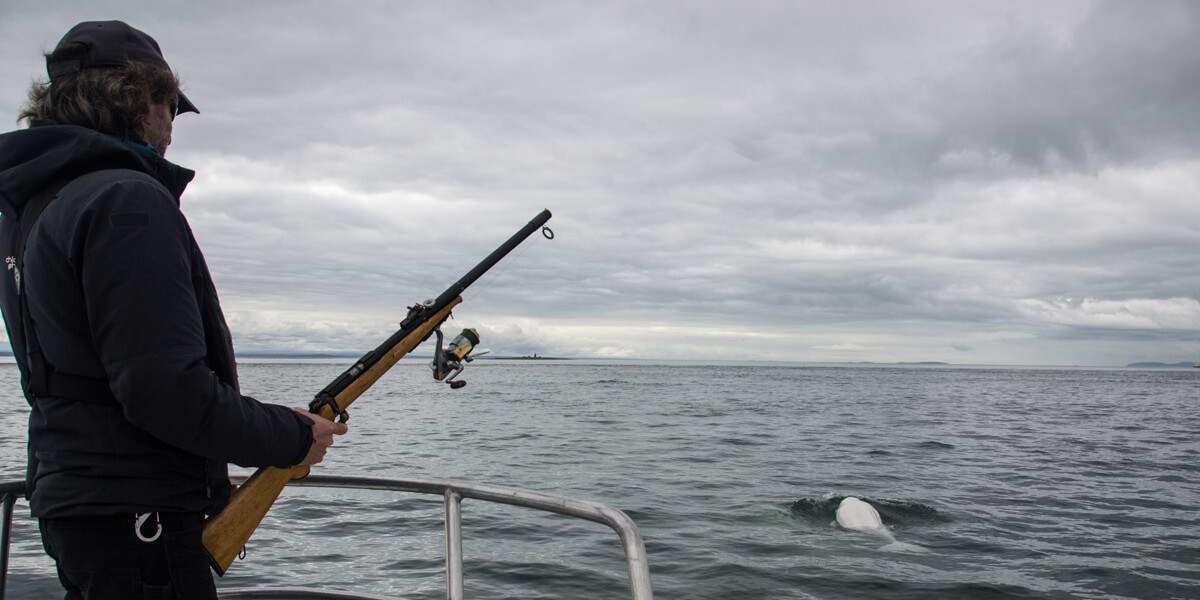 Our first day was a big success: 10 biopsies! Fortunately, I was accompanied by Alexandre Bernier-Graveline, a Master's student conducting his third sampling campaign. He showed me how to separate the skin from the fat using a scalpel in my improvised lab set up in the narrow hold of the boat! It's not always easy to carry out this work when the waves are rocking the laboratory! Moreover, after this long day, I discovered what it meant to have "sea legs", when even after getting off the boat you feel like you're still being swayed by the waves.
At the end of three weeks, we surpassed our goal by collecting 46 biopsies, despite several days when we were stuck on land due to strong winds and inclement weather. For that we can thank our talented sniper, Michel Moisan!
Now I am heading back to UQAM with these tiny bits of fat and skin, hoping they pave the way to exciting and useful discoveries. I have very fond memories of these endearing creatures. I feel privileged to have been in such close contact with this endangered population, to have heard their clicks through the hull of the boat and to have met their lively gaze as they approached the boat and swam on their side to get a better look at us.