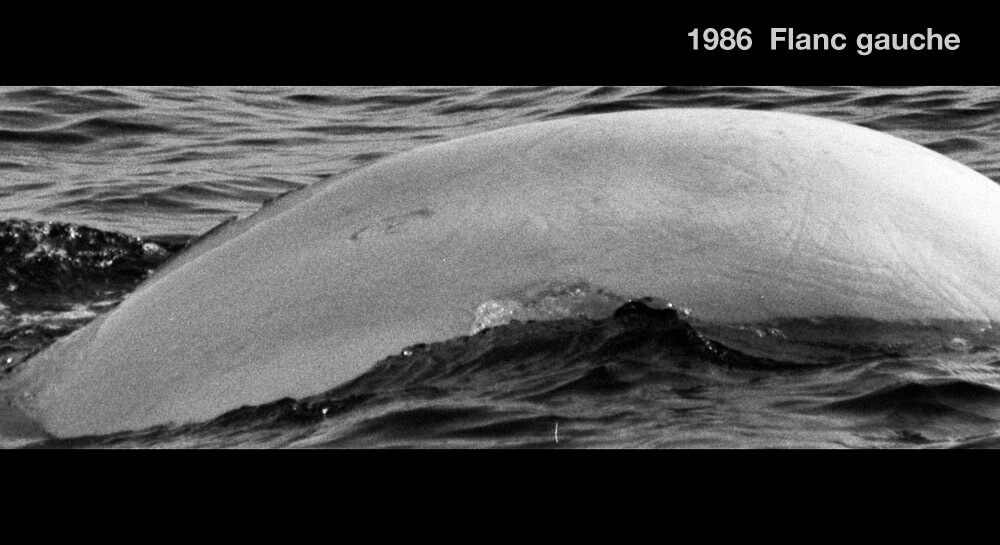 Adopted by la Corporation des pilotes du Bas-Saint-Laurent
ID number

DL0020

Sex

Unknown

Year of birth

Before 1973

Known Since

1986
Distinctive traits
Seul le côté gauche de Pilote BSL est connu. Sur le flanc se trouve un cercle avec un point au milieu. Sa crête dorsale porte une large entaille dans la partie antérieure.
Life history
Notre première rencontre avec Pilote BSL remonte en 1986. Sur sa peau, nous pouvions encore observer des fragments de peau colorés légèrement gris. Il serait né autour de 1972.
Le manque de données à son sujet, sur ses habitudes et ses affiliations, ne nous permet pas pour le moment d'identifier le secteur qu'il fréquente, donc de connaitre son sexe.
Est-ce que Pilote BSL pourrait être un mâle? Les trois fois que nous l'avons observé, il était accompagné des mâles Kilt et Walter. Sans une analyse génétique, lorsque nous avons plusieurs données sur un individu, il est quand même possible de présumer son sexe. En effet, l'été on retrouve une forte ségrégation sexuelle chez les bélugas adultes. Les mâles et les femelles démontrent des préférences nettement marquées, autant dans leurs associations que dans les secteurs qu'ils fréquentent. Toutefois, pour Pilote BSL, le manque de données nous empêche d'identifier les secteurs qu'il fréquente.
Observations history in the Estuary
Years in which the animal was not observed Years in which the animal was observed
Latest news
La dernière observation de Pilote BSL remonte à une trentaine d'années. Que lui est-il arrivé? Est-il mort? Est-il demeuré invisible à l'œil du chercheur pendant tout ce temps? Chose certaine, son histoire demeure une source d'informations précieuses pour nos connaissances sur cette population fragile.
Sponsor
La Corporation des pilotes du Bas-Saint-Laurent adopted Pilote BSL (1988).