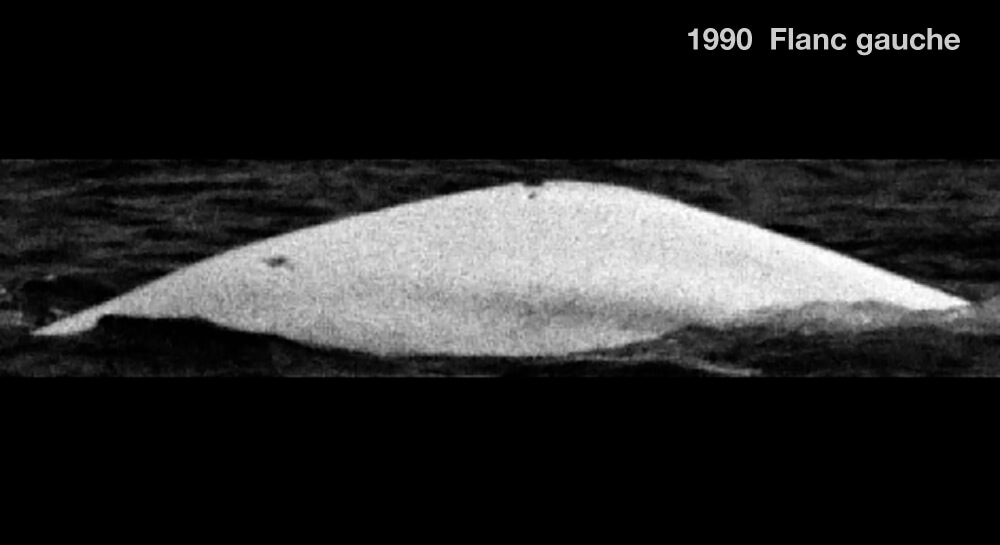 Adopted by Imasco Limited
ID number

DL0071

Sex

Unknown

Year of birth

Before 1970

Known Since

1986
Distinctive traits
On reconnait Lou-Lou avec sa grosse encoche en demi-lune dans la crête dorsale. Il a également deux cicatrices sur le flanc gauche dans la partie antérieure.
Life history
Les deux seules fois que nous avons observé Lou-Lou, en 1986 et en 1990, il était entièrement blanc. Il serait né avant 1970.
Le manque de donnée à son sujet (habitudes et affiliations) ne peut nous permet pas d'identifier le secteur qu'il fréquente, ni son sexe.
Lorsque nous avons observé Lou-Lou, il se trouvait près des îles de Kamouraska. Les adultes qui fréquentent ce secteur semblent rarement observés dans un autre partie de l'aire estivale des bélugas. L'été, il y a une ségrégation sexuelle entre les mâles et les femelles et les groupes sont très fidèles dans leurs déplacements et les habitats qu'ils fréquentent.
Observations history in the Estuary
Years in which the animal was not observed Years in which the animal was observed
Latest news
La dernière observation de Lou-Lou remonte à plus d'une vingtaine d'années. Que lui est-il arrivé? Est-il mort? Est-il demeuré invisible à l'œil du chercheur pendant tout ce temps? Impossible de savoir pour le moment. Chose certaine, son histoire demeure une source d'informations précieuses pour nos connaissances sur cette population fragile.
Sponsor
Imasco Limited adopted Lou-Lou (1989).