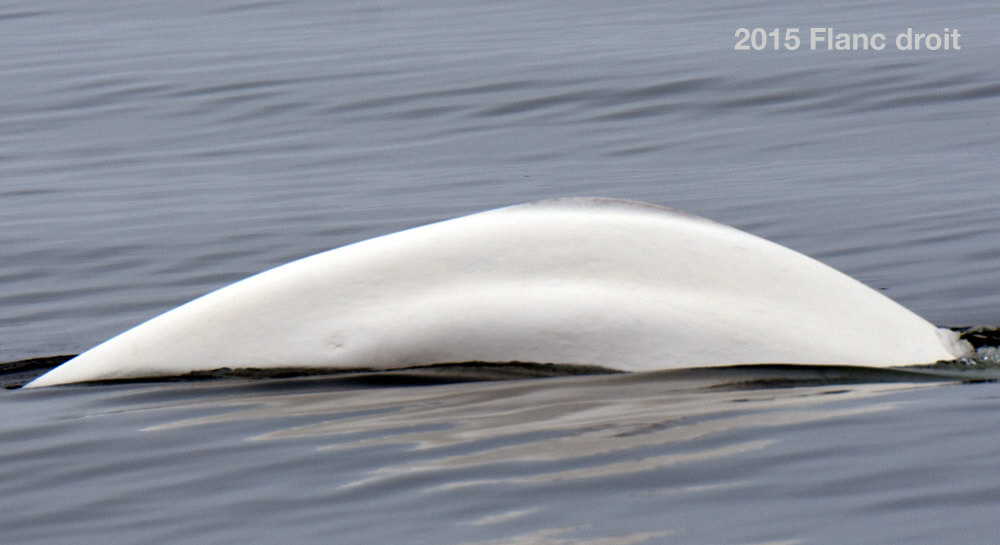 Adopted by Tadoussac Summer Community
ID number

DL0553

Sex

Female

Year of birth

Circa 1986

Known Since

1994
Distinctive traits
DL0553 is recognizable by a crescent-shaped scar on her right flank and small notches in her dorsal crest.
Story
Our first encounter with DL0553 goes back to the summer of 1994. At the time, she was grayish in colour. She turned white around 2002. Knowing that belugas fade to white between the ages of 12 and 16, we surmise that DL0553 would have been born in the late 1980s.
Her small size, habits and regular presence in herds comprising adults and young suggest that DL0553 is a female of the Saguenay community. In fact, in their summer range, females form large communities in which they care for newborns and young. These communities are associated with traditional territories. On July 25, 2001, a biopsy taken from her back confirms her sex: DL0553 is indeed a female.
DL0553's companions include Or Blanc, Blanche and her daughter Marguerite. However, associations between females of the same community are generally not stable and can vary according to the females' reproductive status (if they are pregnant, accompanied by young, or at rest).
How DL0553's story unfolds will teach us volumes on the evolution of belugas' social lives. By better understanding how belugas live, we will be able to better protect them.
Observations history in the Estuary
Years in which the animal was not observed Years in which the animal was observed
Collective sponsors
The Tadoussac summer community and friends adopted DL0553.
Cynthia Price
Pam Price
Adelaide Gomer
John Stairs
Lyn Bailey
Margie Stephen
Evelyn Brooks
Anonymous
Amy Bray, for Marcus Grogan
I am contributing towards the adoption of this beluga for my boyfriend, who loves these creatures and dreams of diving with them one day. It is a Valentine's gift which represents love for our world as well as each other. We are both passionate conservationists and want to preserve our precious oceans for future generations. He once bought me a toy beluga made of recycled plastic bottles and we named it Billy, so that is the name I propose for this beautiful whale.
Florian Wolff
I would like to propose the name "Anne" for DL0553. It is a beautiful name, which works both in English and in French. Me and my wife Anne were on a trip in Tadoussac this year, seeing the Belugas and it was a once-in-a-ilfetime experience. She is nearly the same age as DL0553. I do this donation as a gift for her. Best greetings
Alizée Goulet
Merci de votre excellent travail pour la protection des géants des mers.
Magali Robidaire
Ariane Tremblay
Merci pour votre implication!
Bénédicte Jenot
En l'honneur de Jenot Joël.
Le Bocal de Mag
Charlotte Meunier(11e don)
Lorraine Fyfe
Pour une jeune famille de trois enfants, de Saint-André de Kamouraska, qui suivront avec grand intérêt la vie de leur nouveau ami. Longue vie !!
Véronique Morel
Je fais ce don en cadeau d'anniversaire de ma petite-fille Jeanne pour ses 12 ans.
Héloïse Puga
Merci pour toutes vos actions réalisées dans le but de mieux comprendre et de sauvegarder les cétacés du Saint-Laurent.
Martin Maurel
Pour mon frère, Mart. Que ce béluga soit ton premier ami sur ce nouveau continent. Le nom proposé est Pamela.