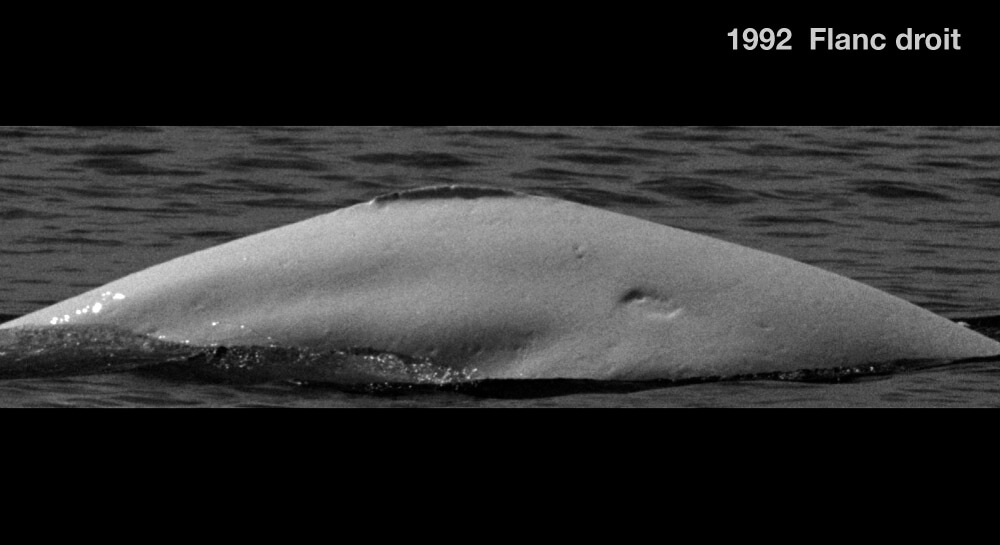 Adopted by Alina et Julia Alter
ID number

DL0133

Sex

Male

Year of birth

Before 1978

Known Since

1990
Distinctive traits
Les marques de Coco sont nombreuses et variées. Les principales sont sa cicatrice peu profonde en forme de trapèze sur le flanc droit et sa tâche grise sur le flanc gauche sous sa crête, qui, elle, est parsemée de détails.
Life history
Lors de notre première rencontre avec Coco en 1990, sa «robe» était déjà toute blanche. Il serait donc né avant 1978.
Les fréquentations et les habitudes de Coco nous laissent croire qu'il est un mâle du réseau qui fréquente le secteur aval de l'aire de répartition estivale entre Tadoussac et Les Escoumins.
Au cours de nos premières rencontres, Coco était observé dans des troupeaux d'adultes et jeunes. Ses fréquentations se sont ensuite tournées vers des troupeaux de juvéniles, des grands groupes souvent très actifs. À partir de 1990, on a pu l'observer surtout dans des troupeaux d'adultes.
L'évolution des affiliations sociales nous laisse croire que Coco est un mâle. En effet, à l'âge adulte, il existe une forte ségrégation entre les mâles et femelles. Les femelles vivent en communauté avec les jeunes. Les mâles se trouvent bien souvent dans des troupeaux unisexes.
Observations history in the Estuary
Years in which the animal was not observed Years in which the animal was observed
Latest news
Coco se trouve parmi un troupeau d'une quinzaine d'individus dans le secteur des Escoumins. Il nage parmi un groupe composé d'adultes et de jeunes. À notre arrivée, le troupeau est organisé en plusieurs groupes de trois à cinq individus pour ensuite se rassembler en un seul peloton.
S'agissait-il de la dernière observation de Coco? Nous ne l'avons pas revu depuis près d'une vingtaine d'années. Est-il mort? Est-il demeuré invisible à l'œil du chercheur pendant tout ce temps? Chose certaine, son histoire demeure une source d'informations précieuses pour nos connaissances sur cette population fragile.
Sponsor
Alina et Julia Alter adopted Coco (1994).