November 27: In GREMM's (Group for Research and Education on Marine Mammals) offices in Tadoussac, staff members are busy working on their respective projects. Around 2:30 in the afternoon, the phone rings. Renaud Pintiaux exclaims on the other end of the line: "Sperm whale off the Bon-Désir campsite! I saw it breathe before taking a dive. I saw its dorsal crest and its tail, it's definitely a sperm whale!" There's a little less than two hours of daylight left, it takes a good twenty minutes to drive to Les Bergeronnes and a sperm whale can remain underwater for over an hour. The chances of observing the animal again are slim, but together with a colleague, we decide to venture out on a "sperm whale quest".
Here we are standing on the packed snow, defying a stiff breeze and temperatures hovering around -10°C. We scan the horizon through the lenses of our binoculars. Offshore visibility is reduced by sea smoke. A passionate birder who has joined us spots a minke whale a few nautical miles from the coast. My binoculars are not powerful enough to locate it. We stomp our feet to keep warm while the sun goes down. We return home empty-handed, but happy to have observed the raw beauty of the St. Lawrence under the snow.
Renaud has incredible luck with sperm whales (or is he just more patient than we are?): He sees another one on December 1! The largest of toothed cetaceans is a rare visitor to the Estuary. Renaud also spots two humpbacks. Are they the same individuals that were observed by a deckhand off Île aux Pommes on December 3? It's possible.
Other sightings reported in recent days include belugas and minke whales as well as harbour and harp seals in the Saguenay-St. Lawrence Marine Park area.
In the Sept-Îles sector, Mingan Island Cetacean Study collaborator Jacques Gélineau decided to brave the cold and fledgling ice to head out to sea on December 3. "You have to be careful to go out on the water these days," he confirms. Leaving the bay, he crosses paths with harbour seals on thin ice. An hour later, he spots his first breath: it's a blue whale. It shows white marks near its dorsal fin. Are they vestiges of rubbing against the ice? René Roy discusses precisely this type of injury in this week's "field notes". A short while later Jacques Gélineau also encounters two humpbacks: the female Hockey and her calf. A fin whale and a minke whale are also in the area.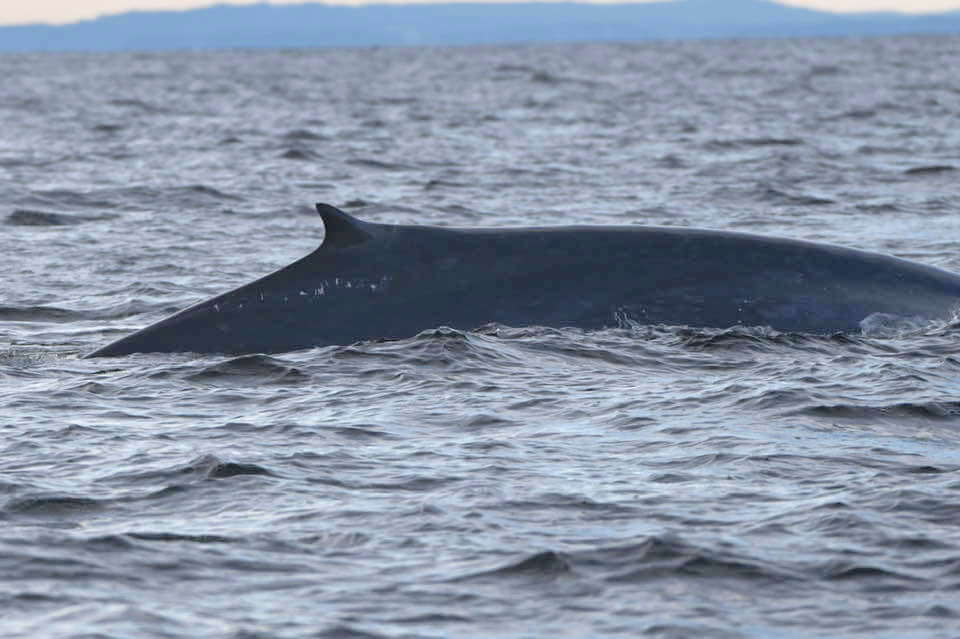 Meanwhile, in the Gaspé Peninsula
While driving down the coast that leads to Cap-aux-Os in the Gaspé Peninsula, a whale-watching captain spots a large spout in Gaspé Bay on November 29. The large rorqual blows once again a few moments later before final disappearing in the waves. "There's still no ice on this side of the bay, so we might be able to see even more spouts," he says. Around the town of Gaspé, however, the ice is beginning to take hold. "For the past few days, about 20 seals have been basking on the ice opposite the hospital. It's always fascinating to see seals in the middle of town!" exclaims one local resident.