Do pilot whales impatiently look forward to spring just to cross paths with amateur cetologist René Roy? One thing is for sure: these mysterious cetaceans always seem to be present when René begins his outings in the estuary in late May. In fact, he ran into a dozen or so on Thursday, May 19, between Matane and Pointe-des-Monts.
"First I encountered three large males, followed by a group of about ten a few kilometres beyond that, including females and probably at least one juvenile," he says. "It was awesome! It's become a sort of tradition for me to see pilot whales in May in the St. Lawrence Estuary, and this sighting took place on the exact same date as two years ago! This is my fourth sighting of this species, and they all occurred around this time. Strangely, I've never seen any during the remainder of the season.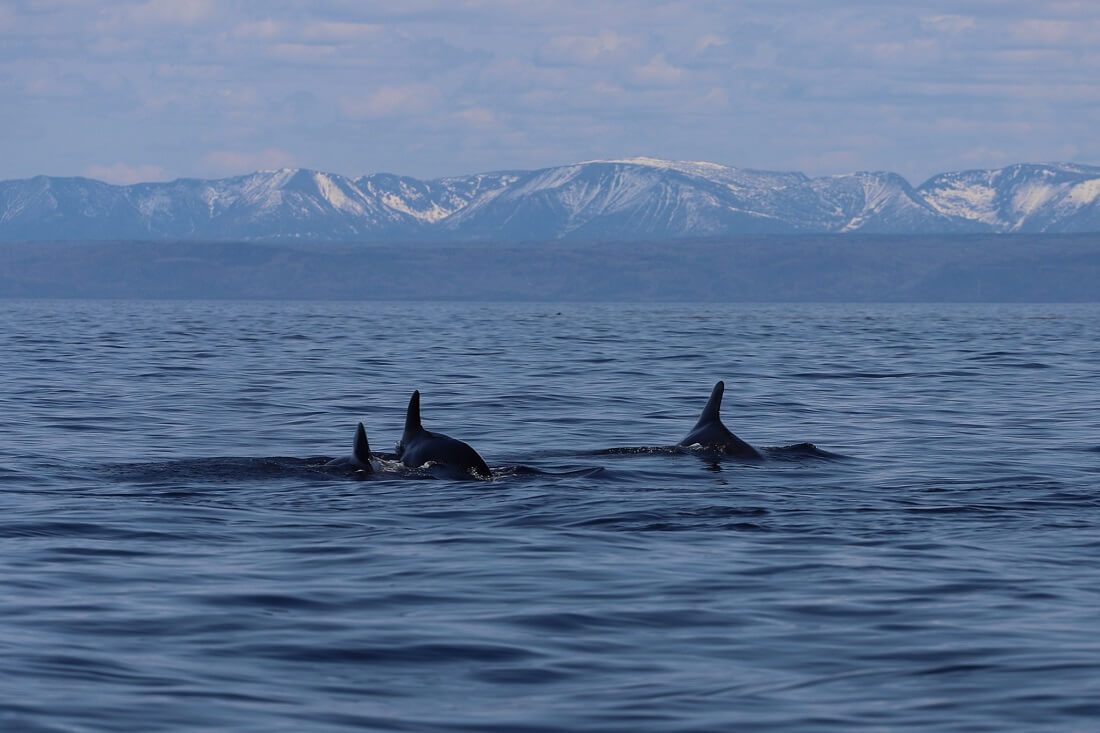 Backs of pilot whales in front of the Chic-Chocs Mountains © René Roy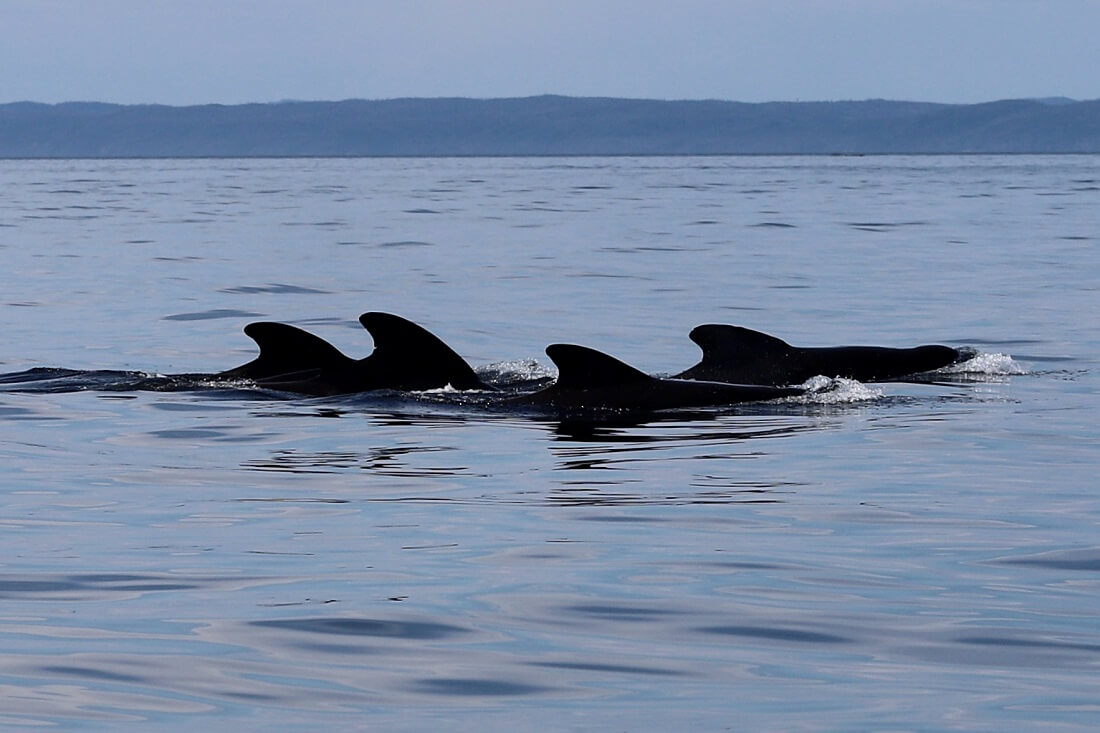 Dorsal fins of pilot whales © René Roy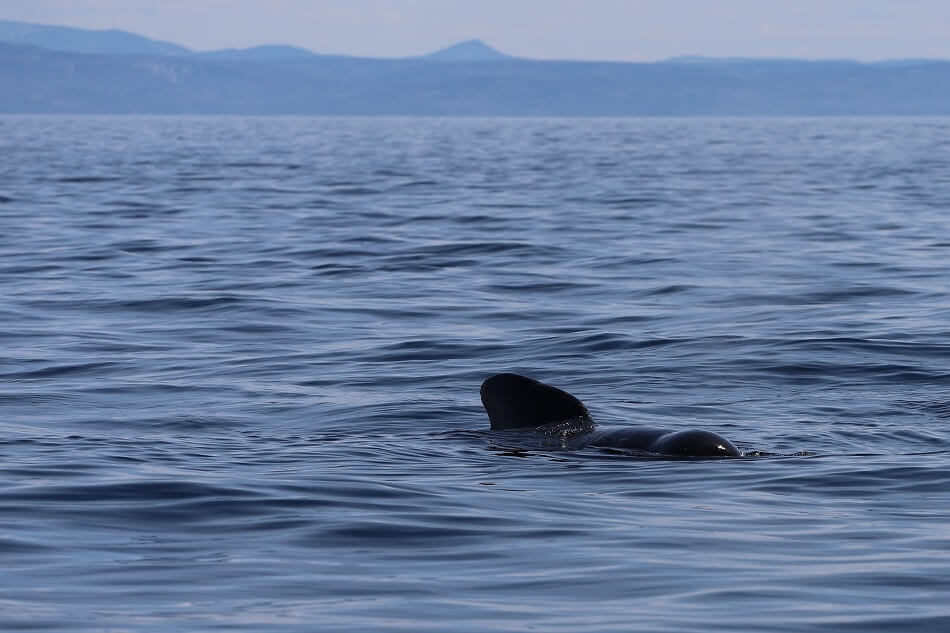 Melon and dorsal fin of a pilot whale © René Roy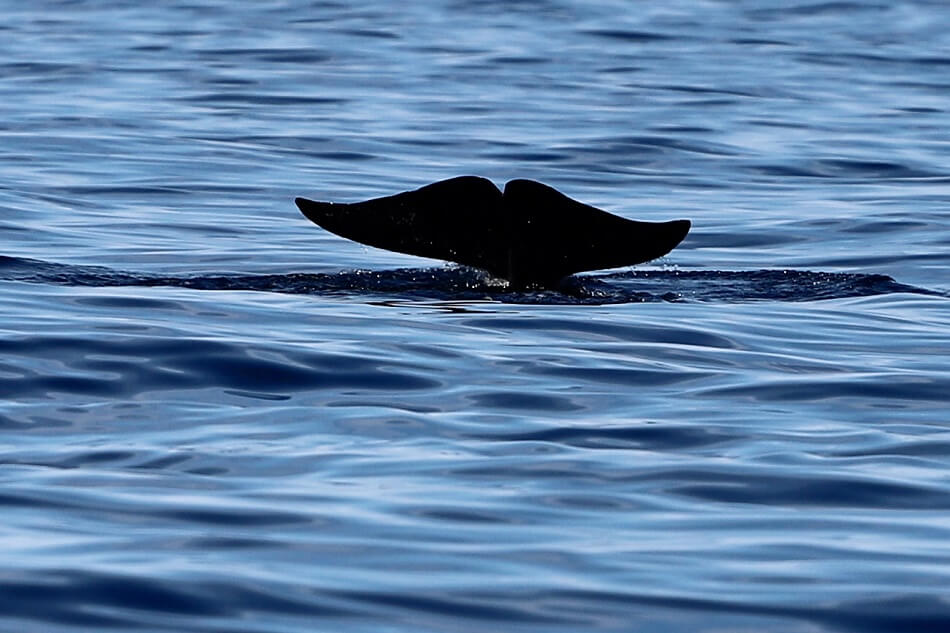 Pilot whale tail fin © René Roy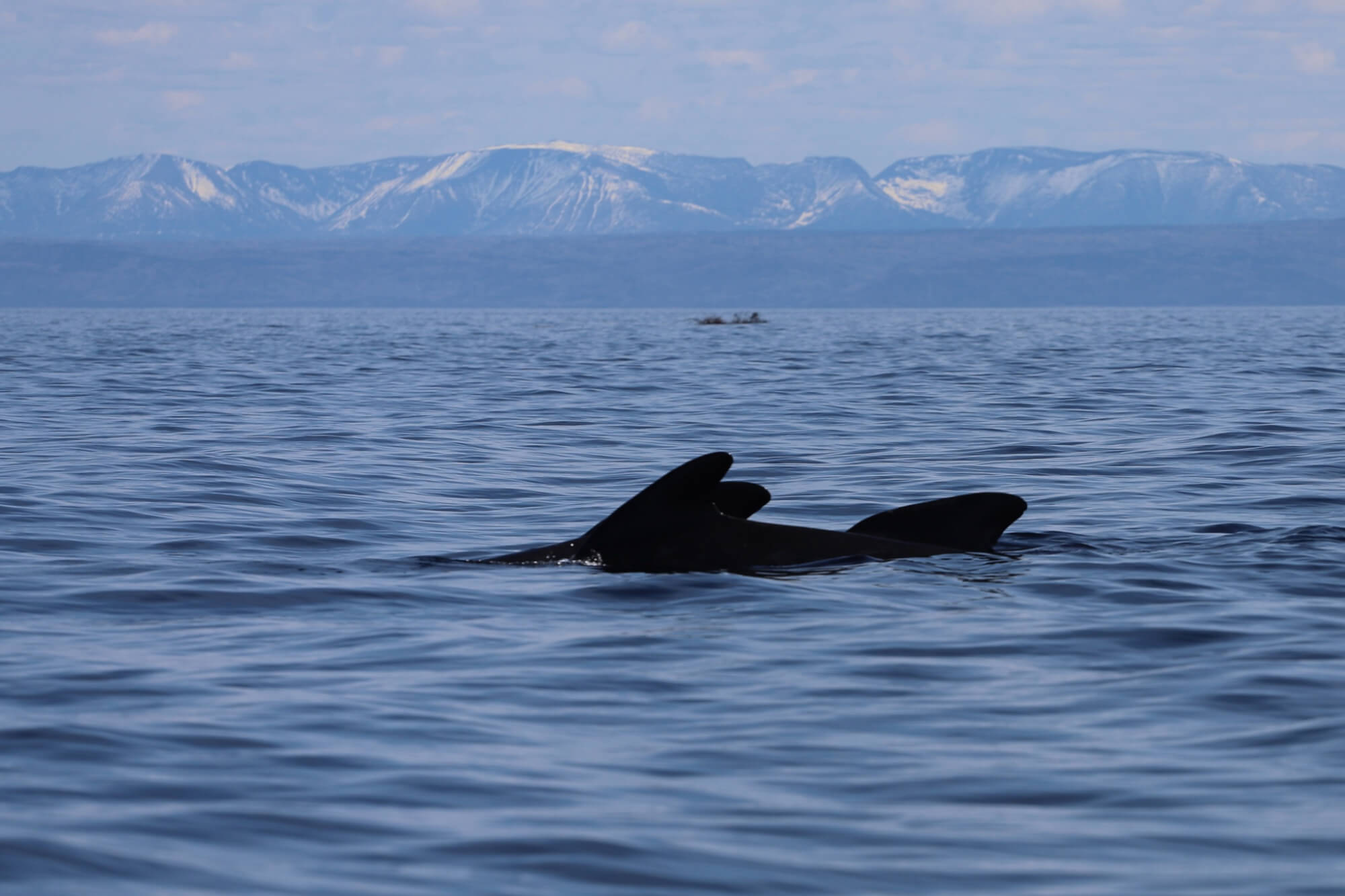 Pilot whales in front of the Chic-Chocs Mountains © René Roy
The long-finned pilot whale is an irregular visitor to the estuary, yet sightings remain rare… making them that much more valuable for research! Do these gregarious cetaceans – which are more common in the gulf – come in search of a particular kind of food this time of year? Are these always the same individuals, given that these animals live in family communities? To learn more, René Roy sent his observations to the Cape Breton Pilot Whale Project, which conducts research and maintains a photo-ID catalogue of the species.
If you come across a pilot whale, there's no mistaking it. This large toothed whale measures about 4 to 5 metres long, is ebony in colour and has a prominent melon. Its dorsal fin is wider than it is tall and close to the head, while its pectoral fins are sickle-shaped. Its breath is barely visible and it swims like a harbour porpoise, i.e. with small leaps.
Minke whales in sight!
On this inaugural outing to the gates of the St. Lawrence Estuary, René also noted the presence of seals, numerous seabirds, and several minke whales, especially at the tip of Pointe-des-Monts.
This week once again, minke whales are being reported all up and down the coast, giving our readers a good excuse to brush up on their Quebec geography! Indeed, the smallest representative of the rorqual family has been observed in Les Bergeronnes, Essipit, near Franquelin, off the coast of Port-Cartier, in the Bay of Sept-Îles, in the Mingan Archipelago and in the waters of the Magdalen Islands.
On Tuesday, May 24, two employees of the Cap-à-l'Aigle marina also saw a small slate grey back with a curved dorsal fin pass by. "It's been a couple of years since I've seen a minke whale around here," mentions one of them. A local resident also reports the possible presence of an individual of this species opposite Saint-Irénée, but the video footage is not sufficient to clearly identify the species. In the images, however, we can clearly see a cluster of small white backs beaming in the sunlight: belugas! Several residents of Saint-Joseph-de-la-Rive also report that they've been seeing these white whales near Île aux Coudres, a common springtime phenomenon.
Out in the Mingan Archipelago, an avid birder tells us about the marine mammals she has been observing when she's not gazing at common eiders, guillemots or kittiwakes: "During a stopover north of Grande Île, we saw 8 harbour seals. When the boat sailed southwest of the island of Calculot [des Betchouanes], we encountered 25 harbour seals and 1 grey seal. As we slowly advanced, the curious animals followed the boat. Lastly, a minke whale showed its back near the northwestern tip of Île du Havre."
Whales already in Marine Park
The first whale-watching cruises of the season are underway in the Saguenay-St. Lawrence Marine Park. Offshore, captains are already reporting the presence of numerous minke whales, fin whales, humpbacks, as well as large herds of harp seals. Groups of belugas are also occasionally being seen.
At least six humpbacks have already entered the estuary to feed. They are sometimes observed alone, sometimes together. The first mother-calf duo has also arrived! Observed multiple times from the marina in Les Escoumins, the new mother was identified by a naturalist: it is believed to be no. H694 in the MICS humpback whale catalogue. Other familiar individuals recently identified include H590 a.k.a. 'Piranha,' H887 and H947.
Just as exciting from shore
There's no need to necessarily go out onto the water to witness spectacular shows. Late in the day on Saturday, a minke whale comes to play amidst the buoys in Tadoussac Bay. At a nearby bar, musicians and spectators alike take a 'time-out' from the show to observe the animal, which raises its tail high into the air when it dives. This is probably the same individual spotted by ferry employees swimming up the mouth of the Saguenay to Cap à la Boule, which is unusual but not unheard of.
Notwithstanding this incursion, the fjord is still seeing little cetacean traffic this season, but at L'Anse-de-Roche, a small harbour seal showed its head to a group of kayakers on Sunday.
Observers posted at the Tadoussac dunes were able to see two humpbacks last Thursday. From the shores of Cap de Bon-Désir in Les Bergeronnes, a patient photographer observed humpback whales, minke whales and harp seals. In Les Escoumins, near Pointe au Père-André, a local resident noted a passing fin whale, a minke whale and a large group of belugas. Lastly, from the rocks of Essipit, an observer enjoyed watching the feeding manoeuvres of a ravenous humpback under a pink sky.