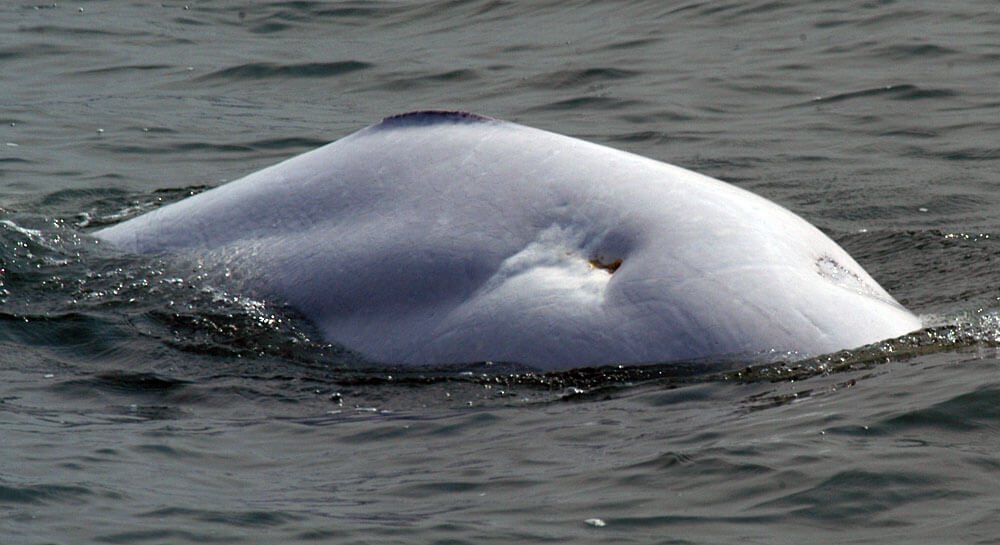 Adopted by the naturalists and the visitors of the CIMM
ID number

DL0129

Sex

Female

Year of birth

Circa 1985

Known Since

1991
Distinctive traits
Lula can be recognized from either side. Her right flank shows a sizable hole. A white, star-shaped spot can be seen near this hole. DL0129 also has a scar on her left flank, near the blowhole.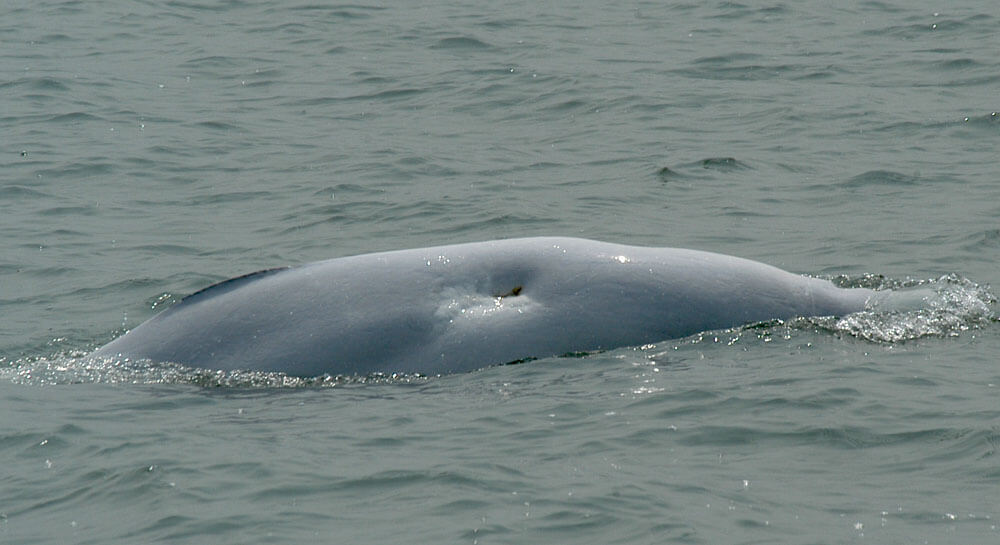 right flank, 2006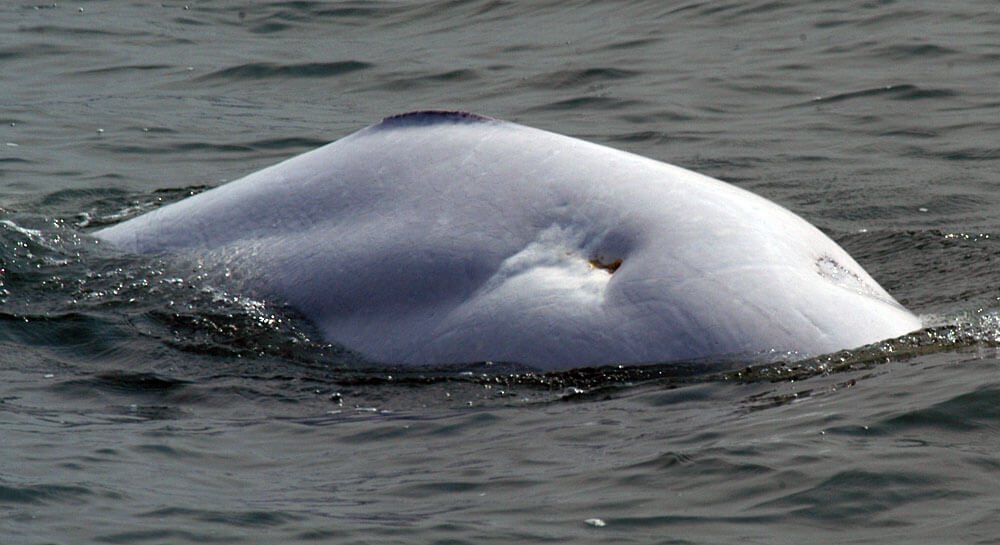 right flank, 2006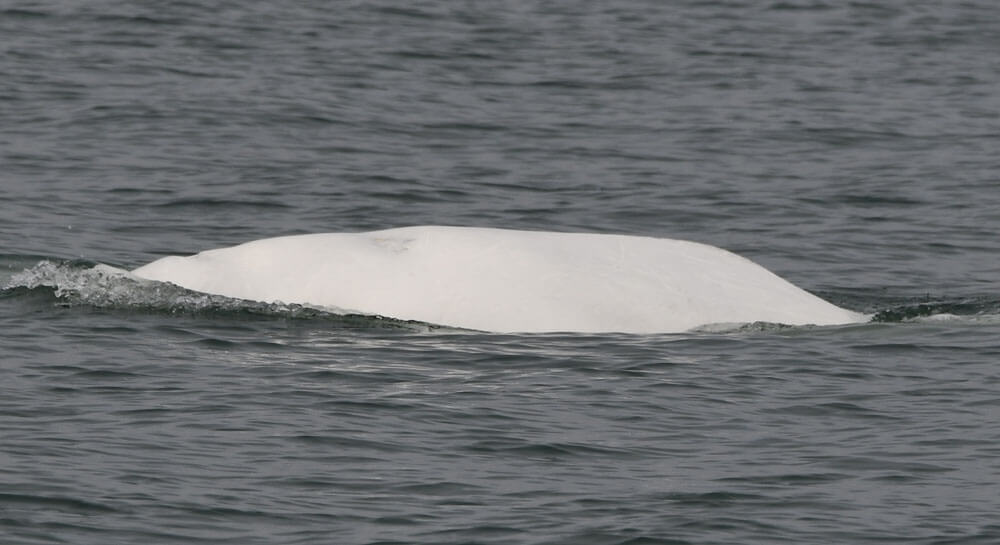 Left flank, 2018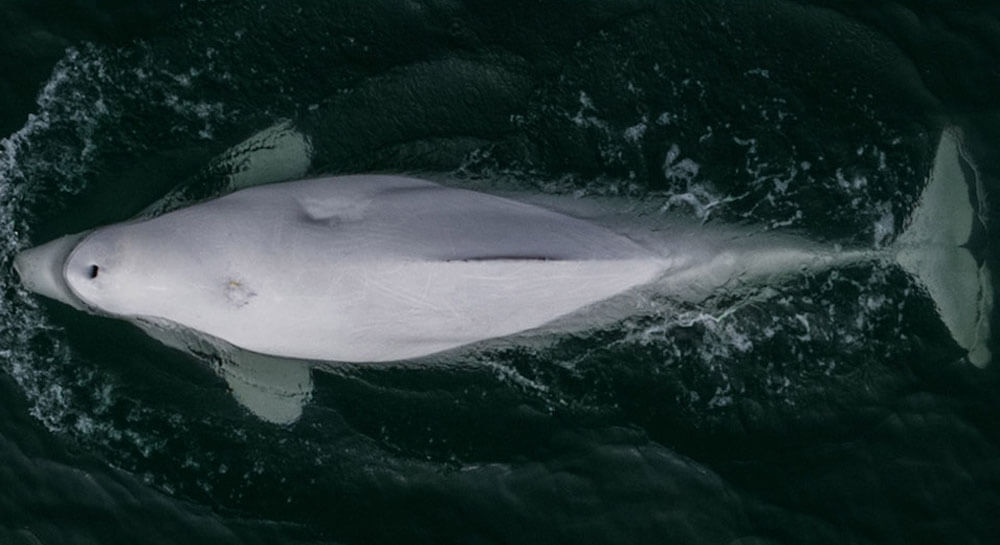 From the air, 2018
Her story
Our team first crossed paths with Lula in 1991. Based on the evolution of Lula's colour pattern, we estimate that this individual was born around 1985. When she was first observed in 1991, Lula was still grey. Her change-over to white must have occurred during a period when we did not observe her. Indeed, we lost track of her between 2006 and 2017. Yet with such markings, this is rather surprising!
The areas frequented by Lula indicate that she belongs to the female community of the south shore of the St. Lawrence. Within their summer range, females form large communities in which they care for newborns and young.
In 2018, Lula is photographed by drone as part of the "Health Chart" research project. She becomes the first adopted beluga to also have aerial photos in her album!
Observations history in the Estuary
Years in which the animal was not observed Years in which the animal was observed
Latests news
Aboard the Bleuvet, we leave Tadoussac and head southwest. The research season is drawing to a close, so we are taking advantage of this windless, waveless day to fly the drone and take a few aerial photos of belugas. These photos are then analyzed to obtain measurements that help assess the animals' physical fitness and monitor pregnancies. In this way, we wish to create a health chart for our belugas.
Off Cap au Saumon in the Charlevoix region, we spot a large herd at a considerable distance, but the closer we get, the more the belugas scatter. At last, we find a group of five to ten belugas that we photograph from the boat at the same time we take pictures of them with the drone. Back in the lab, we will cross-compare horizontal and vertical photos to learn to identify individuals from the air. Presently, we identify belugas with markings and scars on their flanks and dorsal ridges. We then find a new group, which contains a calf. We also note the presence of a beluga with deep scars: it is the female Lula. It's a pleasant surprise to see her again, as she had not been photographed since 2006! We snap a photo of her from the air. Will we have a chance to photograph her again this year? Will we see an evolution of her size? The remainder of our research project will tell.
Sponsor
The naturalists of the GREMM and the visitors of the Centre of interpretation on marine mammals of Tadoussac
Être naturaliste au Groupe de recherche et d'éducation sur les mammifères marin (GREMM), c'est pas juste notre travail, c'est une vocation, voire une passion.
On accueille le public, on leur parle de baleines, on leur raconte des histoires… on leur fait vivre une expérience unique. On leur apprend tout ce qu'on sait au sujet du mystérieux monde des mammifères marins et, particulièrement, de ceux qui arpentent le Saint-Laurent. Nous sommes d'ailleurs plusieurs groupes d'interprètes et de naturalistes à œuvrer pour divers organismes le long du fleuve. Nous partageons tous cette même passion.
L'éducation scientifique n'existe pas sans la recherche. Et on protège ce que l'on connait. On le répète souvent : la santé des bélugas, c'est le reflet de la santé du Saint-Laurent. C'est la santé et l'équilibre d'un écosystème fragile qui touche les bélugas, mais bien plus. Le fleuve est source de vie, pour nous et pour tout ce qui nous entoure.
Cela fait un moment que nous l'attendions : le retour d'"Adoptez un béluga" pour soutenir la recherche sur ces majestueuses baleines blanches. Alors tous les naturalistes, les présents, les anciens, les collègues, lançons-nous dans une adoption collective pour, nous aussi, faire notre part! Nous avons choisi DL0584, un béluga qui fréquente régulièrement l'embouchure du Saguenay. Vous pourrez ainsi avoir la chance de l'observer depuis le Centre d'interprétation des mammifères marins (CIMM) à Tadoussac et depuis le Site d'interprétation et d'observation de Pointe-Noire, de l'autre côté du fiord. Malheureusement, notre béluga a perdu la vie. Qu'à cela ne tienne, le GREMM nous a proposé un nouveau béluga, DL0129. Parce que nous avons besoin de plus de connaissances pour continuer de les protéger, adoptons un béluga!