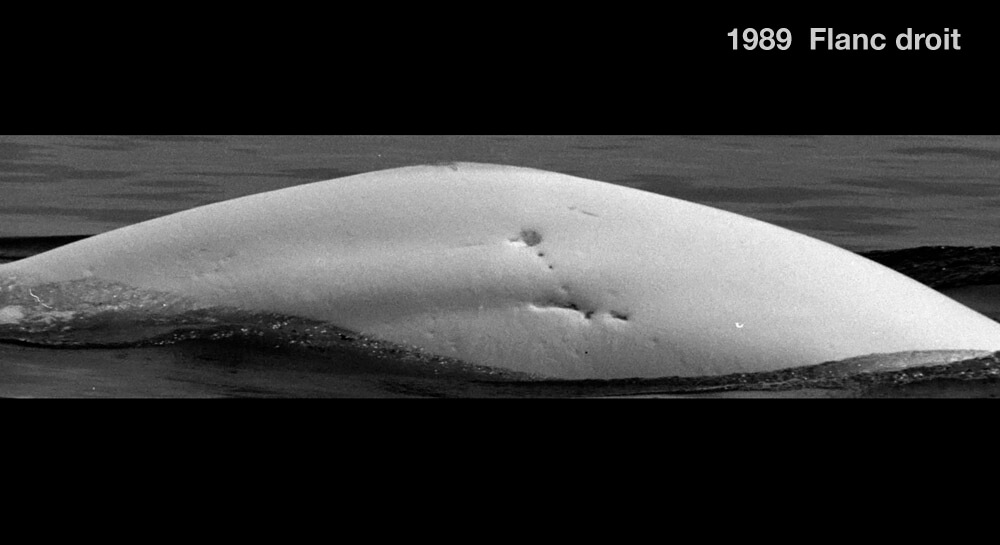 Adopted by CBC Community Network et ses auditeurs
ID number

DL0075

Sex

Unknown

Year of birth

Before 1977

Known Since

1989
Distinctive traits
Bonnie est connu seulement du flanc droit. On le distingue par cette configuration éclatée de multiples cicatrices sur le flanc et par cette longue entaille vers le milieu de sa crête dorsale.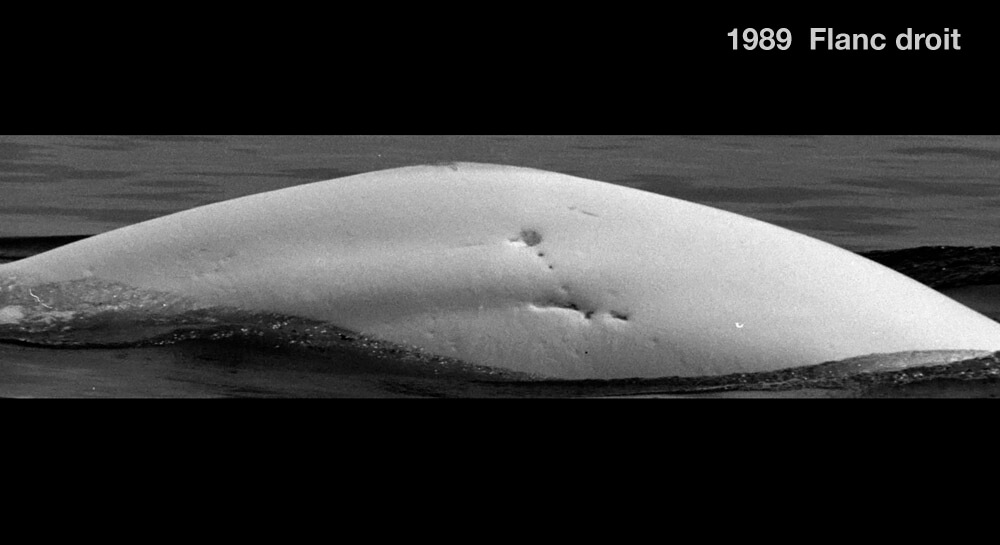 Life history
Lors de la seule observation de Bonnie en 1989, il était d'un blanc immaculé. Il était donc âgé d'au moins 12 à 16 ans.
Une seule observation ne nous permet pas de déterminer le sexe ni son aire de fréquentation estivale. À l'âge adulte, il existe une forte ségrégation entre les mâles et les femelles. Les femelles vivent en communauté avec les jeunes et les mâles se trouvent souvent dans des troupeaux unisexes.
Le 22 juin 1989, lors de l'observation unique de Bonnie, il se trouve à l'intérieur d'un petit troupeau composé de 13 individus, dont cinq bélugas gris. Il se tient à l'écart du troupeau et se promène d'un endroit à l'autre sans direction précise.
Observations history in the Estuary
Years in which the animal was not observed Years in which the animal was observed
Latest news
Ainsi, la dernière observation de Bonnie remonte à plus d'une vingtaine d'années. Est-il mort? Malgré des marques évidentes sur le flanc, est-il demeuré invisible à l'œil du chercheur tout ce temps. Chose certaine, nous restons vigilants et espérons une rencontre prochainement.
Sponsor
CBC Community Network et ses auditeurs adopted Tadeus and Bonnie (1989).